Hornsby Quarry
Hornsby Shire Council owns Hornsby Quarry, which has an important place in local history and has the potential to play a great role in Hornsby's future.
View Hornsby Quarry Reference Documents
February/March 2022 – Works delayed
During February and March 2022, Hornsby Shire local government area, including the Hornsby Quarry site experienced significant rainfall.
The rainfall over a one month period was 830mm which is over 70 percent of the annual average rainfall for Hornsby. The programmed works have been impacted as a result of this rainfall.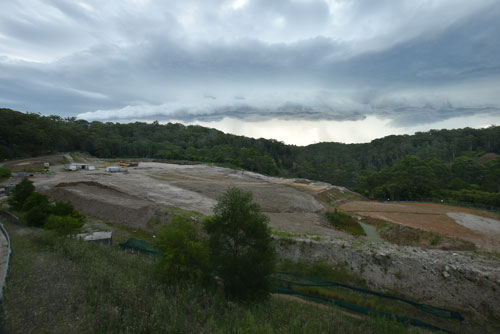 ---
November 2021 – Notification of tree clearing
Bulk earthworks have recently commenced on the Hornsby Park site. The earthworks are necessary to re-shape and stabilise the site to make the park safe. As part of these works, some removal of trees and vegetation is necessary and is scheduled to commence from 8 November 2021, weather permitting. The clearing is expected to take a number of weeks to complete.
These works will be carried out in line with the approved Vegetation Management Plan.
Work hours will be limited to those in the table below, to minimise noise and disruption to residents. Noise levels will be monitored throughout the project.
| Standard Construction Work Hours | | |
| --- | --- | --- |
| Monday to Friday | Saturday | Sunday/Public Holidays |
| 7am-6pm | 8am-1pm | No work |
| High Noise Impact Work Hours | | |
| 8am-6pm | 8am-1pm | No work |
For enquiries, please contact the Enquiries and Complaints Hotline on 0457 177 386.
Temporary closure of mountain bike trails
Due to the earthworks, some mountain bike trails will need to be temporarily closed. Most of these trails should re-open within a week or two of their closure. The trails affected will be Lava Flow, Turkey Run and Jump Park.
Details on which sections will be closed, when and for how long will be updated regularly on our Hornsby Park MBT twitter feed https://twitter.com/HornsbyMBT.
---
September 2021
Council has appointed Ditchfield Contracting Pty Ltd to deliver bulk earthworks and stabilisation works for the Hornsby Park redevelopment. Works will commence on site this month.
These works will re-shape and stabilise the site and will deliver a safe landform that can be used for many different parkland activities.
Tasks include:
Bulk earthworks and associated civil works including construction of access tracks, drainage and retaining walls;
Quarry wall stabilisation works; and
Revegetation work
This stage is expected to be completed in mid-2023 (subject to weather).
---
November 2020
The Hornsby Quarry Rehabilitation Works Development Application (DA/101/2019) was approved by the Sydney North Regional Planning panel on 4 November 2020.
---
November 2019
The Hornsby Quarry Rehabilitation Works Development Application – Response to Submissions and Revised Project Scope (RTS)
The Hornsby Quarry Rehabilitation Works Development Application – Response to Submissions and Revised Project Scope (RTS) was open for public review and comment from Friday 22 November 2019 until 13 January 2020. The RTS and additional submissions were then assessed by an independent planner and reported to the Sydney North Regional Planning Panel.
What the revisions mean November
Reduced extent of earthworks which preserves more trees across the site
A lower solution for landform within the quarry, which preserves more of the dramatic cliff faces on all sides, including the eastern diatreme feature.
A shorter construction timeframe, down from 24 months to 21 months, and reduced impacts associated with construction.
Importantly, we are still on track to deliver the first stage of the parkland creation in 2023, turning the local landmark into a spectacular new open space for the community to enjoy.
View the Hornsby Quarry development application
---
April 2019 - Hornsby Quarry Development Application and EIS
NorthConnex finished delivery of fill material to Hornsby Quarry in January 2019. Council with consultants prepared and lodged a Development Application (DA) with an Environmental Impact Statement (EIS) for the next stage of works, to re-shape and stabilise the site, with the aim to deliver a safe landform that can be used for many different parkland activities.
The Development Application and supporting Environmental Impact Statement for the transformation of Hornsby Quarry were on Public Exhibition until 17 May 2019.
The DA had to be determined by the Sydney North Regional Planning Panel before Council could begin the earthworks.
The EIS also included some important recommendations about how to best protect the natural environment of the site, including the Ecologically Endangered Communities, preserve Aboriginal and non-Aboriginal heritage and manage potential impacts on nearby residents, businesses and the community.
---
February 2019 - Final Truckload of fill delivered to Hornsby Quarry
Want to find out more?
The Hornsby Quarry site is set to become the region's premier new parkland. Visit
hornsbypark.com.au
to find out more about the great ideas that are being proposed and follow the transformation of the site into a wonderful parkland for the community.
What is Hornsby Quarry?
The quarry is located on the western side of Hornsby, very close to the town centre. It is more than 100 metres deep with steep, exposed sides. The site is currently closed because of serious safety concerns and Council is exploring ways to open the site to the public.
Why does Council own it?
The quarry was operated by private businesses from the early 1900s until 2002, when it became unprofitable and Hornsby Shire Council was legally obliged to buy it from CSR Limited. A decision by the Valuer-General meant Council was forced to pay more than $25 million for the site, though Council was able to recover $9 million during later legal proceedings.
Why is Hornsby Quarry special?
The quarry is historically valuable, ecologically important and visually spectacular – all within walking distance of Hornsby's CBD. It is well-known as the largest volcanic diatreme in the Sydney area. Especially significant is the east face that provides a cross-section of the diatreme, which is seen at only a few sites in the region.The bushland on the site is also significant and includes blue gum high forest, which is listed as an endangered ecological community.
The Higgins family cemetery is also located on the site and is listed as a heritage item of state significance, with burials ranging from 1875 to 1925.
What are Council's plans for the quarry?
The quarry is being partially filled in to make it safe, using excavated material from the NorthConnex tunnel that is currently being built by the NSW Government to link the M1 and M2 motorways.
Once this is completed Council will begin rehabilitating the site, turning it into a spectacular new open space for recreation and entertainment. These plans are in the early stages and will involve significant community consultation before they are finalised.
Reference documents