Pest and Nuisance Animals
The law in New South Wales defines a pest animal as any non-native species (other than humans) having an adverse effect on the environment, the economy or the community (S.15, Biosecurity Act 2015). Pest animals commonly found in Hornsby Shire include wild rabbits, red foxes, cats, common mynas and common carp. Other less common or potential pest animals in the Shire include wild dogs, wild pigs, wild deer and wild goats. Native animals and domestic pets that may at times pose a nuisance, are not categorised as pest animals.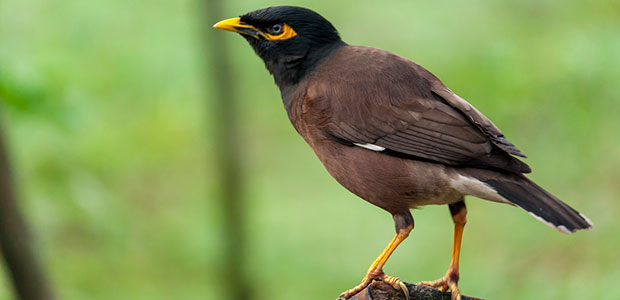 Native to Asia, the common myna (or 'Indian' myna) Acridotheres tristis is a pest animal frequently seen in built-up areas of the Shire, especially around shopping centres and school playgrounds.
For more information about pest animals in Hornsby Shire, contact Council through the Online Services Portal or phone 02 9847 6666.
1080 Fox Baiting
The NSW National Parks and Wildlife Service are currently undertaking fox baiting in Lane Cove and Ku-ring-gai Chase National Parks. The aim of the program is not to eradicate foxes but rather to reduce their pressure on threatened fauna species.
DO NOT TOUCH BAITS OR EJECTORS
All baiting locations will be identifiable by signs.
Domestic pets are not permitted on NPWS Estate. Penalties apply for non-compliance.
1080 is lethal to cats and dogs. In the event of accidental poisoning seek immediate veterinary assistance.
For further information please call the local NPWS office on:
NPWS North West Sydney (Lane Cove NP) Area office: 8448 0400
NPWS after-hours Duty officer service: 1300 056 294
Updated 24/01/2023