Volunteering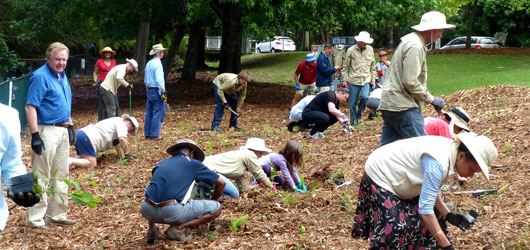 Volunteers make a very important contribution to our community and these are a few of the ways you can get involved.
Hornsby Shire Bushcare
If you love the shire's bushland and enjoy spending time outdoors our volunteer Bushcare program is for you. Our Bushcare volunteers work with us to conserve and rehabilitate the shire's bushland. Bushcare volunteers usually meet once a month for a three-hour work session. We have plenty of sites throughout the shire.
Friends of Lisgar Gardens
Do you love beautiful gardens? Would you like to help organise Lisgar Gardens two annual events - The Teddy Bears Picnic and Camellia Day. With the current COVID 19 situation Lisgar are currently not seeking Volunteers.
Find out more about Friends of Lisgar Gardens
To get involved phone Lorraine 0419 018 253 or email lorrainesmi@ozemail.com.au
Hornsby Connect
The aim of Hornsby Connect is to provide support and hope to those that need it most within the community. With a growing population, the Hornsby Shire covers a large region and has fallen victim to the many social issues that are reflected within the wider society.

One major issue identified is the isolation and dislocation that some experience within our community. Whether it be the elderly or the young, due to cultural separation, or people experiencing financial hardships, Hornsby Connect is open for you.
Hornsby Connect are particularly seeking volunteers who are able to drive a van (only a regular car license is required) and also those able to participate in fairly physically demanding work.
Ku-ring-gai/Hornsby Volunteer Referral Service
This is a valuable service that helps frail older people stay in their own homes, performing tasks such as driving, delivering meals and gardening. You can also help out in the Waitara Wellness Centre, leading the older people in activities or simply keeping them company by chatting to them.
To get involved phone 9424 0970 or email volunteers@kmc.nsw.gov.au or lli@kmc.nsw.gov.au.
Lifeline Harbour to Hawkesbury
Lifeline Harbour to Hawkesbury is a not for profit organisation that relies greatly on the generosity and support from our community. Your generosity is vital to our survival and the survival of many community members in crisis.
There are many ways you could volunteer your time to make a difference in the lives of others.
Assist with our book fairs and other fundraising events
Become a Community Aid Volunteer
Volunteer at one of our Retail Shops
For further information on how to help or be involved, contact us on:
Ph: 02 9498 8805
E: volunteer@lifelineh2h.org.au;
W: Volunteering Opportunities - Lifeline Harbour to Hawkesbury.
Other volunteering opportunities
The Do Something Near You website lists many opportunities for volunteering in various types of local roles. Businesses looking for volunteers are also able to register.
Seek Volunteering – over seven thousand volunteering opportunities searchable by categories www.volunteer.com.au
Boomerangbags is passionate about the war on waste and sewing their way to reducing the amount of plastic being used. https://boomerangbags.org
To find other ways you can help your local community by volunteering, take a look at the Northern Sydney Volunteer Network booklet - 4.8MB.
Search the Hornsby Community Information Directory for more volunteering opportunities or download the Volunteering Directory - 311kb