Report Illegal Dumping
Phone: 13 70 30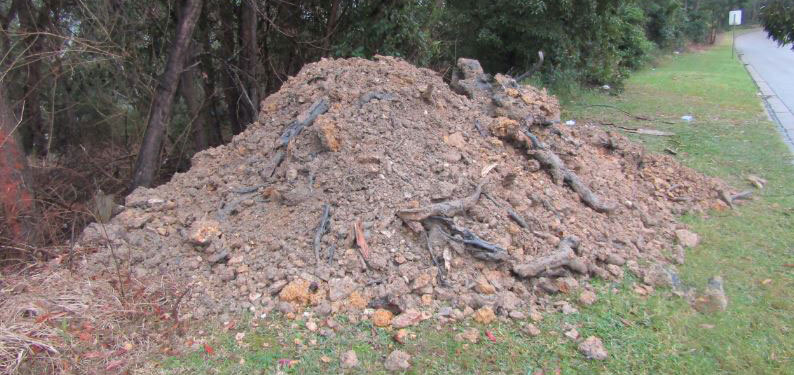 What is illegal dumping?
Depositing waste at any place that is not lawfully able to receive that waste is illegal dumping. Dumped waste may include smaller items such as cardboard or bags of rubbish to larger items such as furniture, or construction and demolition waste which may contain hazardous material like asbestos and dangerous chemicals. Often dumped waste is transported in a motor vehicle and is dumped on the side of the road or in bushland.
If you deposit waste on the nature strip of your property outside of Council's scheduled bulky waste collection period, you may be committing an act of illegal dumping. It is also illegal to deposit your waste on somebody else's bulky waste collection pile. Council encourages residents to check the date of their scheduled bulky waste collection prior to presenting waste at the kerb, including when you notice others in your street putting their waste out.
Find your next scheduled bulky waste collection
Illegal dumping is a burden which has environmental and economic impacts on the community including land contamination issues, increased risk of fire in bushland areas, infestation of rodents and other pests, and increased costs to deal with the collection of dumped waste. Council is committed to reducing illegal dumping in our Shire.
Illegal dumping is a crime
Council has specialist officers who investigate illegal dumping with the view of prosecuting those responsible. The Protection of the Environment Operations Act 1997 provides that it is an offence to transport and dispose of any waste except at a lawful waste facility. It is an offence to be both the transporter and the owner of dumped waste.
Illegal dumping is punishable by on-the-spot fines, court-imposed penalties, and in some instances by imprisonment. Currently, on-the-spot fines for illegal dumping range from $2000 for minor offences to $8000 for more serious offences. Council officers have powers to issue these fines and to prosecute offenders at court. Council also has the power to issue statutory notices ordering clean-up and prevention activities to persons and organisations identified as being involved in illegal dumping.
You can report illegal dumping by contacting Council's Waste Hotline on 13 70 30 or visit RID Online.
Council prefers if you are reporting illegal dumping, that you provide us with your name and contact information to allow Council Officers to contact you if they need to seek more information when investigating the incident. Your personal details will not be provided to any other person unless we have spoken to you about it first.
Council relies on assistance from our community to investigate and remove dumped waste. If you see somebody dumping waste, you can assist by noting the following information to include with your report:
Date and time, you witnessed the item being dumped;
Location of the dumped waste items;
Type of waste items;
Details about any motor vehicle being used including the registration number, make, model and colour;
Description of the offender.
If it is safe to do so, we encourage you to take photographs or a short video clip of the dumping occurring and of the waste which was deposited.
Council encourages residents not to approach illegal dumpers and to only obtain the above information if it is safe to do so.
Abandoned motor vehicles and trailers should be reported to Council's Customer Service Team on 02 9847 6666.
Council will respond to reported incidences of illegal dumping within ten (10) working days.
You will be contacted by a Council Officer if further information is required about an incident or if you were witness to an incident occurring.
If the person responsible for dumping the waste is not identified, Council will remove the dumped material within ten (10) working days except where the waste is contained on private property or lands not managed or controlled by Council. In those circumstances, the removal of the dumped waste is the responsibility of the land owner or manager, and Council may not have control over when that occurs.
Where Council identifies an offender, it will direct that person to remove the dumped waste within a suitable timeframe.
Illegal dumping investigations can be quite complex, and it may take longer than ten (10) working days for Council to finalise an investigation. Where this occurs, if Council does not have enough evidence available to order a clean-up by a suspected person, it will remove the dumped waste at the end of the ten working day period. This will occur sooner if a Council Officer determines that the dumped waste is hazardous or is in a dangerous location.
There is no excuse for illegal dumping. There are many affordable waste disposal options available. Unwanted waste items may be legally disposed of in one of the following ways:
Smaller and non-hazardous items can be disposed of in your household bins if they fit. This is particularly handy for green waste which can be cut up over time and placed in your green-lid bin;
At a licensed waste facility, such as a landfill or waste transfer station;
Non-commercial quantities of recyclable waste including cardboard, paint, plastics, clothing and other items can be disposed of free of charge at our Community Recycling Centre in Thornleigh;
During Council's scheduled bulky waste collections. To see if you are eligible for this service, which items are accepted and to look up your next collection date, visit the bulky waste collection webpage;
Donate your items for reuse. For more information about how to recycle your unwanted items for reuse, visit the Waste Reduction webpage.
It is important that asbestos waste is disposed of in a safe and lawful manner. Illegally dumping asbestos waste has many harmful human health and environmental impacts. The penalties for dumping asbestos waste are also significantly higher than other waste types.
Asbestos waste must not be disposed of in your household bins and must not be presented with other waste during your scheduled bulky waste collection. It should be handled in accordance with industry safety standards and disposed of at a waste facility which is licensed to receive asbestos waste.
If you find illegally dumped waste in the community that you think may contain asbestos, do not attempt to remove it yourself. Instead, call Council's Waste Hotline on 13 70 30 to report the incident. Council encourages reports of asbestos waste dumping to be made via telephone, rather than online, to ensure a quick response.
For more information about identifying asbestos-containing-material and the safe handling and disposal of asbestos waste, Council encourages residents to visit Asbestos in NSW website.
Since the advent of online marketplaces where people can offer their services for things such as waste removal, Council has seen a spike in illegal dumping by unscrupulous operators who do not do the right thing.
In New South Wales, the offences relating to illegal dumping punish both the person who dumped the waste and the person who was the owner of the waste immediately prior to its removal. This means that the owner of the waste does not have to be present when the waste is deposited to be found guilty of an offence. It is important that the owners of waste taken away by contractors and other third parties exercise due diligence to ensure its proper disposal and to avoid prosecution.
If you are the owner of waste taken away by a contractor or third party, Council suggests that you protect yourself from prosecution by keeping records including:
The name, address and contact telephone number of the person who transported your waste;
Details about their motor vehicle including the registration number;
The date and time your waste was taken away;
A description of your waste, including a photograph;
Details of where your waste was taken to;
Copies of dockets and tipping receipts relating to the disposal of your waste;
A Tax Invoice from the contractor or third party which details the services rendered to you for the disposal of your waste. Where possible, pay the contractor electronically and not by cash to allow for the creation of a record of payment.