Aboriginal Projects and Services
Council recognises the Traditional Owners of the lands of Hornsby Shire, the Darug and GuriNgai peoples, and pays respect to their Ancestors and Elders past and present and to their Heritage. We acknowledge and uphold their intrinsic connections and continuing relationships to Country.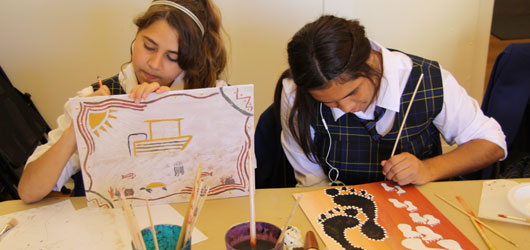 Aboriginal Services Directory
A detailed directory has been compiled to help local Aboriginal people access services throughout the local area.
Hornsby Aboriginal & Torres Strait Islander Advisory Committee
The committee was formed in 2006 and considers any matters involving Aboriginal heritage or culture, then makes a recommendation to Council. If you have any questions or comments you would like passed on to the committee you can phone 9847 6994.
Statement of Reconciliation
In August 2008 Council adopted a Statement of Reconciliation - 15kb with the Shire's traditional owners and the local Aboriginal community. This statement is complementary to the apology to the Stolen Generations by Prime Minister Kevin Rudd in February 2008.
Commonwealth Home Support Programme – Sector Support and Development
Hornsby Shire Council contacts
Community Development 9847 6994
HSC@hornsby.nsw.gov.au
Our Place - Aboriginal Stories
Hornsby Shire Council has worked with the Australian Research Institute for Environment and Sustainability (ARIES) to produce two short films showcasing local Aboriginal stories. You can see the two films below, which were created with photographer Amanda James and film-maker Maya Newell