Hornsby Mall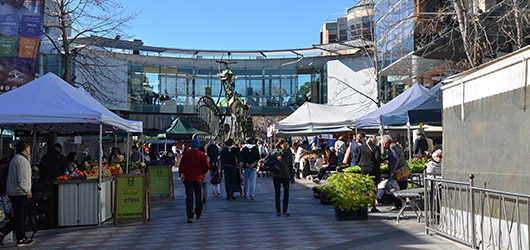 Located at the intersection of George and Hunter Streets, Hornsby Mall is a popular meeting place and pedestrian thoroughfare. It provides an excellent location to hold a variety of events.
Events in Hornsby Mall
Frequently Asked Questions
Yes, we'd be happy to let you take advantage of this vibrant public space filled with local shoppers. It's subject to availability and no access to Hornsby Mall will be granted on a Thursday due to weekly markets.
To book a place in Hornsby Mall please let our Hornsby Mall Administrator know at the time of booking.
Contact: Hornsby Mall's Administration Officer
Phone: (02) 9847 6050
Email: vmt@hornsby.nsw.gov.au
Yes, two local businesses have generously offered to help local community groups who use the trailer, Heimat - Home of Property Management and Tender Gourmet Butchery.
Heimat are offering each event 20 loaves of bread, one litre of tomato sauce, one litre of BBQ sauce and 200 napkins. They're also happy to let community groups use their marquee for the event and may even be able to lend you staff. To arrange assistance please email Heimat at hello@heimat.com.au or contact Matt Effenberg on 0417 773 500 at least one week prior to your event.
Tender Gourmet Butchery pride themselves on being the best award winning gourmet sausage makers in Australia. They will provide par boiled sausages at just 85c each which reduces the cooking time on the day of your event. Tender Gourmet Butchery also offers a free meat tray or gift certificate valued at $30 with every order of more than 250 sausages or just $30 with every order of less than 200 sausages. Once your use of the trailer is confirmed phone 9987 4028 and ask to speak to Adam or Barry, giving at least four days notice.
Yes, if you will be handling food you need to abide by the Government Food Safety Standards. Please visit their website for the most up-to-date information:
We have compiled the Golden Rules for Food Handling - 87kb for your convenience. This needs to be distributed to all team members who are helping with your sausage sizzle.