Hornsby Mall
Streets as Shared Spaces: Recall the Mall
Creating Safer Spaces for Everyone
Council has been awarded a NSW Government grant through the 'Streets as Shared Spaces' program. The project seeks to reinvigorate Hornsby Mall, encouraging the Hornsby community to recall their mall and reconnect with the space following the impact of COVID restrictions.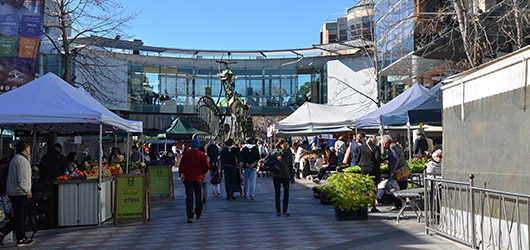 Located at the intersection of George and Hunter Streets, Hornsby Mall is a popular meeting place and pedestrian thoroughfare. It provides an excellent location to hold a variety of events.
Events in Hornsby Mall
Can we hold our event in Hornsby Mall?
Yes, we would be happy to let you take advantage of this vibrant public space. Hornsby Mall is subject to availability and no access will be granted on a Thursday (weekly) and first Saturday of every month due to the markets.
To enquire about booking a site to host your activity within Hornsby Mall, please contact the Town Centre Management Officer via vmt@hornsby.nsw.gov.au or 9847 6050.
Hornsby Mall Fees and Charges
Each activity has different hire fees. The applicable hire fees can be viewed here.
The commercial fees are applicable for operators intending to make a profit or commercial/personal gain including professional fundraisers.
The community fees are applicable for charity or not for profit organisations generating business, volunteers or members and/or fundraising for a registered charity.
Do I require public liability insurance?
The permit holder must arrange public liability insurance for not less than $20,000,000 for the duration of the hiring activity. Private insurance arrangements are to be organised if the hirer or third party:
Is a sporting body, registered club, association, corporation or incorporated body;
Is undertaking a commercial or profit-making activity.
Individuals or community groups who are not undertaking the activities mentioned above, will be covered up to $20,000,000 by Council's Casual Hirers Public Liability Policy.
Hirers should note that a two thousand dollar ($2,000.00) excess is applicable to Council's Casual Hirers Public Liability Policy. Where any claim for property damage or personal injury is made against this Policy, this excess of $2,000.00 is payable by the hirer.
Permit holder's employing professionals, i.e. jumping castles, fairies, catering, disc jockeys and the like, should make enquiries to establish they also have adequate public liability cover in effect.
Public liability insurance must be in the same name as recorded on the booking. Should the permit holder's public liability insurance policy expire during the term of hire, it is the permit holder's responsibility to ensure continuity of cover for the entire hire period. A lapse of insurance constitutes a breach of the Terms and Conditions of Hire Hornsby Mall. Council may at any time request evidence of such public liability cover.
Cancellations
Council's cancellation policy is as follows:
5 days' or more notice: 100% refund
Less than 5 days' notice: full hire fees payable
Cancellations for hire will only be accepted in writing (via email). Please send notification to vmt@hornsby.nsw.gov.au.
Bookings for Hornsby Mall are non-transferrable and Council does not accept tentative bookings or alterations.
Display Stalls, Activities and Events
To apply for a display stall or to host an activity or event, please complete the Hornsby Mall Activity Permit Application form. Please send the completed application form, along with the required documentation to the Town Centre Management Officer via vmt@hornsby.nsw.gov.au.
What documentation am I required to submit to hire a site within Hornsby Mall?
Along with your application, please include a copy of all handbill materials, flags, banners and marketing that will be used during the activity hire. Please include images of the proposed set up. If your activity involves the selling of food, please include a food layout.
Do I require a vehicle permit?
All vehicles that wish to enter Hornsby Mall need to obtain a valid vehicle permit. Vehicle permits are valid for one day. The response email received upon payment confirmation will act as your vehicle permit and will not be deemed valid unless displayed clearly at al times. Not displaying the permit correctly may result in a fine.
Vehicles entering Hornsby Mall must be less than 15 tonnes in weight and less than 8.8 metres in length. A copy of the vehicle insurance must be provided, along with the drivers licence of the person operating the vehicle.
All vehicles entering Hornsby Mall with a valid vehicle permit are required to adhere to the Traffic Management Plan.
All individuals/organisations requiring a vehicle permit to access Hornsby Mall are required to submit a copy of the certificate of currency for full comprehensive insurance as well as a copy of the nominated individuals drivers licence.
Are there other rules we need to follow to host an activity or event?
Yes, if you will be handling food you need to abide by the Government Food Safety Standards. Please visit their website for the most up to date information:
We have compiled the Golden Rules for Food Handling - 87kb for your convenience. This document is required to be distributed to all team members who are assisting with your activity or event.
For hire of Hornsby Mall, Terms and Conditions exist to ensure the public and the space are kept safe and secure.
The Terms and Conditions of Hire Hornsby Mall cover important issues such as:
Hirer responsibilities
Public Liability Insurance requirements
Cancellation terms
Use of Hornsby Mall
Prior to booking a site, it is essential to read and understand the Terms and Conditions of Hire Hornsby Mall. If you have any questions regarding the Terms and Conditions of Hire, please contact the Town Centre Management Officer on vmt@hornsby.nsw.gov.au or 9847 6050.