Swimming
Galston Aquatic & Leisure Centre
UPDATE – March 2023
Galston Aquatic & Leisure Centre (GALC) remains closed to the public for facility upgrades and will not reopen until these are complete.
The builder completing the GALC refurbishment has experienced some challenges which has unfortunately delayed the reopening of the facility, until mid-2023. There have been unforeseen stoppages from rain, labour shortages and extensive delays on the delivery of building materials due to COVID-19. In addition, the project team is required to adhere to the strict Work Health and Safety Act 2011(NSW) to ensure we deliver a safety-first working environment for both contractors and Council staff.
You may be assured that essential internal works are being completed which, due to scaffolding and external walls, aren't visible from the road. Pending clear weather, installation of the main roof over the 25-metre pool is currently planned for March 2023. This should allow work inside the building to progress irrespective of the weather.
Please direct all enquiries to GALCenquiries@hornsby.nsw.gov.au and a team member will get back to you as soon as possible.
Keep an eye here and on Facebook for further updates:
https://www.facebook.com/hornsbyaquaticandleisurecentres/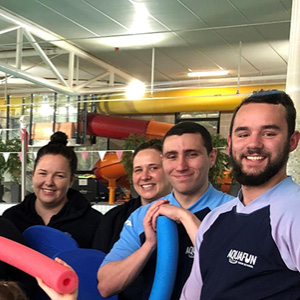 Are you looking for a rewarding job?
Apply to become a learn to swim instructor or lifeguard at Hornsby Aquatic and Leisure Centres and this could start your journey teaching people of all ages a life skill