Citizenship Ceremonies
COVID-19 UPDATE – Friday, 12 November 2021
In accordance with the NSW Government roadmap for reopening, we are pleased to welcome our community back to many of our Council facilities.
From Monday 15 November, the following is in place.
Hornsby Aquatic and Leisure Centre
Council's 50m outdoor pool is open for lap swimming, squad training and Aqua classes (with capped numbers). The 17M and 25M indoor pools are open for lap swimming, Aqua Classes, gentle exercise and Learn to Swim. The gym is open. Aqua classes only must be booked via Trybookings.
Operating hours are:
5.30am-7.45pm, Monday to Thursday
5.30am-6.45pm, Friday
8am-5pm, Saturday & Sunday
For more information, including proof of vaccination and other conditions of entry, current operating hours and booking requirements, please see our Swimming page.
Galston Aquatic & Leisure Centre remains closed to the public in preparation for facility upgrades and will remain closed until the works are complete.
Hornsby Community Centres
Council's community centres are available for regular hirer bookings.
One-off hires are also available, including for weddings and funerals.
All hirers must comply with the current Public Health Orders.
Capacity limits and other restrictions differ depending on the type of hire. See our Facilities & Venues page for details and to book.
Hornsby Shire Libraries
Pennant Hills, Galston and Berowra Libraries are open with reduced operating hours.
For more information, including opening hours, services available and proof of vaccination and other conditions of entry, please see our Library page.
Hornsby Library is closed for ongoing refurbishment works. A date for reopening will be communicated as soon as it is confirmed.
All items reserved for collection at Hornsby Library have been sent to Pennant Hills Library and are available for collection there.
Thornleigh Brickpit
The Thornleigh Brickpit is open for all indoor recreation, including casual walk-ins, for its normal operating hours.
Group numbers are no longer capped. One fully vaccinated spectator is permitted for each child under the age of 16.
For more information, including opening hours, how to book and proof of vaccination and other conditions of entry, please see our Thornleigh Brickpit page.
Thornleigh Community Recycling Centre
The Thornleigh Community Recycling Centre is open to all visitors, including those from other local government areas. See opening times and COVIDSafe conditions of entry.
All other services
Council is endeavouring to provide as many services in the field as possible, where they are in line with the Public Health Orders. Consequently, current inspections or assessments undertaken by our Council Officers will be contactless where possible.
These measures are to keep our community and our staff safe during this current outbreak but we are still here for you. Please be assured that we will respond to emergency callouts. And when we cannot respond face-face, we will endeavour to find a way to assist in a COVID-safe way wherever possible.
Our Customer Service Centre is closed to public access, but our team can be reached on 9847 6666 and online as usual and we will respond during normal business hours.
Many of our services are available online, including lodgement of Development Applications, and our Duty Planning Officer is available for enquiries on 9847 6760 (8.30am-12.30pm and 2pm-4.30pm, Monday to Friday).
Further information on the current restrictions is available on the NSW Government website.
We are constantly monitoring this evolving situation and will keep you updated here, on Facebook and in our newsletters with any changes.
Citizenship Ceremonies are moving online
Due to the current COVID-19 pandemic, Hornsby Shire Council will be hosting online Australian Citizenship Ceremonies commencing Friday, 17 September, then every Wednesday and Thursday mornings, during business hours.
Hornsby Shire Council will email an expression of interest for an online citizenship ceremony. If you are interested in an online ceremony you must reply within three days of receiving this email. A letter of invitation will be emailed confirming the date, time and other relevant information for your citizenship ceremony.
Access to Zoom will be required in order to attend your ceremony.
Ceremonies will be allocated by the Department of Home Affairs as per your date of approval.
Hornsby Shire Council takes great pride in being able to help you take the final step to become an Australian citizen.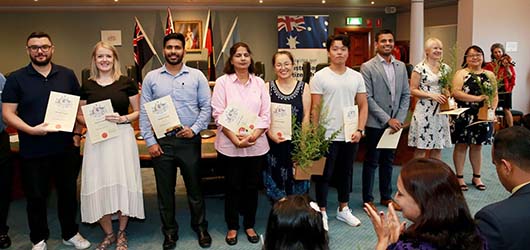 How often are citizenship ceremonies held?
Hornsby Shire Council normally conducts around four citizenship ceremonies each month. This is currently impacted by COVID and Council is now conducting ceremonies online. Click here to see the schedule of ceremony dates.
What is involved?
The ceremonies consist of:
Citizenship Preamble;
Pledge of commitment to the Commonwealth of Australia.
Advice on issuing of citizenship certificates
You can apply for Australian Citizenship or check the status of your application by phoning the Citizenship Information Line on 131880 or by visiting the Department of Home Affairs (DOHA) website. Your application will be processed by the DOHA and, if successful, they will notify you by postal letter.
I have received my letter of approval. When can I attend a ceremony?
The application process is lengthy and a waiting time of up to three to six months can occur between your approval and your ceremony. The DOHA will send you a letter of invitation telling you the date and time your ceremony will take place.
Do I need to attend a ceremony to receive my certificate?
Yes, attending your Citizenship Ceremony is compulsory. Candidates need to make their Pledge in order to validate their citizenship and receive their certificate
What if I cannot attend the ceremony?
Please contact Hornsby Shire Council on 9847 6667. We will advise the DOHA and you will be allocated another ceremony date.
Where are the ceremonies held?
Ceremonies are currently being held online via Zoom.
How long does the Citizenship Ceremony take?
We're currently operating a reduced ceremony time of around 10 minutes due to the online format.
What do I need to bring to the ceremony?
Please bring your current Australian photo identification such as a drivers license or passport. If you do not have photo identification please bring at least three documents bearing your name, address and signature. Examples include bank statements, credit cards or bills.
These documents are also required as proof of identification by the Australian Electoral Commission to allow you to vote in Australian elections.
Can I bring guests along to the ceremony?
Due to the current online format, no guests are permitted, however dependants may attend.
Do children need to attend Citizenship Ceremonies?
Children aged 16 years and under are not legally required to attend the ceremony, though they are welcome to attend and participate where possible. If a child does not attend the parent whom the child is registered under can collect the certificate on their behalf at the ceremony.
When can I apply for an Australian Passport?
Please allow a minimum of 10 days before applying for your Australian Passport. Please note your original citizenship certificate will be needed when applying for an Australian passport. For more information please visit the Australian Passport Office or call them on 131 232.
What should I wear?
Smart/casual dress attire is worn at citizenship ceremonies.
Who can I contact with further questions?
Please phone 9847 6667 or email ldestradis@hornsby.nsw.gov.au with any questions about Citizenship Ceremonies.
For information on eligibility and how to apply to be an Australian citizen, please contact the DOHA Citizenship Information Line on 131 880 or visit Department of Home Affairs (DOHA) website.

Australia Day Ceremony
Tuesday 26 January 2021 - 9.30am and 11.15am
Monthly Ceremonies for 2021
Wednesday 3 February 2021
Wednesday 3 March 2021
Wednesday 31 March 2021
Wednesday 21 April 2021 (extra)
Wednesday 5 May 2021
Wednesday 19 May (extra)
Wednesday 2 June 2021
Wednesday 23 June 2021 (extra)
Friday 17 September 2021 (Australian Citizenship Day)
Ceremonies from 17 September will be held online until further notice.
Click here to see the schedule of ceremony dates.