Heritage
Council is undertaking a Comprehensive Heritage Study. Click here to find out more.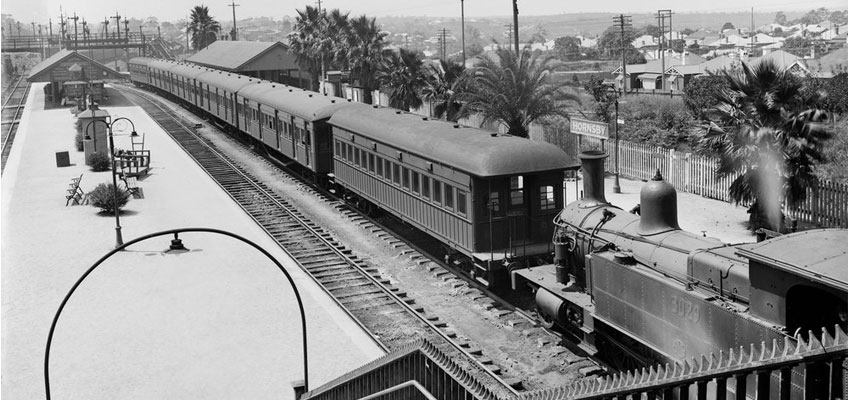 Hornsby Railway Station, looking north east, taken 1930 (Source: Hornsby Shire Recollects)
Hornsby Shire is lucky to have unique areas of historical and environmental heritage. Protecting these is the responsibility of Council. Council does this through the identification and listing of heritage items and heritage conservation areas, as well as planning controls that protect them. More than 800 heritage items have been listed and six Heritage Conservation Areas (HCA).
Heritage items are individual places or objects of heritage significance. These can include buildings, structures, landscaping, gardens, parks, archaeological relics or Aboriginal sites. There are around 800 heritage items and 70 archaeological sites listed in Hornsby Council.
There are two levels of listing for heritage items within Hornsby Shire:
1. Local heritage items, which have been assessed as significant to the local community.
2. State heritage items, which have been recognised as significant to the whole of NSW as well as to the local community.
Council's Heritage Register contains a brief history and description of each item, as well as a statement of significance, photograph and historical notes where known.
These are areas that are recognised and valued for the collective nature of the buildings and components that contribute to an overall heritage significance that is worth protecting. This may include the historical subdivision pattern, consistency of building style, siting and scale, materials or common age of building stock and landscaping that reflect a particular period or periods in the history and growth of the area.
Hornsby Shire Council lists six Heritage Conservation Areas. Click on the links below to see a map of each:
Hornsby Shire Council values feedback from the community on what local residents regard as their local heritage. This may include a place, building, work, relic, landscape, moveable object or precinct valued to be of local heritage significance.
To nominate an item or place to be included in one of Council's Heritage Reviews for a detailed heritage assessment, please email or post Council any relevant information available to the attention of the Heritage Officer via the contact details below.
Phone: 9847 6666
Email: hsc@hornsby.nsw.gov.au
Postal Address: PO Box 37, Hornsby NSW 1630
In 2018 Council committed to undertake a Comprehensive Heritage Study to respond to the changing development context, demography and community expectations regarding the identification, policy and protection of Hornsby Shire's heritage.
The Hornsby Heritage Action Plan was prepared in 2019 to identify the strategic tasks required to guide the scope of the Comprehensive Heritage Study and informed a four-year programme to complete the tasks.
Search Council's Heritage Register to find an inventory sheet on the heritage items and archaeological sites listed under Schedule 5 (Environmental Heritage) of the Hornsby Local Environmental Plan 2013 (HLEP).
The Heritage Register provides details about the heritage items. This may include a brief history, physical description, statement of significance, photograph and historical notes where known.
If you would like to alter a heritage item or undertake development in a heritage conservation area, you must refer to Clause 5.10 the Hornsby Local Environment Plan 2013 and Part 9 of the Hornsby Development Control Plan 2013 (PDF 1.7MB). These spell out the heritage provisions and development guidelines.
Development consent from Council is required for alterations, additions and extensions to a heritage item. Repairs and maintenance work do not usually require development consent, as long as no new finishes or materials are introduced as part of the work. Minor work may also be exempt if Council has been consulted in writing and believes the work would not adversely affect the heritage significance.
For the recommendation of heritage professionals and consultancy services, refer to the NSW Heritage Consultants Directory.
For further information contact Council's Duty Planner on 9847 6760.
Information on obtaining heritage exemption for minor works can be found under the section below titled 'Heritage Exemption Advice'.
Some minor works or maintenance may be able to be undertaken to a heritage listed property or a property located within a heritage conservation area without development consent. However, written advice from Council confirming an exemption must be obtained prior to any works commencing.
Under Clause 5.10(3) of the Hornsby Local Environment Plan 2013 (HLEP), development consent may not be required for work to a heritage item or to a property within a heritage conservation area if Council is satisfied that the proposed development:
Is of a minor nature or is for the maintenance of the heritage item, Aboriginal object, Aboriginal place of heritage significance or archaeological site or a building, work, relic, tree or place within the heritage conservation area, and
Would not adversely affect the heritage significance of the heritage item, Aboriginal object, Aboriginal place, archaeological site or heritage conservation area.
How to Apply

A request for advice on whether works to a Heritage Item or within a Heritage Conservation Area can be carried out without development consent can be submitted through Council's Online Services Portal.

Fee

There is no fee for requesting heritage exemption advice.

Documentation

The submission of comprehensive information with the request will assist in Council's assessment of your proposal. At a minimum, a statement describing the proposed works and photographs must be supplied. Other information such as plans, schedule of colours, materials, construction details and tree location should be supplied if they are relevant to the proposed works.

Review and Advice

Following lodgement and a preliminary review of the proposal, Council may request further information to assist in the assessment before providing written advice.

Council will endeavour to respond with advice within 21 days.
Further information on maintenance or minor works to heritage items or properties within heritage conservation areas is available in Part 9 of the Hornsby Development Control Plan 2013.
Information in relation to works that may impact on trees is available on Council's Tree Management and Preservation webpage.
The Hornsby Council Heritage Advisory Committee was appointed in 1993 to help Council manage heritage items and assess development applications within Heritage Conservation Areas.
Members of the committee are volunteers who are guided by the Constitution of the Committee.
Membership of the committee consists of four nominated Councillors, three technical specialists, two community representatives and three officers of Hornsby Council to provide support.
Meetings are held four times a year on a quarterly basis (March, June, September and December) and when required.
Matters considered by the committee include:
Judging the annual Heritage Awards;
Endorsement of heritage programming, exhibitions, education, events and promotional material;
Any ceremonies, festivals or promotional events concerning the Shire's heritage;
Heritage Review items;
Projects on Council's Strategic Planning Programme, concerning heritage conservation;
Promotional and educational material, concerning the Shire's heritage; and
Historical research and listing information on heritage listed items and conservation areas.
Hornsby Shire Council was the first council in NSW to integrate the management and protection of Aboriginal heritage into its planning processes. In 1996 Council conducted the Hornsby Shire Aboriginal Heritage Study, with the broad objectives to:
identify and assess the Aboriginal heritage of the Shire;
make practical recommendations for conservation and management;
promote Aboriginal heritage within the Shire;
provide advice on management mechanisms for Aboriginal heritage;
provide the opportunity for training and education for Kooris through Land Council funding.
View the Aboriginal Heritage Study documents:
Other resources:
There are numerous heritage studies and reviews that have been carried out over the years in the Hornsby Shire Council Area.
Below is a comprehensive list of the previous studies and reviews prepared prior to the body of work Council is currently completing as part of the Comprehensive Heritage Study.
Hornsby Shire Heritage Study
In 1991 Hornsby Shire Council commissioned a study of the Shire's heritage. The study was undertaken by consultants and was jointly funded and supervised by Council, the Australian Heritage Commission and the NSW Department of Planning.
Heritage Reviews
Council has undertaken regular reviews of the heritage listings, conservation areas and heritage-related development controls to reassess the statutory protection and identified heritage values.
Heritage Conservation Areas
Other Heritage Studies

In previous years Hornsby Shire Council has presented the Hornsby Heritage Awards to publicly acknowledge outstanding design work that helps maintain places of historical significance, as well as efforts to promote heritage.
Hornsby Heritage Awards 2017
The Hornsby Shire Heritage Awards 2017 presentation was held on Wednesday 14 June 2017 during the June Council meeting in the Hornsby Council Chambers.
2017 Winners
The Hornsby Heritage Award
For Work involving:
The preservation, restoration, reconstruction or maintenance of a heritage item;
A sensitively designed extension or alteration to an existing heritage item or building in a heritage conservation area; or
A sensitively designed new building in a heritage conservation area, or in close proximity to a heritage item.
WINNER – Anglicare for the restoration, preservation and maintenance of heritage listed Lober House, a grand two storey Federation brick mansion (circa 1925). Anglican Retirement Village (ARV), 284 Castle Hill Road, Castle Hill.
HIGHLY COMMENDED – Mr & Mrs Hather for the sensitively designed alterations and additions and front verandah restoration of a Heritage listed timber Federation Cottage at 17 Wells Street, Pennant Hills.
The Owen Nannelli Memorial Award
This award is awarded to a group or individual who has made an outstanding contribution to the education and promotion of heritage. This award is named in honour of the late Councillor Owen Nannelli, a long-time advocate for heritage within the Shire.
WINNER – Hornsby Historical Society for their outstanding Schools Program, which has been provided by volunteers since the 1980s. The program is provided to both public and private schools at the Society's heritage listed museum building located in Kenley Park, Normanhurst. Children learn about local history and participate in a range of activities, such as games of the past and lessons in a 1940s style classroom to name a few.
Interim Heritage Orders
The purpose of an interim heritage order is to provide a "breathing space" of no more than 12 months during which a full heritage assessment can be completed. Temporary in nature, the majority of interim heritage orders are made in response to community representations or concerns raised by local government.