Hornsby Mountain Bike Trail
Bushland tracks and trails and Crosslands Reserve will be closed on days with fire danger ratings of "Catastrophic" and "Extreme" where there is a fire behaviour index rating of 75 or higher, as assessed by the Bureau of Meteorology for the Greater Sydney Region. Further information on fire danger ratings can be found on the Rural Fire Service website and New South Wales Fire Danger Ratings.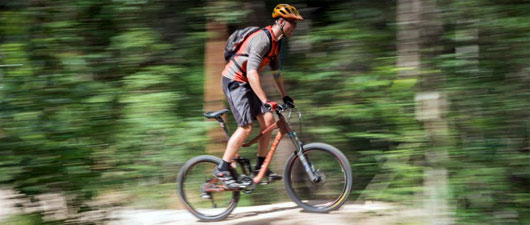 Current Trail Status
What are the trail features?
The single-track mountain bike trail is a combination of narrow bushland trails and flowing one-metre-wide trails. Whether you're looking for a technical ride or simply want to release the brakes along the flow trail, you're bound to find it.
What about beginners?
There is a green trail for the less experienced riders, however this will not be as easy to ride as the previous green trail and caution should be taken. This green trail is suitable for competent bike riders with some off-road experience. Only ride within your capabilities. Please see risk warnings on the map for further information.
Is the trail popular?
Very popular and accessible trail. Over several years there has been an average of around 300 visitors per week. Peak times will see far more than 300 visitors per week.
Does the trail close during rain and fire danger periods?
Yes. The trail will also remain closed for a period after heavy rain to let it dry out. To find out whether the trail is closed check the trail status at the top of this page or the Hornsby Mountain Bike Trail Twitter page: twitter.com/HornsbyMBT
Will club events be held on the trail?
Local bike groups can apply for a permit to hold club events, with each event to be assessed before approval is granted.
What have people been saying about the trail on Facebook?
Jasper Alquiza - "Yahoo!"
Christian Tschaikin - "Looking forward to exploring the track! Thanks heaps for the effort, making this happen. Well done!
Neil Aldridge - "What a fantastic facility! It persuaded me to get back on the mountain bike after over a decade away. HSC and Synergy Trails are to be commended."
Alexander Buring - "High five!! Pumped."
GoPro McGee - "Massive thanks to HSC and all the SNORC and Synergy Trails crew. You're really leading the way and ensuring the future of our great sport. Here's hoping other shire councils follow in your footsteps"
Jamie Lewis - "Just round the corner from me- delighted! Well done in encouraging people to get into some outdoor pursuits- great initiative."
Dain Penman - "What a fantastic facility this is and kudos to the council for having the courage to support it. Well done!"
David Treves - "This is simply awesome! I rode it several times while it was in test ride and had a brilliant time! Thanks for this trail! Now it's time to work on the project's next stage!"
Gaby Mayo - "Nice work! Got a chance to ride the trails a few weeks ago, but definitely looking forward to bringing my GF out now that the green trail is open."
Kin-Yat Lo - "Many thanks to Hornsby Council to have built this facility. Can't wait to ride it."
Will Bates - "Fantastic for the community. Can I ask that all the riders travelling to Hornsby Shire also bring their wallets and support the local businesses that have supported the trails and welcome riders."
Lincoln Robinson - " Congratulations on making this worthwhile investment, Hornsby Council. Well done!"
Ride Lightly: How mountain bikers can help protect the bush
Bike Parking Locations
Secure Bike Lockers
Contact Bicycle NSW on (02) 9281 4099
Hornsby Station, on George Street southeast of railway station
Hornsby Station, on Jersey Street northwest of railway station
Bike Racks or Rails
Berowra Library
Berowra Marketplace Shopping Centre off Turner Road
Carlingford Court Shopping Centre, outside McDonalds
Castle Towers Shopping Centre, outside Dock 4 and Level 1 in yellow carpark
Cheltenham Station on west side off Langston Place
Cherrybrook Village Shopping Centre, in front next to Kindergarten
Hornsby - Burdett Street carpark, southwestern corner
Hornsby - Florence Street Mall, east end near Post Office Box
Hornsby - Florence Street Mall, west end near Albert St
Hornsby - Hunter Street Mall, near Hornsby Inn
Hornsby Station, on Station Street, to southwest side of station
Hornsby Station, on northwest side of station
Hornsby Westfield, Albert Street Carpark, Blue Level, near Dan Murhpy's
Hornsby Westfield, Albert Burdett Street Carpark, Purple Level, near Harrison's
Mt Colah - McDonalds
Pennant Hills Station on west side of Yarrara Road
Thornleigh Station on west side in carpark on The Esplanade