Family History
Hornsby Shire Libraries are open in accordance with the latest COVID-19 safety guidelines from NSW Government.
Our libraries are operating with limited hours, and we encourage you to use our Click & Collect service to keep your visit as brief as possible.
We are progressively increasing services and opening hours over the coming months based on advice from state and federal government.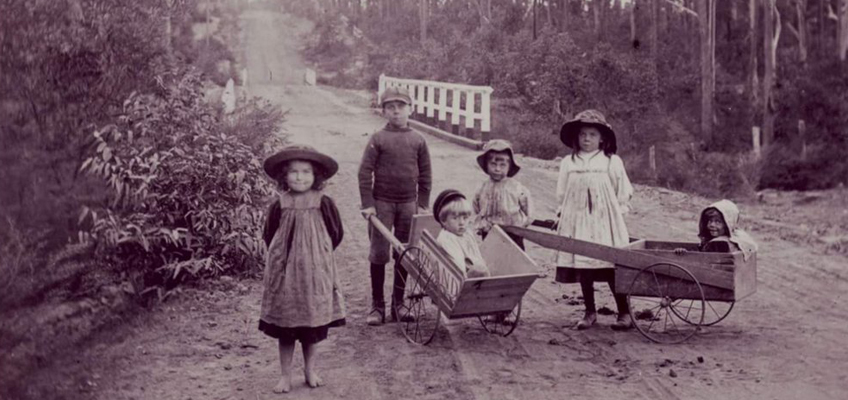 Children on Ray Road Epping, circa 1900
Genealogical resources
Free use of Ancestry.com is temporarily available from home. For access, please follow the instructions on the library catalogue.
The tools in Hornsby Library's Family History section include:
Free use of Ancestry.com only available from library computers (Free use of Ancestry.com is temporarily available from home. For access, please follow the instructions on the library catalogue.)
My Heritage available In library | At home
Free use of Findmypast - Australia and Findmypast - UK only available from library computers;
Family Search, which includes the international genealogical index;
Australian birth, death and marriage indexes;
Census and electoral roll information for Australia;
Sands residential and business directories;
Passenger and shipping records;
Colonial Secretary's records;
NSW probate index;
Family history talks
Hornsby Library hosts a range of very popular family history talks throughout the year.
Family History Group
The Hornsby Shire Family History Group meets 2pm - 4pm at Hornsby Library on the third Wednesday of each month. All are welcome.
Family history volunteers
A range of experienced volunteers are happy to help you research your family's past. Bookings are essential as places are limited. Phone 9847 6614 or email library@hornsby.nsw.gov.au.
Family history websites
We've gathered together a range of websites that will help you research your genealogy. The Australian family history pages and the international family history pages have been grouped together, while below are some general family history pages that will get you started.
Ancestry Magazine
Free online access to copies of the now-defunct American family history magazine.
Ancestry.com Library Edition
One of the best websites for finding your ancestors. It usually costs money but is free at all Hornsby Shire libraries.
Cyndi's List
A categorized and cross-referenced index to genealogical resources on the internet.
Family Search
The largest collection of free family history records in the world
ObituariesHelp.org
Download free printable blank family trees, as well as accessing general family history information.
Search for Ancestors
An interactive directory of the best free genealogy search engines.