Pets
There are more than 40,000 pets and companion animals in Hornsby Shire. Council aims to protect the rights of these animals and their owners, as well as the rights of other community members.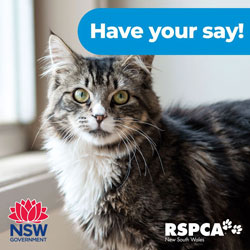 Keeping Cats Safe at Home
In partnership with RSPCA NSW, we are consulting the community to inform the new project 'Keeping Cats Safe at Home' and we want to hear from you!
We encourage everyone (cat owners and non-cat owners alike) to complete a short online survey, it only takes about 10 minutes.
This project has been assisted by the NSW Government through its Environmental Trust and aims to improve the lives of pet cats while also reducing impacts on wildlife.
You can learn more about the project here: https://www.rspcansw.org.au/safecats/
A rescue animal may be your purr-fect pet-match!
The Hawkesbury Animal Shelter is brimming with happy, healthy pets just waiting for you to take them home.
When you adopt your pet from the Shelter you are adopting an animal which has been health checked, desexed, vaccinated and often, wormed and treated for fleas. They have also been assessed for rehoming.
If you think a rescue dog or cat is for you, please visit the Hawkesbury Animal Shelter's gallery to view the animals they have available for you to adopt.