Community BBQ Trailer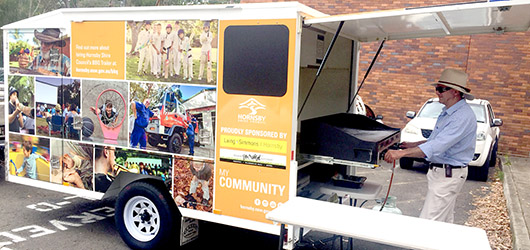 Lift your next charity or community event with Hornsby Shire Council's community BBQ trailer, which is available to use for free.
Frequently Asked Questions
About the Trailer
Special features of the barbecue trailer include an in-built barbecue as well as an audio-visual system.
All you need is a vehicle that can tow 1400 kilograms, the supply of your own gas bottle and a $250 security deposit that is fully refundable if there is no damage to the trailer or equipment.
You also need to read the Safe Use of the Hornsby Shire Council BBQ Trailer manual.
All online bookings are tentative. A bookings officer will forward you a casual hire agreement which requires relevant documentation such as Public liability Insurance, and payment of a $250 security deposit. The application form will need to be returned with required documentation and security deposit paid before the booking is confirmed. There may be additional requirements and these will be provided to you prior to a booking confirmation. Your status as a valid community group within Hornsby Shire will be assessed at this time.
View the Conditions of Hire - Community BBQ Trailer (PDF 155KB).
After your event, please send an email to vmt@hornsby.nsw.gov.au with the amount raised from the use of the Community BBQ Trailer.
Online bookings must be made at least ten working days prior to the hire date.
For more information, please contact Hornsby Mall Administration Officer on 9847 6050 or vmt@hornsby.nsw.gov.au
Keys to the BBQ trailer must be collected from the Community Services Building, 28-44 George Street, Hornsby between the hours of 10am-4pm on the day prior (or Friday if using on the weekend).
The BBQ trailer can be collected from the Thornleigh Depot, located at 33 Sefton Road, Thornleigh (see location map) after 4pm, Monday to Friday and anytime on Saturday or Sunday. Alternative pick-up/drop-off times may be arranged on a case by case basis..
The BBQ trailer must be returned to the Depot following usage on the same day.
Your community group is allowed to use the trailer up to three times in a six-month period. Bookings are not allowed for consecutive weekends.
About Holding Events
Yes, we'd be happy to let you take advantage of this vibrant public space filled with local shoppers. It's subject to availability and no access to Hornsby Mall will be granted on a Thursday due to weekly markets.
To book a place in Hornsby Mall please let our Hornsby Mall Administrator know at the time of booking.
Contact: Hornsby Mall's Administration Officer
Phone: (02) 9847 6050
Email: vmt@hornsby.nsw.gov.au
Yes, two local businesses have generously offered to help local community groups who use the trailer, Heimat - Home of Property Management and Tender Gourmet Butchery.
Heimat are offering each event 20 loaves of bread, one litre of tomato sauce, one litre of BBQ sauce and 200 napkins. They're also happy to let community groups use their marquee for the event and may even be able to lend you staff. To arrange assistance please email Heimat at hello@heimat.com.au or contact Matt Effenberg on 0417 773 500 at least one week prior to your event.
Tender Gourmet Butchery pride themselves on being the best award winning gourmet sausage makers in Australia. They will provide par boiled sausages at just 85c each which reduces the cooking time on the day of your event. Tender Gourmet Butchery also offers a free meat tray or gift certificate valued at $30 with every order of more than 250 sausages or just $30 with every order of less than 200 sausages. Once your use of the trailer is confirmed phone 9987 4028 and ask to speak to Adam or Barry, giving at least four days notice.
Yes, if you will be handling food you need to abide by the Government Food Safety Standards. Please visit their website for the most up-to-date information:
We have compiled the Golden Rules for Food Handling - 87kb for your convenience. This needs to be distributed to all team members who are helping with your sausage sizzle.