Justices of the Peace
COVID-19 UPDATE – Saturday, 17 July 2021
With the announcement today by the NSW Premier of further restrictions for Greater Sydney, and in accordance with NSW Health guidelines, we will be limiting Council services operating in the community to emergency services only until 30 July.
Our facilities remain closed. This includes Hornsby Shire Libraries, Community Centres, Thornleigh Brickpit, Hornsby Shire Aquatic & Leisure Centres, Thornleigh Community Recycling Centre and our Customer Service Centres.
These measures are to keep our community and our staff safe during this current outbreak but we are still here for you. Please be assured that we will respond to emergency callouts. If you have any requirements of Council, please contact Customer Service on 9847 6666 and online as usual and we will respond during normal business hours.
Under these new restrictions, while we may not be able to respond face-face, we will endeavour to find a way to assist in a COVID-safe way wherever possible. Many of our services are available online, including lodgement of Development Applications, and our Duty Planning Officer is available for enquiries on 9847 6760 (8.30am-5pm).
Further information on the new restrictions is available in the NSW Premier's media release and on the NSW Health website.
We are constantly monitoring this evolving situation and will keep you updated here and on Facebook with any changes.
Although all Hornsby Shire Libraries are currently closed, staff are available to assist you on 9847 6100, 10am-5pm Monday to Saturday or by email to library@hornsby.nsw.gov.au.
After hours return chutes are closed at all Hornsby Shire libraries until further notice due to the COVID-19 lockdown. No overdue fines will be accrued during to our current closure.
Loan due dates have been extended to 2 August 2021 for items that were due during the period 27 June to 01 August inclusive.
Hold dates for reservations have been extended to 6 August for items that were due to be collected 27 June to 5 August inclusive.
New memberships are currently being accepted through our online catalogue.
Digital resources are available and can be accessed from our eLibrary and via the Library App.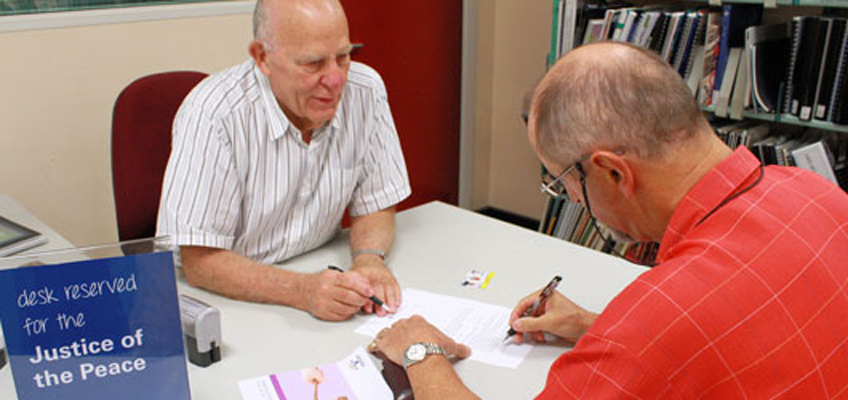 Justice of the Peace times and locations
Hornsby Library Refurbishment
The refurbishment of Hornsby Library is underway and includes internal alterations and fit out to the existing library, minor external works and a business identification sign.
The construction company (Built Pty Limited) are undertaking the works, which will be completed in two stages.
During the refurbishment our collections, public computers, printing and photocopying will be moved to the centre of the library floor.
Hornsby Library – Update to Temporary closure
Due to circumstances beyond our control, the closure of Hornsby Library during the changeover between stages one and two has had to be extended. A date for reopening will be communicated as soon as it is confirmed. We are endeavouring to resume normal opening hours as soon as possible.
During the closure, the refurbishment of the library continues to the next exciting stage. Items can be renewed via the online catalogue, through the library app, or by contacting Pennant Hills Library on 9847 6100.
We apologise for any inconvenience and look forward to showing you stage one of the works very soon.
---
Due to space limitations during the refurbishment, limited public PCs and power points are available, however, we are unable to provide study space. We apologise for any inconvenience.
Date

Time

Tuesday 25 May

10:00 am – 12:30 pm

Wednesday 26 May

10:00 am – 12 noon
3:00 pm – 5:00 pm

Thursday 27 May

5:30 pm – 7:30 pm

Saturday 29 May

10:00 am – 12 noon

Monday 31 May

10:00 am – 12 noon

Wednesday 2 June

12 noon – 2:00 pm

Friday 4 June

2:00 pm – 4:00 pm

Monday 7 June

2:00 pm – 4:00 pm

Wednesday 9 June

3:00 pm – 5:00 pm

Thursday 10 June

1:00 pm – 2:30 pm

Saturday 12 June

11:00 am – 12:30 pm

Tuesday 15 June

10:00 am – 12:30 pm

Wednesday 16 June

12 noon – 2:00 pm

Tuesday 22 June

10:00 am – 12:30 pm

Wednesday 23 June

3:00 pm – 5:00 pm

Thursday 24 June

5:30 pm – 7:30 pm

Saturday 26 June

10:00 am – 12 noon
We don't take appointments to see a JP, but we suggest phoning to confirm availability before you visit in case the JP has cancelled with short notice.
Our JPs leave promptly at the end of their designated shifts. Please arrive with enough time for them to certify your documents.
JPs may limit the number of documents to certify in a session. This will be at the discretion of the JP in attendance. A JP may decline to witness or certify any document at anytime at their own discretion.
You can also find further listings of JPs on the Department of Attorney General and Justice website.
To confirm availability of JPs please call:
Hornsby Library: (02) 9847 6614
Pennant Hills Library: (02) 9847 6100

Are you interested in becoming a volunteer JP?
If you are a current Justice of the Peace and would like to volunteer at Hornsby or Pennant Hills Library we encourage you to complete an application. We ask our JPs to volunteer a minimum of 2 hours per month, and we will work together to find a time that suits you.
If you do not wish to apply online, you may fill in The Library Volunteer application form available for download.
For additional information please contact Melanie Mutch on 9847 6568.