Filming in Hornsby Shire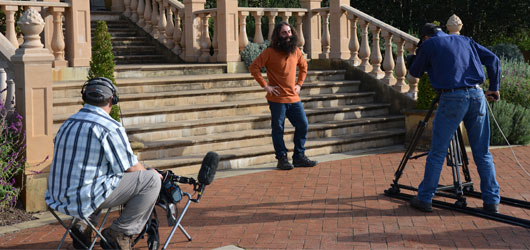 Hornsby Shire boasts a wide variety of beautiful locations for filming, most notably its spectacular bushland and pristine waterways. There are also urban, agricultural and heritage settings, all less than an hour from Sydney's CDB. Hornsby Shire Council is eager to help filmmakers in every way possible. Please contact us for more information.
Phone: (02) 9847 6666
Email: hsc@hornsby.nsw.gov.au
Filming in Hornsby Shire
Approval is required for filming and still photography on Council owned property and open spaces such as footpaths, roads, natural areas, parks and sportsgrounds.
Applications are lodged online and require 14 days' notice
A separate application is required for each location and applicants are required to have current Public Liability Insurance cover for $20 million. Other supporting documentation such as site plans, parking and traffic management plans and a community notification letter may be required.
Payment of fees must be made at time of lodgement. Please note that additional fees apply for applications received with less than 7 days' notice.
Filming on private property requires the approval of the property owner rather than Council.
Please read the Council's filming guidelines as well as the filming protocols listed below prior to lodging an application.
Road closures or stopping traffic
Any requests to close roads or car parks or effect traffic must be accompanied by a Traffic Management Plan. This plan must be prepared by a Roads and Maritime Services authorised person. A Temporary Road Closure or Stand Crane or Plant in a Public Place Application may also be required to be submitted, additional fees apply.
Drone Usage
A Civil Aviation Safety Authority (CASA) certification to operate a drone for a commercial purpose must be supplied to Council for any applications that involve the use of a drone.
For further information please visit the CASA website at casa.gov.au/aircraft/landing-page/flying-drones-australia
Apply online
Online applications and payment by credit card are available through Council's Online Services Portal.
Before applying and to avoid delays please have the following documents ready:
Public Liability Certificate of Currency for a minimum of $20 million
Site map showing your filming / photography locations and unit base set up / parking locations.
List of production vehicles detailing type, size and registration details.
Parking plans or traffic management plans
Community notification
Additional approval documents, e.g. RMS, CASA, RFS
Students please have a letter of support from your college or university.
Filming protocols
The Filming Protocol outlines the requirements of all councils and state agencies in relation to managing commercial filming applications.
See your property on film
Council is keen to help filmmakers by increasing the number of potential filming locations in the Shire. If you'd like to add your property to the list visit Vantage Management, a commercial online database that is used by producers and location scouts.
Listing your property is free and the database contains no personal details, just a basic description of the property and photos provided by you. Your details will only be passed on to the producers once you have been contacted and agree.
Other useful resources