Online Services Portal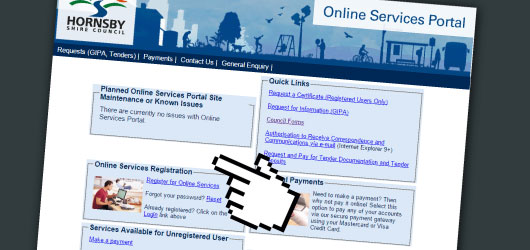 Council offers a wide range of online services, giving residents convenient access 24 hours a day.
Registered users are able to access additional services. Log in or Register now.
If you have previously registered with Online Services and have not yet received your username and password to log in to our new portal, you can request your new details by emailing colservices@hornsby.nsw.gov.au. Don't forget to include your name or company name along with your previous username.
Online services for all users
These services do not require you to log in or register.

Make a payment
Make a payment to Council including rates, debtors, application fees, licences and permits.
>> Go to payments
---

Find garbage, recycling collection and kerbside cleanup days
Find your garbage, recycling, green waste and kerbside collection days.
>> Go to waste collection dates
---


---



Search for a development application
Check details and progress of building and development applications and certificates.
>> Go to Application Enquiry
---

Property enquiry
Find public information relating to properties, such as lot and plan numbers, zoning information, applicable DCPs and other conditions.
>> Go to Property Enquiry
---


Bushfire Attack Level (BAL) Certificate
Submit application for a Bushfire Attack Level (BAL) Certificate
>> Submit an application
Online services for registered users
These online services are a sample of what is available to registered users. Log in or register now.


Update contact details
Update your contact details, including address, contact numbers and email address.
>> Update contact details
---