Facilities
COVID-19 UPDATE – Wednesday, 28 July 2021
With the announcement today by the NSW Premier of an extension of the current lockdown to 28 August 2021, and in accordance with NSW Health guidelines, Council services operating in the community remain limited.
Our facilities remain closed. This includes Hornsby Shire Libraries, Community Centres, Thornleigh Brickpit, Hornsby Shire Aquatic & Leisure Centres, Thornleigh Community Recycling Centre and our Customer Service Centres.
These measures are to keep our community and our staff safe during this current outbreak but we are still here for you. Please be assured that we will respond to emergency callouts. If you have any requirements of Council, please contact Customer Service on 9847 6666 and online as usual and we will respond during normal business hours.
Under these current restrictions, while we may not be able to respond face-face, we will endeavour to find a way to assist in a COVID-safe way wherever possible. Many of our services are available online, including lodgement of Development Applications, and our Duty Planning Officer is available for enquiries on 9847 6760 (8.30am-5pm).
Further information on the new restrictions is available in the NSW Premier's media release and on the NSW Health website.
We are constantly monitoring this evolving situation and will keep you updated here and on Facebook with any changes.
Aquatic and Leisure Centres
Council's aquatic and leisure centres and Brickpit Stadium are open.
Hornsby Aquatic and Leisure Centre
Galston Aquatic and Leisure Centre
Libraries
Hornsby Shire Libraries are open in accordance with the latest COVID-19 safety guidelines from NSW Government.
Hornsby Library is currently undergoing refurbishments and is temporarily closed until further notice. Please see here for more information.
Pennant Hills, Berowra and Galston libraries are open.
In line with government advice, some services and facilities continue to be modified.
For more details, please see our Library page.
Phone: 9847 6813
Email: library@hornsby.nsw.gov.au
Download our Library App or check out our eLibrary page at https://www.hornsby.nsw.gov.au/elibrary to access a wide range of eBooks, eAudiobooks, eMagazines and more.
Community Centres
Council's community centres are open for public access.
Please see the Terms and Conditions page to review the hirer's responsibilities in response to COVID-19. Please contact the Venue Management Team on 9847 6050 or vmt@hornsby.nsw.gov.au with any enquiries.
Parks and Reserves
Council's playgrounds, outdoor fitness equipment, skate parks and tidal pools are open for community use. The public gathering rule of no more than 200 people as of 29 March 2021, applies in these areas.
Please note the following:
Caution is urged when using these areas.
Stay home if you are sick.
Please observe current government guidelines for social distancing and gatherings of people.
It is your responsibility to leave an area if it is too busy.
Ensure thorough hand washing or use of hand sanitiser before and after use.
Maintain good hygiene practices for the safety of our community.
For more information on what you can and can't do in NSW please see: https://www.nsw.gov.au/covid-19/what-you-can-and-cant-do-under-rules#upcoming-changes
Sportsgrounds
Council's sportsgrounds are open for the use of community sports. The use of our grounds will be subject to Council's normal terms and conditions for your seasonal booking, and to all current federal and state government directives, public health orders and guidelines set by individual sporting codes being observed.
For more information, please see our FAQs.
Thornleigh Community Recycling Centre
Waste collection services are continuing as normal.
The Thornleigh Community Recycling Centre (CRC) is open for public access, under appropriate COVID-19 Controls, for its normal operational hours:
Tuesday to Friday 8.30am-4pm; and
Saturdays 8.30am-12pm.
The following COVID-19 control measures will be in place:
All CRC customers must stay in their vehicles until directed into a drop-off bay by staff.
Hand sanitiser stations will be located at each drop-off bay.
Customers will be required to self-unload their items and place them in the relevant receptacles as directed by Council staff.
Customers must ensure they can self-unload their items without assistance from Council staff. Residents should bring along a member from their household to assist if required.
All customers must maintain social distancing while unloading and depositing items.
If the CRC experiences high demand or excessive queuing within the facility, the front gates will be temporarily closed and the below messaging placed on the gates:

Access to the Thornleigh Community Recycling Centre is temporarily closed, due to high demand.
We will reopen as soon as possible.
Public enquiries can be directed to Council's Waste Hotline as normal on 13 70 30.
The Waste Customer Service Counter is also open to the public, from 8.30am-4pm.
Phone: 13 70 30
Visit: hornsby.nsw.gov.au/waste
Good Hygiene Practices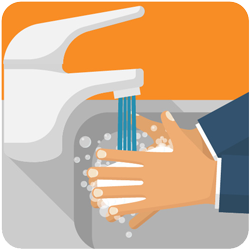 Wash your hands
After coughing, sneezing or blowing your nose, wash your hands with soap and water
Use alcohol-based hand cleansers if you do not have access to soap and water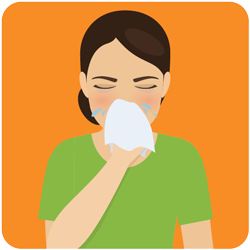 Cover your cough
When coughing or sneezing, use a tissue to cover your nose and mouth
Dispose of tissue afterwards
If you don't have a tissue, cough or sneeze into your elbow