Galston Aquatic & Leisure Centre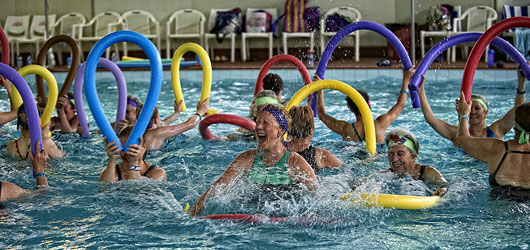 Address
: Galston Park, 412 Galston Road (opposite Galston High School)
Phone
: 9651 2393
Australia Day Public Holiday Monday 28 January 2019 - 8.00am to 4.00pm.
Monday, Wednesday, Thursday:
5.30am-8pm
Tuesday:
5.30am-7pm
Friday:
5.30am-7pm
Saturday
: 7am-4pm
Sunday
: 7am-4pm
Email:
Contact us by email
Admission Prices
Adult
$6.00
Student (valid ID card must be shown)
$4.20
Child (4 - 16 years)
$4.00
Child 3 years and under (with full paying swimming adult)
Free
Pensioner (valid ID card must be shown)
$3.30
Spectator
$3.00
Family B1 (2 adults + 3 children /
1 adult + 4 children)
$18.50
Season passes for swim, swim-gym and gym are available, as well as 20-ticket admissions. Please check with each centre for special program costs and availability.
For more information, please contact Aquatic Centre staff on phone 9651 2393.
Features
25-metre six-lane indoor pool heated to 28°C
Purpose built learn to swim indoor pool heated to 32°C
Fully equipped gymnasium
Surrounding picnic area and playground
Swimwear and accessories available
Kiosk
Learn to Swim classes all year round
Squad training all year round
Galston Swim Club
Aqua Fitness classes
AUSSI Masters (meets Tuesday nights)
Plenty of parking
Accessible facilities for people with disabilities
Location
Galston Aquatic and Leisure Centre
Galston Park, 412 Galston Road (opposite Galston High School)
School Swimming Carnivals
Please note that there will be no public swimming lanes between 9.00am to 2.30pm on the following dates, due to local school swimming carnivals:
Tuesday 12 February – Arcadia Public School
Friday 15 February – Hillside/Annangrove/Mid Dural Public School
Thursday 21 February – Glenorie Public School
Friday 22 February – Galston Public School