Services
COVID-19 Update – 29 January 2021
It is now mandatory to sign in on the NSW Government COVID Safe QR Code app each time you visit our facilities.
In accordance with NSW Health's Public Health Orders, as of midnight Friday 29 January 2021, face masks are strongly recommended for patrons attending Council's libraries and the Customer Service desks at Council Chambers and the Waste Management facility in Thornleigh. If you do not have a face mask, our friendly team will supply you with one free of charge. Patrons attending Hornsby Shire Aquatic & Leisure Centres and the Thornleigh Brickpit are not required to wear a mask. Further information is available on the NSW Health website here.
Due to the COVID-19 (Coronavirus) pandemic and advice of relevant state and government authorities, Council has cancelled or changed a number of services we provide to the community.
Customer Service
From Monday 9 November 2020, Council's main Customer Service Centre will reopen to customers from 9am-1pm for face-to-face enquiries, Monday to Friday in the Council Chambers – Ground Floor.
Council's main contact centre for telephone enquires relating to all services remains open from 8.30am-5pm on 9847 6666.
The Duty Officer will be available for face-to-face enquiries from 9am-1pm, Monday to Friday in the Council Chambers – Ground Floor.
Both the Duty Officer and Duty Subdivisions Engineer will be available via telephone for enquiries about development applications on 9847 6760.
In order to effectively manage the safety of our customers and staff, some limitations currently apply.
The following services will be available for customers:
Rates payments by credit card or cheque (no cash) can be made at the front counter.
Rates payments by cash can only be made at your local post office.
Applications lodgements (no cash or credit card payment – only cheque or online payment is available)
General enquiries
Access to Information (GIPA) Applications
When visiting the building please kindly observe social distancing by remaining 1.5 metres from others.
The number of visitors permitted in the foyer area will be limited to maintain social distancing.
Customers are encouraged to conduct business and make payments online by visiting our website www.hornsby.nsw.gov.au
Planning related application lodgements can be made via https://www.hornsby.nsw.gov.au/property/build/application
Phone: 9847 6666
Email: hsc@hornsby.nsw.gov.au
Visit: hornsby.nsw.gov.au/onlineservices
Waste Services
Waste collection services are continuing as normal.
In line with government advice encouraging waste and recycling facilities to remain open, the Thornleigh Community Recycling Centre (CRC) is open for public access, under appropriate COVID-19 Controls.
The CRC will be open during its normal operational hours:
Tuesday to Friday 8.30am-4pm; and
Saturdays 8.30am-12pm.
The following COVID-19 control measures will be in place:
All CRC customers must stay in their vehicles until directed into a drop-off bay by staff.
Hand sanitiser stations will be located at each drop-off bay.
Customers will be required to self-unload their items and place them in the relevant receptacles as directed by Council staff.
Customers must ensure they can self-unload their items without assistance from Council staff. Residents should bring along a member from their household to assist if required.
All customers must maintain social distancing while unloading and depositing items.
If the CRC experiences high demand or excessive queuing within the facility, the front gates will be temporarily closed and the below messaging placed on the gates:

Access to the Thornleigh Community Recycling Centre is temporarily closed, due to high demand.
We will reopen as soon as possible.
Public enquiries can be directed to Council's Waste Hotline as normal on 9847 4856.
The Waste Customer Service Counter is also open to the public, from 8.30am-4pm.
Phone: 9847 4856
Visit: hornsby.nsw.gov.au/waste
Library services
Hornsby Shire Libraries are open in accordance with the latest COVID-19 safety guidelines from NSW Government.
Our libraries are operating with limited hours, and we encourage you to use our Click & Collect service to keep your visit as brief as possible.
We are progressively increasing services and opening hours over the coming months based on advice from state and federal government.
For more details, please see our Library page.
Phone: 9847 6813
Email: library@hornsby.nsw.gov.au
Download our Library App or check out our eLibrary page at https://www.hornsby.nsw.gov.au/elibrary to access a wide range of eBooks, eAudiobooks, eMagazines and more.
Application Forms
Lodgement of Application Forms will be online only until further notice.
Face to face meetings with the Duty Planning Officer are temporarily suspended. Telephone enquiries will continue to be available.
---
We have plans in place to maintain our essential services to you. We know this is a difficult time for everyone and encourage you to look out for each other, check in on your vulnerable family and neighbours, and if in doubt, call us if you have a question about Council's services during this time.
Good Hygiene Practices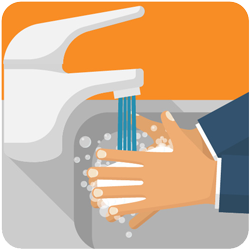 Wash your hands
After coughing, sneezing or blowing your nose, wash your hands with soap and water
Use alcohol-based hand cleansers if you do not have access to soap and water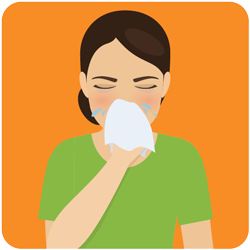 Cover your cough
When coughing or sneezing, use a tissue to cover your nose and mouth
Dispose of tissue afterwards
If you don't have a tissue, cough or sneeze into your elbow