Events
Due to the COVID-19 (Coronavirus) pandemic and advice of relevant state and government authorities, Council has cancelled or changed most upcoming community and civic events, programs and activities.
Our top priority is the health and safety of our staff and community. These are unprecedented times and we appreciate your patience and understanding.
Please follow all Federal Government guidelines relating to social distancing and public gatherings.
Summary of changes to events
Council Events
The following events are on hold or cancelled until further notice.
All regular library programs and events, including Meet the Author and Mums and Bubs
Citizenship Ceremonies
Ceremonies are held at Hornsby Shire Council Chambers, 296 Peats Ferry Road (formerly Pacific Highway), Hornsby.
We have adopted additional precautionary safety measures, as per the Federal Government Recommendations, for the Citizenship Ceremonies e.g. social distancing, no refreshments after Ceremony, 20-25 candidates per ceremony. Everyone must sign in using the QR Code for the event.
Council's General Meetings
The "prescribed period" for the purposes of section 747A - COVID-19 Council Meetings of the Local Government Act, during which period the requirement for Councillors and members of the public to attend meetings was satisfied if the meeting was held using audio-visual links, expired on 25 March 2021.
Members of the public are now permitted to attend Council Meetings in person. Council's Meetings will proceed on the second Wednesday of each month commencing at 6.30pm in the Council Chambers.
Members of the public are required to register their attendance and must adhere to strict social distancing measures (1 person per 2 square metres).
Updated arrangements
Council is mindful of the safety and welfare of Councillors, staff and the public meaning extra precautions and management of the meeting and chamber is required. Social distancing requirements means a limited number of public attendees will be allowed to be in the Council Chamber at one time. All attendees are required to register in advance and scan in using the Service NSW COVID Safe Check in.
Please do not register or attend Council if you are ill even in a minor way. Please also do not attend if you have come into contact with someone who is displaying fever, cold and flu like symptoms.
Registrations to attend and/or speak along with copies of your address to Council are to be received by Council no later than 12 noon on the day of the Meeting by emailing tcampbell@hornsby.nsw.gov.au.
Generally, a maximum of four addresses from the public are permitted on any agenda or non-agenda item – usually two addresses for and two against the recommendation, in respect of agenda items. Where more than four registrations to speak are received on an item, preference will be given to those registrations received by Council first.
A time limit of three minutes per address applies so members of the public should ensure their addresses meet this criteria.
All of the written addresses will be distributed to Councillors and relevant Senior Staff prior to the Meeting to ensure that Councillors have all available information on hand to make appropriate and well-informed decisions. Meetings will continue to be live-streamed via the usual link: http://hornsby.webcastcloud.tv
If there are any questions in respect of the above, contact should be made with Council's Council Meeting and Governance Officer on 9847 6836 or by emailing tcampbell@hornsby.nsw.gov.au.
Good Hygiene Practices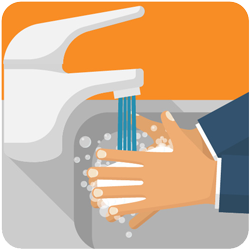 Wash your hands
After coughing, sneezing or blowing your nose, wash your hands with soap and water
Use alcohol-based hand cleansers if you do not have access to soap and water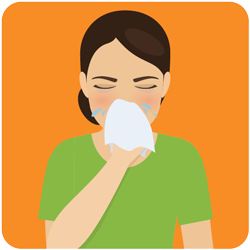 Cover your cough
When coughing or sneezing, use a tissue to cover your nose and mouth
Dispose of tissue afterwards
If you don't have a tissue, cough or sneeze into your elbow