History of Hornsby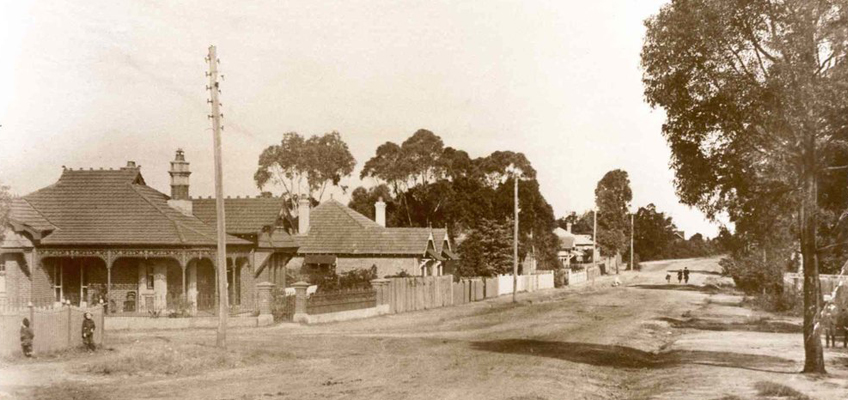 Peats Ferry Road, Hornsby.
The history of Hornsby can be a tricky one to track, as the name has been used for two suburbs in the local area.
Timber-getting was the first industry around Hornsby, felling the blue gums and ironbarks that grew along the ridges. One of the first permanent residents was Thomas Edward Higgins, who was granted land in Old Mans Valley in 1824 and settled in the district in 1832. He started selling timber from the valley in 1835 and also made a living from farming the rich alluvial soils and establishing orchards on the slopes of Old Mans Valley, so named because of the 'old man' kangaroos that grazed there.
Old Mans Valley is the site of an ancient volcano and was quarried for more than 100 years, producing gravel and road base. Geologically it is of interest because of its unusual volcanic diatremes.
The capture of two bushrangers on Windsor Road in 1830 resulted in the naming of the suburbs of Hornsby and Thornleigh. Police constables John Thorn and Samuel Horne were rewarded with grants of land for shooting the bushranger John McNamara and capturing his accomplice. Constable Thorn's land became known as Thornleigh. Constable Horne never actually lived in the area but his land – 320 acres (130 hectares) 2.5 kilometres from present-day Hornsby – extended from Thorn's grant at Thornleigh along Pennant Hills Road to Pearces Corner.
A village soon developed on the land and came to be known as Hornsby Place. However, that is not the Hornsby that people know today. In 1893 the first railway junction was built and called Hornsby Junction, which created considerable confusion with the village of Hornsby to the south. Eventually the village was renamed Normanhurst and the railway station became the Hornsby that still exists.
On 17 September 1886 Hornsby Railway Station was opened and Hornsby developed as a railway town, providing work for railway employees, shopkeepers and publicans.
Land values soared as it became a popular residential area for families of businessmen who commuted to work in the city. The area was advertised as comparable to the lower Blue Mountains, with a healthy climate away from the smog of the city.
Find out more about Hornsby
There are a range of historical sources at Hornsby Library, particularly in the Local Studies section. Click here to see the available History Resources.
Useful books on Hornsby's history
Available for loan
HORNSBY SHIRE HISTORICAL SOCIETY
Pioneers of Hornsby Shire, 1788-1906 994.41HOR
SCHOFIELD, CLAIRE
The Shaping of Hornsby Shire 994.41.SCH
BARKER, HELEN and ELVEN, MAY
Houses of Hornsby Shire Vol 1: The Large Houses 1886-1926994.41 BAR
BARKER, HELEN
Houses of Hornsby Shire Vol 2: The Large Houses 1880-1938
994.41 BAR
METZKE, MARI
Hornsby Shire: A Pictorial History
994.41 MET
SOMERVILLE, HEDLEY
A Taste of Ginger R994.41SOM
SOMERVILLE, HEDLEY
A Bit More Ginger
R994.41SOM
OLLIF, LORNA
There Must be a River: A History of the Hornsby Shire
R994.41OLL
JOFFE, MICK
Yarns and Photos: Beautiful Old Berowra and Hornsby to the Hawkesbury.R994.41JOF
Held at Hornsby Library in the Local Studies Reference Collection.
PERUMAL MURPHY WU PTY LTD
Hornsby Shire Heritage Study
R711.409 PER
CONYBEARE MORRISON & ASSOCIATES
Heritage Impact Assessment: Coronation Street and Jersey Street, Hornsby.RQ 711.409 Hor
PARSONS BRINCKERHOFF
Hornsby Quarry and Environs Land Capability Study and Master Plan
R 711.409 Par Local Studies collection only
SANDS DIRECTORY
Sand's Sydney and NSW Directory 1858-1932/3MIC 994.4SYD
Books that place Hornsby in a broader historical context
ANDERSON, KEN
Sydney's Suburbs: How and Why They Were Named
R994.41AND
BRODSKY, ISADORE
North Sydney, 1788-1962994.41BRO
KENNEDY, BRIAN
Sydney and Suburbs: A History and Description
R994.41KEN