Hornsby Shire Timeline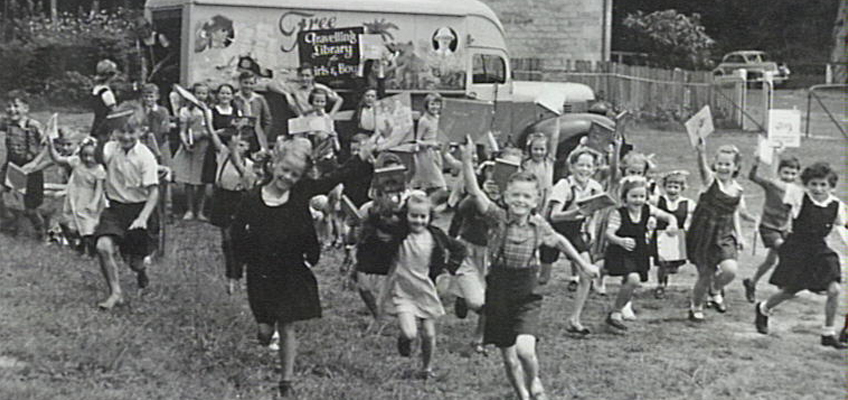 Take a journey through the key dates of Hornsby Shire history.
Before 1788 - The original occupants of the region were Aboriginal people from the Dharug and Ku-ring-gai language groups. They lived in the district 15,000 to 20,000 years before European settlement. Find out more about local Aboriginal history.
1788 - "Discovery" of the Hawkesbury River by Captain Arthur Phillip.
1789 - Naming of the Hawkesbury River by Captain Arthur Phillip during his second voyage in July. He named the river after Charles Jenkinson, 1st Earl of Liverpool, who at that time was titled Baron Hawkesbury.
1820s - Building of the Great North Road begins to open up the western side of the Shire around Epping, Pennant Hills, Dural and Wisemans Ferry.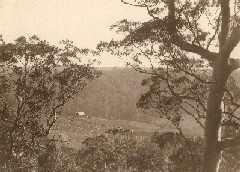 1827 - Thomas Edward Higgins takes up a grant of 250 acres in Old Man Valley, becoming the first permanent white settler in Hornsby. Meanwhile, Solomon Wiseman begins operating a ferry crossing at what would later become Wisemans Ferry. The first settlement is pictured on the right.
1830 - Constables Samuel Horne and John Thorne shoot bushranger John MacNamara. This leads to the troopers being granted land in the Thornleigh and Normanhurst area. Samuel Horne names his "Hornsby Place" and the name of Hornsby is born. The area is later renamed Normanhurst and Hornsby Junction is renamed Hornsby.
1830s - George Peat carves out a track between Old Berowra Road and the Hawkesbury River at Peats Ferry. This opens up the eastern side of the Shire along what is now the Pacific Highway.
1845 - West Pennant Hills Methodist Church opens as Castle Hill's Methodist Church
1846 - St Judes Church of England at Dural (pictured right) is built.
1850 - Pennant Hills School, now known as Pennant Hills West Public School, is opened.
1857 - Wisemans Ferry Post Office is established.
1862 - Saint Paul's Church of England at Pearces Corner, Wahroonga, is erected but later replaced with a brick building.
1876 - Saint John's Church of England at Bar Island opens.
1886 - Hornsby, Epping, Beecroft and Thornleigh railway stations open on 17 September.
1887 - First Hawkesbury River Railway Bridge opens at Brooklyn. Pennant Hills, Berowra, Hawkesbury River (Flat Rock) and Mt Colah railway stations open.
1890 - Cowan railway opens as Cowan Creek. Hornsby School of Arts opens on 24 June.
1894 - First School at Berowra is established. Ku-ring-gai Chase National Park is established.

1895 - Waitara Station, the last of the North Shore line stations, opens on 20 April. Hornsby Station, now known as Normanhurst Station, opens 21 November.
1898 - The last of the new main line stations is opened at Cheltenham.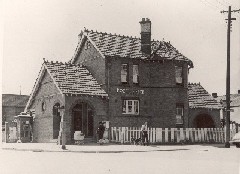 1900 - Hornsby Post Office (pictured right) is established on its present site.
1903 - Mount Ku-ring-gai Station opens.
1906 - Incorporation of Hornsby Shire Council. The first council election occurs 24 November 1906.
1907 - Council meets in the Hornsby School of Arts Building and later in the year Council moves to 5 Jersey Street. Shire population estimated at 4,700.
1913 - Wireless telegraph station set up at Pennant Hills. Original Saint Peters Church of England is destroyed by bushfires.
1915 - Railway platform at Asquith opens. Council moves from Jersey Street to a single storey building on its present location.
1922 - Hornsby Public School established at Peats Ferry Road, Hornsby, in a new two-storey building.
1924 - New Saint Peters Church of England is dedicated on its present site at Pacific Highway Hornsby. Saint Andrews Church of England opens at Cheltenham.
1925 - Pennant Hills Public School opens. Arden Church of England Girls School Beecroft is established.
1926 - Convent of Mercy opens in Epping.
1929 - Electrification of railway line from Strathfield to Hornsby.
1930 - Second storey added to Hornsby Shire Council Chambers building. Hornsby Girls' High School opens.
1932 - Transmission tower for overseas telecommunications erected at Pennant Hills Radio Centre.
1933 - Hornsby District Hospital opens on 26 August.
1934 - John Tipper establishes Muogamarra Sanctuary.
1942 - Floods destroy many boats stored at Crosslands, Berowra Creek.
1945 - Hawkesbury River Road Bridge opens.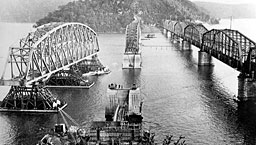 1946 - Second Hawkesbury Railway Bridge (pictured right) opens. First bridge decommissioned.
1951 - Population in Hornsby Shire is 39,500.
1957 - Major bushfire in Hornsby destroys school buildings, timber yard, private property and damages St Peters Church. Epping Boys High School opens.
1958 - Cheltenham Girls and Normanhurst Boys high schools open.
1959 - Asquith Girls High School opens in January.
1960 - Asquith Boys High School Stage 1 completed and in use by mid June.
1961 - Westfield Shopping Centre opens in Hornsby.
1962 - Hornsby Olympic Pool opens.
1964 - Pennant Hill Community Centre is completed.
1966 - Population of the Shire reaches 80,000.
1967 - Hornsby Technical College (TAFE) opens on the site of the Girls Domestic Science School.
1968 - Stage 2 of Westfield Shopping Centre opens. It is four times the original size.
1970 - Old cannon built in 1877 unearthed on the construction site for new library and Council buildings. Cannon is subsequently put on display at the Victoria Barracks.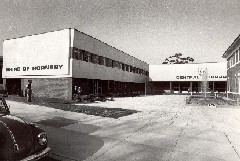 1972 - Hornsby Shire Council establishes a public library service (pictured right). Population of the Shire now stands at 97,000.
1988 - Fagan Park opens to the public.
1989 - The F3 Freeway is officially opened on 19 March.
1993 - Water Sculpture by Victor Cusack is unveiled in the Westfield Shopping Mall (pictured below).
1997 - Population of the Shire 137,000.
2001 - Stage three of the Westfield Shopping Centre opens at Hornsby. Population of the Shire 145,968.
2003 - Work starts on the building of a Sporting Complex at Dartford Road Normanhurst.
2006 - Hornsby Shire Council celebrates its centenary.
2009 – The newly constructed fifth platform opens at Hornsby Railway Station in March.
2013 – Stage One of the Hornsby Mountain Bike trail opens at Old Mans Valley in February.
2014 – Prime Minister Tony Abbott officially opens the new Hornsby Aquatic and Leisure Centre (below).