Edgeworth David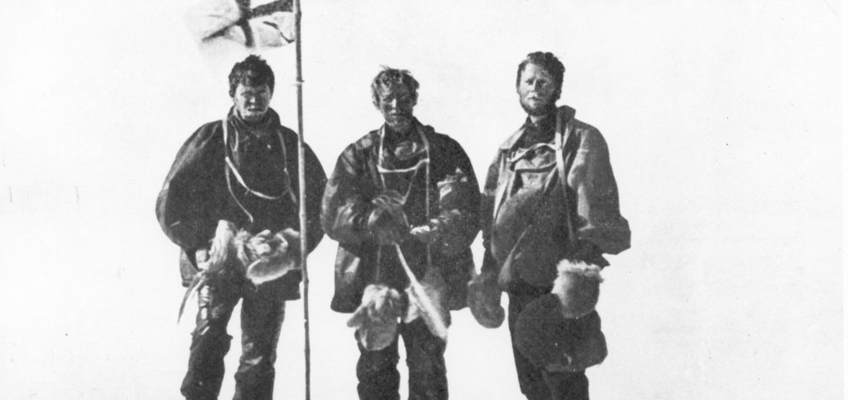 Alistair Mackay, Edgeworth David and Douglas Mawson at the Magnetic South Pole 1909.
Ever driven Edgeworth David Avenue and wondered who it was named after? A knight, war hero and polar explorer is just scratching the surface…
Sir Tannatt William Edgeworth David (known as Edgeworth David) was born in Wales in 1858. He graduated from Oxford University with a Bachelor of Arts in 1880 before coming to Australia in 1882 to work as the assistant geologist surveyor of the NSW Government. He spent the next few years conducting field surveys in outback NSW before being asked to find new coal deposits in the Hunter Valley. After weeks of intensive surveying he found the Greta Seam which was later described as one of the richest mineral discoveries made in eastern Australia. He became Professor of Geology at the University of Sydney in 1891, a position he held for more than 33 years.
While travelling out to Australia on board the Potosi Edgeworth David met his future bride-to-be, Miss Caroline Mallett (known as Cara), who was on her way to take up an appointment as principal of the Hurlstone Training College for female teachers. They were married on 30 July 1885 at St Pauls Church of England in Canterbury and had three children.
On 16 January 1909 he carried out his greatest achievement, leading an expedition that became the first to reach the South Magnetic Pole. David, accompanied by the younger explorers Douglas Mawson and Alistair Mackay, undertook the journey as part of the larger Nimrod Expedition led by Ernest Shackleton. The trio reached the pole after dragging sledges with food and equipment more than 800 kilometres on foot.
With the outbreak of the First World War he enlisted as a Major at the advanced age of 58. He served on the Western Front and was instrumental in mining operations under German lines, conducting geological studies and preparing maps of ground conditions and water supplies. The explosion of Messines-Wytchaete Ridge multi-mine system in June 1917 was the culmination of David's tunneling work. He was mentioned in dispatches three times, awarded the Distinguished Service Order and promoted to Lieutenant Colonel.
Following the war the David family moved to their final home, 'Coringah' in Burdett Street, Hornsby. During those post-war years he set up the Geography Department at the University of Sydney and served as the first President of the Australian National Research Council. He was also enthusiastically involved in local community organisations, particularly Hornsby RSL of which he became a patron. Over his life David received many awards, honours and tributes, including a knighthood in September 1920. A 1924 article in The Home listed Edgeworth David as one of the "seven greatest living Australians". In recognition of his contribution to the local area Junction Road in Hornsby was renamed Edgeworth David Avenue.
Edgeworth David passed away in 1934 aged 76 years, after a fall from a tram outside the University. In 1999 David's former home was acquired by Hornsby Shire Council and his garden is now a public park, Edgeworth David Garden.