History of Epping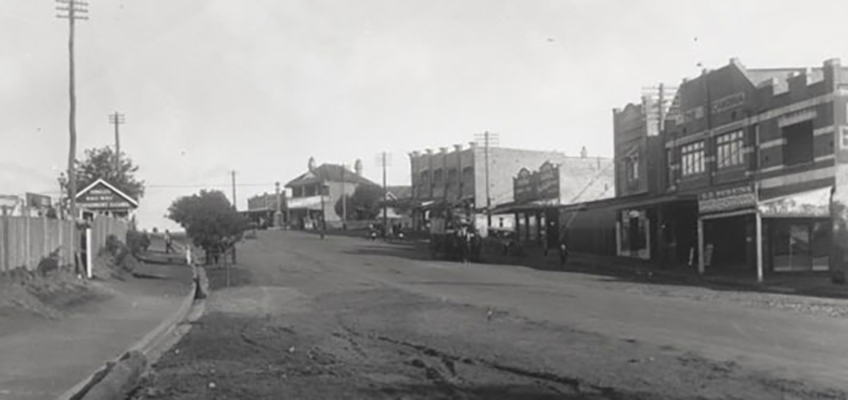 High Street, Epping.
The suburb of Epping has an interesting history that has included a couple of name changes.
Aboriginal people from the Wallumedegal group, whose lands stretch along the Parramatta and Lane Cove rivers, were living in the region of Epping when the Europeans arrived.
The first European settler in the district was David Kilpack, a freed convict who received grants of land in 1794 and 1795 totalling 80 acres (32.3 hectares). He died two years later and his widow Eleanor married Thomas Higgins, whose son Thomas Edward Higgins was one of the first settlers in the Hornsby district.
The western side of Epping stands on two major land grants – Lieutenant William Kent had 170 acres (69.8 hectares) granted by Governor Hunter and his nephew William George Carlile Kent was granted 460 acres (186.1 hectares) in 1803. The western boundary of the Field of Mars bordered their land.
Many settlers struggled to clear the land and make a living from their farms. The government, in an attempt to ease the burdens on these pioneers, proclaimed town commons where they could pasture their animals, leaving their own land available for food crops. One such common was the Field of Mars common which covered between 5,050 and 6,253 acres (2,044 to 2,530 hectares).
Epping had an important role in the early years of the colony, particularly during the time of Governor Macquarie when timber from the area was in high demand. A convict timber camp was established in 1817, which included huts, a cooking place, sawmill and possibly a burial ground. After the sawing establishment closed the Epping area consisted mostly of orchards and bushland, with most people making a living from vegetable and fruit growing.
Epping Railway Station was opened on 17 September 1886 and was first called the Field of Mars station, then renamed Carlingford the following year. People were not happy with this name, as the post office was called East Carlingford and the different names caused confusion. When William Midson suggested the name Epping it was accepted and officially adopted in 1899.
Find out more about Epping
There are a range of historical sources at Hornsby Library, particularly in the Local Studies section. Click here to see the available History Resources.
Useful books on Epping's history
Available for loan
BARKER, HELEN and ELVEN, MAY
Houses of Hornsby Shire. Vol. 1
994.41 BAR
BARKER, HELEN
Houses of Hornsby Shire. Vol. 2
994.41 BAR
BUGGY, TERRY
Epping Boys High School: A History 1957-83
373.994 EPP
HAZLEWOOD, WALTER
History of Epping
R 994.41 HAZ
HORNSBY SHIRE HISTORICAL SOCIETY
Pioneers of Hornsby Shire, 1788-1906
994.41 HOR
McANDREW, ALEX
An ABC of Epping
R 994.41 McA
McANDREW, ALEX
Carlingford - Epping: Partners in History
R 994.41 McA
METZKE, MARI
Hornsby Shire: Pictorial History.
R 994.41 MET
SCHOFIELD, CLAIRE
The Shaping of Hornsby Shire
994.41 SCH
WEST EPPING UNITING CHURCH
Building A Vision
287.93 WES
Held at Hornsby Library in the Local Studies Reference Collection.
BENNETTS, DOUGLAS FRANK
History of George St, Epping
R 994.41 BEN
GUTTERIDGE HASKINS & DAVEY PTY LTD
Shire of Hornsby Proposed New Municipality Centred on Epping
R 352 GUT
HORNSBY SHIRE COUNCIL
Valuation and rate books [microfilm], 1907-27
R 352.135 HOR
HORNSBY SHIRE COUNCIL
Valuation and rate books [microfilm], 1928-1982
R 352.135 HOR
HUBBARD, NIGEL.
Only the Years: The Centenary History of the Anglican Parish of Saint Alban, Epping
R 283.944 HUB
MAUNSELL PROPRIETARY LIMITED.
European Heritage Survey: North West Transport Links East
RQ 625.7 Nor
PERUMAL MURPHY WU PTY LTD
Hornsby Shire Heritage Study
R 711.409 PER
Books that place Epping in a broader historical context
ANDERSON, KEN.
Sydney's Suburbs: How and Why They Were Named
R 994.41 AND
KENNEDY, BRIAN.
Sydney and Suburbs
R 994.41 KEN
POLLON, FRANCES.
The Book of Sydney Suburbs
R 994.41 POL