History of Brooklyn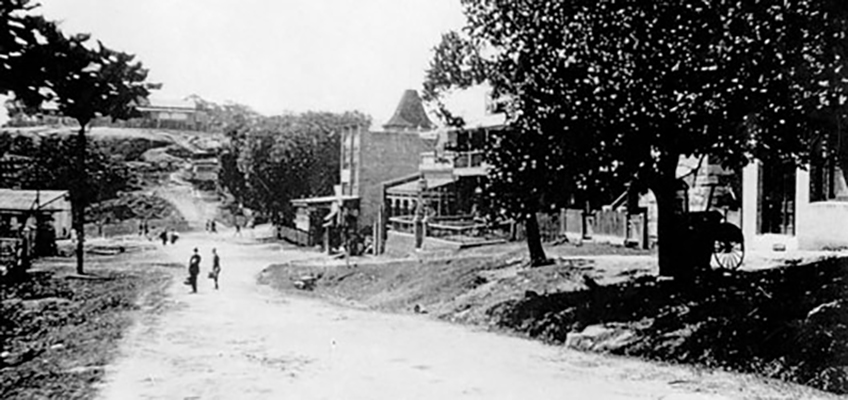 Brooklyn circa 1925.
The arrival of the railway transformed Brooklyn from an isolated backwater to an important settlement that hosted royalty and appeared on currency.
The first European voyage of exploration up the Hawkesbury River reached the vicinity of Brooklyn in 1788, when Governor Phillip arrived at an island which he named Mullet Island (now Dangar Island).
The earliest recorded settler on this part of the Hawkesbury River was George Peat, who acquired property on Mooney Mooney Point in 1831 and received a grant of 50 acres (20 hectares) in 1836. He quickly extended his holdings to include Kangaroo Point and Peat's Crater, in what is now Muogamarra Nature Reserve. By 1850 James Cole, who became a mail contractor, had settled at Mooney Mooney. In 1862 Vincent William Seymour became the first landholder on the Brooklyn side. James Cole and James Ross were other early settlers at Brooklyn.
The name "Brooklyn" first appears in an official document in 1884, when Daniel Murphy was asked to carry out a survey for the town of Brooklyn. The name was possibly inspired by the nearby Long Island.
The settlers at Brooklyn were in a remote location, as the main settlement was around Bar Island. The construction of the railway changed this and Brooklyn developed as an important railway town. It became a base for the tourist and fishing industries, as the railway provided a fast method of transporting produce to the city markets and allowed easy day excursions from Sydney to the banks of the Hawkesbury River.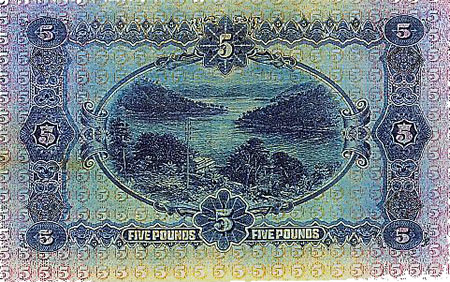 The village hosted the ship Lucinda, on which the constitution of Australia was drafted in 1891. It also welcomed the Duke and Duchess of York in 1901, when the royal yacht anchored off Juno Point. Brooklyn was then a well-known spot, acknowledged when a view looking over the old Sanatorium Hotel was used on the first £5 note issued by the Commonwealth Government in 1913.
Find out more about Brooklyn's history
There are a range of historical sources at Hornsby Library, particularly in the Local Studies section. Click here to see the available History Resources.
Useful books on Brooklyn's history
Available for loan
SCHOFIELD, CLAIR
The shaping of Hornsby Shire
994.41 SCH
JOHNSON, NOEL
History of Brooklyn
R 994.41 Joh
RICHMOND, TOM
Brooklyn, Federation Village
R 994.41 Ric
RICHMOND, TOM
Brooklyn Underground
929.5 RIC
RICHMOND, TOM
Love Among the PrawnsR 994.41 Ric
PEAT'S FERRY AND BROOKLYN PROGRESS COMMITTEE
Minute book, 1891-1898
R 994.41 Pea
METZKE, MARI
Hornsby Shire: Pictorial History
R 994.41 MET
Held in the Local Studies collection at Hornsby Library
HORNSBY SHIRE COUNCIL
Valuation and rate books [microfilm] 1928-1982R 352.135 Hor
HORNSBY SHIRE COUNCIL
Valuation and rate books [microfilm] 1907-27R 352.135 Hor

HORNSBY SHIRE HISTORICAL SOCIETY
Pioneers of Hornsby Shire, 1788-1906 R 994.4/Hor
RICHMOND, TOM
Brooklyn's Harbour
R 994.41 Ric
RICHMOND, TOM
Policing Peat's Ferry
RQ 363.209 Ric
PERUMAL MURPHY WU PTY LTD.
Hornsby Shire Heritage Study
R 711.409 Per
Books that place Brooklyn in the wider historical context
ANDERSON, KEN
Sydney's Suburbs
R 994.41 And
BRODSKY, ISADORE
North Sydney, 1788-1962
994.41 Bro
KENNEDY, BRIAN
Sydney and Suburbs
R 994.41 Ken
POLLON, FRANCES
The Book of Sydney Suburbs
R 994.41 Pol