History of Beecroft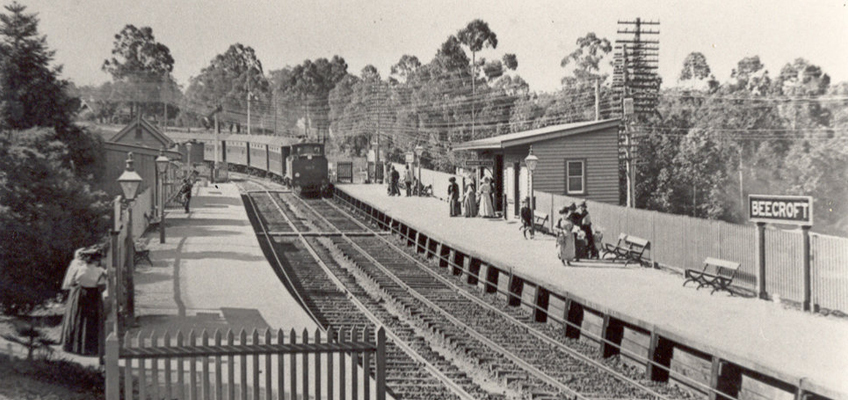 Beecroft Railway Station circa 1910.
Beecroft was named after two sisters who both married the minister for lands and became an affluent village renowned for its "healthy climate".
Beecroft was originally a portion of the Field of Mars Common, which covered 5,050 acres (2044 hectares). In 1804 Governor King allocated the common land for inhabitants of the district and the first trustees were James Squire, Francis Oakes and David Brown.
Timber-getters were among the first people to use the Field of Mars Common and licenses were issued for that purpose until the 1870s.
The suburb took its name from the sisters Hannah and Mary Beecroft, who were the first and second wives of Henry Copeland, minister for lands in the 1880s and 1890s. Copeland also named a number of the streets in Beecroft, mostly after places around Hull in Yorkshire where he was born.
The early residents of Beecroft came for a variety of reasons that ranged from running orchards and small farms to building large homes in a bushland setting with an easy rail commute to the city. Health was another significant factor, as the high bushland setting was thought to have beneficial air and the "healthy climate" was often touted in advertisements for the area. Another attraction was that Beecroft, being fairly affluent, rarely faced major problems of law and order.
Beecroft was a civic-minded suburb that was organised very early, with the School of Arts, Post Office and schools established by the late 1890s. Early restrictions were placed on the cost, size and type of buildings that could be constructed in Beecroft, which established a well-ordered, high-standard village. However, these restrictions were eased a little by 1900. The majority of early houses in the area were large brick Federation-style homes, although there were some timber constructions. Many properties had tennis courts, croquet lawns, extensive gardens and fruit trees in the backyard. From the early days land was set aside for public recreational use, including a village green in Beecroft inspired by the English tradition.
Find out more about Beecroft
There are a range of historical sources at Hornsby Library, particularly in the Local Studies section. Click here to see the available History Resources.
Useful books on Beecroft's history
Available for loan
BARKER, HELEN and ELVEN, MAY
Houses of Hornsby Shire Vol.1: The Large Houses 1886-1926
R 994.41 BAR

BARKER, HELEN
Houses of Hornsby Shire Vol. 2: 1880-1938R 994.41 BAR

BEECROFT CHELTENHAM HISTORY GROUP
Beecroft and Cheltenham: the Shaping of a Sydney Community to 1914
R 994.41 BEE

CARMICHAEL, DOROTHY
Tales of Beecroft
R 994.41 CAR

CUNNEEN, TONY
Beecroft and Cheltenham in WWI994.41 BEE

HORNSBY SHIRE HISTORICAL SOCIETY
Pioneers of Hornsby Shire, 1788-1906
R 994.41 HOR

METZKE, MARI.
Hornsby Shire: Pictorial History
R 994.41 MET

SCHOFIELD, CLAIRE
Shaping of Hornsby Shire
R994.41 SCH
Held in the Local Studies collection at Hornsby Library
HOLT, COLIN
Beecroft: Its People and Their Lives, From 1913
R 994.41 HOL

HORNSBY SHIRE COUNCIL
Beecroft/Cheltenham Heritage Conservation Area ReviewR 711.409 BEE

HORNSBY SHIRE COUNCIL
Valuation and Rate Books [microfilm], 1928-1982
R 352.135 HOR
HORNSBY SHIRE COUNCIL
Valuation and Rate Books [microfilm], 1907-27R 352.135 HOR

HORNSBY SHIRE COUNCIL
Roll of Electors
R 324.994 HOR
PERUMAL MURPHY WU PTY LTD
Hornsby Shire Heritage StudyR 711.409 PER
VERTICAL FILE
Beecroft - HistoryPAM BEEC
Books that place Beecroft in the wider historical context
ANDERSON, KEN.
Sydney's Suburbs: How and Why They Were NamedR 994.41 AND

BRODSKY, ISADORE.
North Sydney, 1788-1962994.41 BRO

KENNEDY, BRIAN.
Sydney and Suburbs: A History and DescriptionR 994.41 KEN

POLLON, FRANCES.
The Book of Sydney SuburbsR 994.41 POL