Frequently asked questions
A draft master plan for a new park at Westleigh providing a wide range of recreational opportunities for the community was developed for community community's feedback from 21 April 2021 until 16 June 2021.
The draft master plan sets out details on the types of suitable uses and activities that Council propose to deliver within the park. The purpose of the plan is to ensure Council will ultimately provide a new park at Westleigh with a range of recreational opportunities to enable broad use by the community.
Westleigh Park will be a multi-purpose facility – it will offer opportunities for active and passive recreation to cater for the diverse needs of the community.
Examples may include, but are not limited to:
Community-based sport
Opportunities for school and club athletics
Cycling and mountain biking
Informal exercising and walking
Children's playground
Bushwalking
Passive recreation such as picnic areas.
The draft master plan proposes three sports facility platforms that have been designed to respect the existing bushland vegetation whilst providing for future improved road access.
Athletics Track and Support Facilities
In the northern section of the previously cleared lands, a platform is proposed to provide a senior competition athletics track and an internal field area. This may be an all-weather elite athletics facility or alternatively a line marked grass track. Surrounding grassed areas are proposed to accommodate field events.
Central Multi-Purpose Sportsfield Platform
A multipurpose field platform is proposed in the centre of the site. This space could accommodate a synthetic surface or alternatively be developed as a natural turf sports surface. This field is intended for multiple sports and activities.
Southern Multi-Purpose Natural Turf Sportsfield Platform – Full Senior Size
The south of the site is the widest area where a sports field platform can be accommodated, whilst also protecting adjoining bushland. The draft master plan includes a multipurpose playing field platform with either two (2) full competition size football fields or a full-size AFL field, with a full-size cricket ground during summer.
As part of the draft master plan, the following access improvements have been proposed:
new access road (extension of Sefton Road to Quarter Sessions Road)
intersection upgrade (Sefton and Chilvers Road) and
350 car parking spaces.
The proposed traffic and parking plans allow for better management than currently exists. Having two points of entry and exit will spread the peak traffic flow and provide greater public safety.
The extension to Sefton Road will also enhance traffic flow from Westleigh to the north, and improvements to the intersection at Sefton Road/Chilvers Road will be included.
Once the draft master plan has been finalised, a development application (DA) will be submitted that encompasses everything in the adopted master plan.
We are proposing to deliver the following in the first stage:
site remediation
bulk earthworks
retaining walls
new access road (extension of Sefton Road to Quarter Sessions Road)
intersection upgrade (Sefton and Chilvers Road) and
possible relocation and formalisation of the unsanctioned mountain bike trails away from environmentally sensitive areas.
When the DA is approved, construction of these works will begin with expected completion by early 2024. During this time, the detailed design for all the master plan's landscape finishes will be carried out. This ensures the remainder of works can be delivered as soon as further funding becomes available.
The expected staging of Westleigh Park is:
Adopt master plan following community engagement (2021)
Design and approvals (2022)
Remediation, earthworks, road upgrades and the separately funded mountain bike trails (commence late 2023)
Future delivery of sporting fields and associated works when funding becomes available.
As part of this process, we are seeking community input to help guide the priorities for the draft master plan. While we need to balance the competing needs of the community, Council's main priority is to ensure the Park is remediated and therefore safe for future use. Work undertaken will be delivered in the most efficient way, while ensuring value for money.
After Council purchased the site from Sydney Water in 2016, the NSW Government allocated $40 million to creating Westleigh Park. This will fund the considerable amount of remediation that is needed, in addition to bulk earthworks, retaining walls, intersection upgrades and the creation of a new access road by extending Sefton Road through the Sydney Water site and connecting it to Quarter Sessions Road.
Additional funding has also been received to upgrade and build mountain bike trails in Hornsby Shire. If the community supports the retention of mountain biking at Westleigh Park, state government grant funding for mountain bike trails will be allocated to relocate some of the existing unsanctioned mountain bike trails away from environmentally sensitive areas. Furthermore, a mountain biking and walking connection to Hornsby Park will also be created using the grant funding.
Once the draft master plan and detailed design are finalised, Council will then construct and deliver the landscape embellishment finishes for the park as funding becomes available.
The land contains features of Aboriginal significance. An assessment and consultation process with the local Elders are currently underway in relation to these features.
The preservation of critically endangered ecological communities and threatened species is essential to conserving the natural heritage of the area. The draft master plan has sought to strike a balance between activities on site and preserving the high value bushland.
Any residual impacts from the potential development and uses of the site will be subject to rigorous environmental assessment consistent with contemporary legislation. This may include the potential removal, relocation and upgrading of existing unsanctioned mountain bike trails away from environmentally sensitive areas.
Whilst considerable ecological survey work has been achieved to date, a vegetation management and habitat plan will be developed for the site to further identify avoidance and mitigation measures to reduce biodiversity impacts.
The unsanctioned mountain bike trails, some of which are through critically endangered communities, have existed for many years and were originally built by the mountain biking community while the land was in Sydney Water's ownership.
Although the trails are unsanctioned, Council understands mountain biking remains popular within the community. Hence the draft master plan aims to balance the competing priorities for this area by modifying the trail network to reduce the extent of the trails in high value bushland areas, keeping trails to the edges and creating additional trails in less sensitive areas.
It is estimated the length of mountain bike trails within the park will reduce by approximately 30 per cent (from 9.3km to 6.5km).
When the first stage of Hornsby Park is open, it will include a connection to Westleigh Park. Offering another experience to visitors of either park, this new link can be enjoyed by those moving through the Shire on foot or bike.
There will be a buffer of bushland, around 150 metres wide, between the proposed sporting fields and the closest homes, which will minimise the impact of any noise and light.
Those who use the site will need to abide by operating conditions, particularly in the evenings and early mornings. Nearby residents will be kept informed of these. Effects from on-field flood lights will be minimised.
Council is committed to hearing from a range of voices. Key user groups were communicated with and involved in the consultation process. Communications included consistent messaging, detailed maps, options and plans for future use.
The park will provide benefit to residents in the area through constructing a planned link road, extending Sefton Road through the Sydney Water site to Quarter Sessions Road. This will allow an easier, alternative exit of traffic from the Westleigh peninsula in the event of a bushfire.
Any park planning by Council considers and addresses bushfire risks, access and management.
No. As a part of Council's negotiations with Sydney Water around access for the Westleigh Park project, Sydney Water required Council to investigate all possible access arrangements. The Positive Traffic report prepared for the project considered three options – an extension of Sefton Road, a connection to Kooringal Avenue and a connection via the powerline easement. The traffic report has assessed these three options and found the Sefton Road extension provides the best connection (Traffic report Page 52, Finding No. 12). As reflected in the draft master plan, the extension of Sefton Road to Quarter Sessions Road is the only new access road being proposed as a part of the Westleigh Park project and Council has obtained in-principle support from Sydney Water for this road.
Westleigh Park Draft Master Plan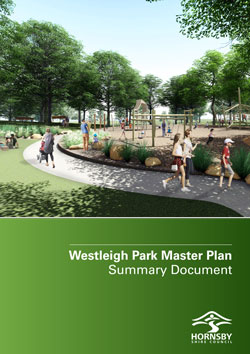 Thank you to everyone who contributed submissions on the draft master plan during the consultation period, which closed on 16 June 2021.
At the General Meeting on 14 July 2021 Council resolved to defer further consideration of the Westleigh Park Master Plan and that staff will continue engaging with stakeholder groups to find solutions to the matters raised in the Council Report (No. IM9/21).