Westleigh Park
Information webinar
On Wednesday 23 March we hosted a webinar to share some information relevant to the Westleigh Park Mountain Bike Trail Network community engagement process.
We heard from Professor Catherine Pickering from Griffith University on the research and evidence regarding the social factors (where, who, why and when) and the impacts that recreation can have on biodiversity and Phil Downy, a local mountain biking representative from Sydney North Off Road Club (SNORC) presenting his local experience and the value of the Westleigh trails to the local mountain biking community.
Steve Fedorow, Director Community and Environment also presented on the history and context of the project as well as the scope of engagement for the co-design and future approval pathways, for a formalised trail network at Westleigh Park.
View the recording above.
Stakeholder engagement held in March 2022
Council is dedicated to making sure that future formal mountain bike trails are tailored to community needs, while balancing important environmental considerations. In March, we completed four stakeholder workshops with a total of 74 people participating.
The outcomes from these first workshops will inform the next stage of co-design sessions, further assisting the development of a final co-designed plan for mountain biking trails in Westleigh Park.
Why is Council looking into this?
Previous community engagement revealed competing views and interests concerning the use of Westleigh Park, including the location of mountain bike trails. To better understand stakeholder views, we are engaging with key stakeholders including the mountain biking groups, environmental conservation groups and local residents. Through this process we want to come up with a mountain bike trail network that has been co-designed with the community, that meets community needs, as well as protects the ecology of the site.
Enquiries
For queries on the stakeholder workshops please contact Darius Turner (Captivate Consulting) on 0401 341 650 or email lriese@hornsby.nsw.gov.au
---
Draft Master Plan engagement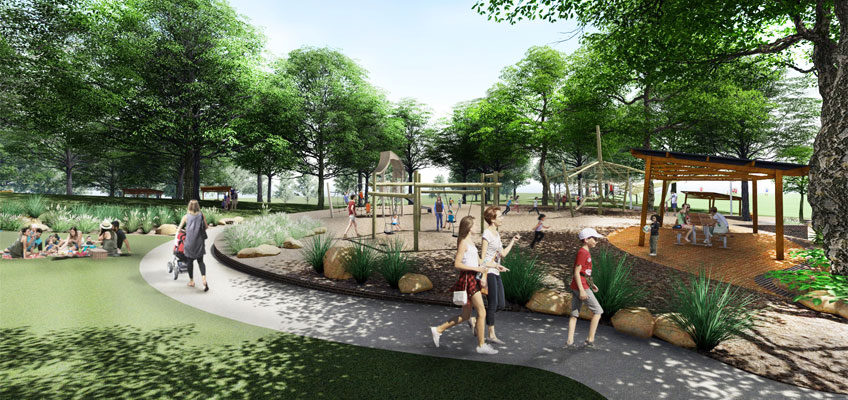 As Hornsby Shire's population grows, so too does the need for a wide variety of open and green spaces. To cater for this long-term demand, Council developed a draft master plan for a new regional sized park at Westleigh.
The draft master plan was exhibited for a total of eight weeks from 21 April to 16 June 2021. During this time, we received 293 written submissions, held six stakeholder meetings which were attended by approximately 69 people and engaged with 785 people at three swing bys.
There were also two surveys prepared as part of the community consultation. A total of 1,878 responses were received from Elton's opt-in, online survey and a representative, two stage phone/online survey by Micromex was completed by over 300 participants.
The main themes that emerged through the various channels during the engagement period included:
mountain bike trails
bushland biodiversity
sports platforms
traffic concerns and impacts
link between Hornsby and Westleigh Parks
community facilities
indigenous history.
View the Engagement Outcomes Report – Elton Consulting July 2021
Following community engagement, the draft master plan was presented to a General Meeting on 14 July 2021. Councillors resolved to defer adopting the master plan to allow more time for staff to consult with the stakeholder groups to find solutions to the issues raised in the business paper.
You can read the draft master plan here:
What is proposed for Westleigh Park?
Westleigh Park will not be a single-purpose facility – rather, it will offer a range of active and passive recreation opportunities to cater for the diverse needs of the community. Examples may include, but are not limited to:
community-based sport
opportunities for school and club athletics
cycling and mountain biking
informal exercising and walking
children's playground
bushwalking, and
passive recreation such as picnic areas.
The draft master plan proposes three sports facility platforms that have been designed to work within the constraints of the existing bushland vegetation and the future provision of improved road access.
To the north in the narrowest section of the previously cleared lands, a platform is proposed which can support a senior competition athletics track and internal field area. Surrounding grassed areas are proposed to accommodate field events to supplement the centre grassed field.
A multipurpose field platform is proposed in the centre of the site. The available space through this area could accommodate a turf surface or alternatively, a synthetic surface to meet demand. This field is intended for multiple sports and activities.
The south of the site provides the widest area where a full senior size playing field platform can be accommodated, taking into consideration the protection of the adjoining bushland. The draft master plan illustrates a multipurpose playing field platform which accommodates either two (2) full competition size football fields or a full-size AFL field, with a full-size cricket ground during summer.
Along with organised sports, the park could also cater for unstructured recreation such as cycling, mountain biking, dog walking and bushwalking. It is proposed that the new park will be linked to Ruddock Park with improved shared pathways, to Berowra Valley National Park, adjoining bushland and Hornsby Park by existing and improved connections.
Mountain bike trails and bushwalking tracks
Currently there are unsanctioned mountain bike tracks on site (below left). The draft master plan (below right) identifies an alternative network that relocates trails to the edges and away from high value biodiversity. The aim is to reduce the impact on critically endangered ecological communities and threatened species, while allowing mountain biking and bushwalking on site.
Caution. Dumped asbestos has been found at the Westleigh site. It is in bonded form, which means there is little risk to people or animals but it still should be treated with caution.
When the first stage of Hornsby Park is open, it will include a connection to Westleigh Park. Offering another experience to anyone who visits either park, this new link can be enjoyed by anyone moving through the Shire on foot or bike.
Improved Access for Traffic and Car Parking
As part of the draft master plan, the following access improvements have been proposed:
new access road (extension of Sefton Road to Quarter Sessions Road)
intersection upgrade (Sefton and Chilvers Road) and
350 car parking spaces.
The proposed traffic and parking plans allow for better management than currently exists. Having two points of entry and exit will spread the peak traffic flow and provide greater public safety. The extension to Sefton Road will also enhance traffic flow from Westleigh to the north.
Project Stages
After Council acquired the Westleigh waterboard site, the NSW Government provided $40 million to creating the Park. The cost to deliver the full scope of works in the draft master plan and maintain the park for ongoing use exceeds the grant funding allocation. This means the park will be delivered in stages as further funding becomes available, and to ensure there is adequate funding to maintain the park for ongoing use. The proposed staging is:
Community engagement leading to the adoption of a Master Plan for the site (2021).
Design and approvals (2022).
Remediation, earthworks, road upgrades and the separately funded Mountain Bike tracks (commence 2023).
Future delivery of sporting fields and associated works when funding becomes available.
Once the draft master plan has been finalised, a development application (DA) will be submitted that encompasses everything in the master plan, including the sports fields, internal roads, car parking areas and the mountain bike trails.
We are proposing to deliver the following elements of the master plan in the first stage at an approximate cost of $37 million:
site remediation
bulk earthworks
retaining walls
new access road (extension of Sefton Road to Quarter Sessions Road)
intersection upgrade (Sefton and Chilvers Road) and
possible relocation and formalisation of the unsanctioned mountain bike trails away from environmentally sensitive areas.
When the DA is approved, construction of these works will begin immediately and is expected to be finished by early 2024.
During this time, the detailed design for all the master plan's landscape finishes will be carried out. This ensures the remainder of works can be delivered as soon as further funding becomes available.
Westleigh Park Draft Master Plan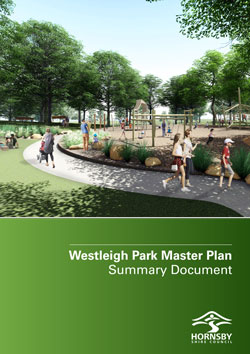 Thank you to everyone who contributed submissions on the draft master plan during the consultation period, which closed on 16 June 2021.
At the General Meeting on 14 July 2021 Council resolved to defer further consideration of the Westleigh Park Master Plan and that staff will continue engaging with stakeholder groups to find solutions to the matters raised in the Council Report (No. IM9/21).