Living with Disability
Hornsby Shire Council works with the community to help people living with a disability play, socialise, learn, work and access services.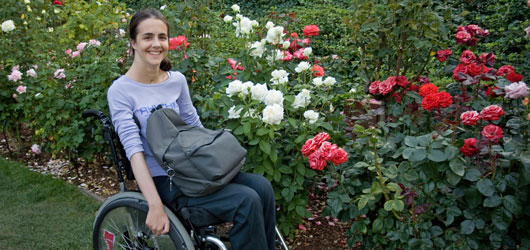 Council hosts a range of events each year for people living with a disability, particularly as part of the Healthy Living Festival that is held in March and April each year.
We can also help if you are having trouble with access or getting around Hornsby Shire. Click here to see our Access and Inclusion page.
If you're looking for a service or a group to join check out the Disability Services Directory and the NDIS Providers Directory.
Hornsby Shire Council also has a Disability Action Plan - Living with Disability - 62kb
To discuss support for people living with a disability contact Sue Downing on 9847 6889 or email sdowning@hornsby.nsw.gov.au
National Disability Insurance Scheme (NDIS)
The NDIS will be rolled out to the Hornsby Council area from July 2016.
For more information about how the NDIS may benefit you, visit ndis.nsw.gov.au
NDIS Have your say
For many, the NDIS has been life changing, but others have told us it's not as fair, simple and flexible as it could be.
This week, the NDIS released four consultation papers about how they plan to improve access, planning and plan flexibility, and how they support young children and their families.
You are invited to have your say on how these changes are delivered to make the NDIS work for everyone.
Visit the Have Your Say page on our website to find more information, copies of the papers, Easy Read versions and to make a submission.
Feedback closes at 10am ADST Tuesday 23 February 2021.
The Department of Social Services have also released a paper about proposed reforms to the NDIS Act. This paper is available on the DSS website at www.dss.gov.au. The Department of Social Services will also release draft changes to the NDIS Act for feedback in early 2021.
The Disability Information Helpline
The Disability Information Helpline is now available for people with disability who need help because of coronavirus (COVID-19).
The Helpline can help families, carers, support workers and services, too.
Contact the Disability Information Helpline on 1800 643 787.
The Helpline is available Monday to Friday 8am to 8pm (AEST) and Saturday and Sunday 9am to 7pm (AEST). It's not available on national public holidays.
Visit www.dss.gov.au/disabilityhelp for more information, including Auslan and Easy Read materials.
Free, independent counselling and advocacy support
Available for people with disability who have experienced violence, abuse, neglect and exploitation. This support can also help people, including families and carers, engage with the Disability Royal Commission. If you would like support or to find out more, call 1800 421 468 or visit www.dss.gov.au/disability-royal-commission-support. Support is here for you. Visit the Department of Social Services' website for more information including captioned videos, Easy Read and Auslan resources, a toolkit to help with communications, and a full list of organisations providing counselling, advocacy, legal and financial supports for the Disability Royal Commission.
Easylink Travel Training
Public Transport Made Easy-Free Service
Are you or someone you know wanting to use public transport but needing assistance or concerned about the risk from Coronavirus? Easylink travel trainers can train you and show you how to keep safe. Your travel trainer will discuss your public transport needs, plan the best route and accompany you on practice trips, with further sessions if you need them.
The service is personalised and flexible, helping you deal with any challenges and matched with the best transport options.
For bookings and more information contact the Easylink team on 9919 0700 www.easylink.com.au or e-mail traveltraining@easylink.com.au
Free Telephone Interpreter Service call 131 450.
Useful Links