Domestic and Family Violence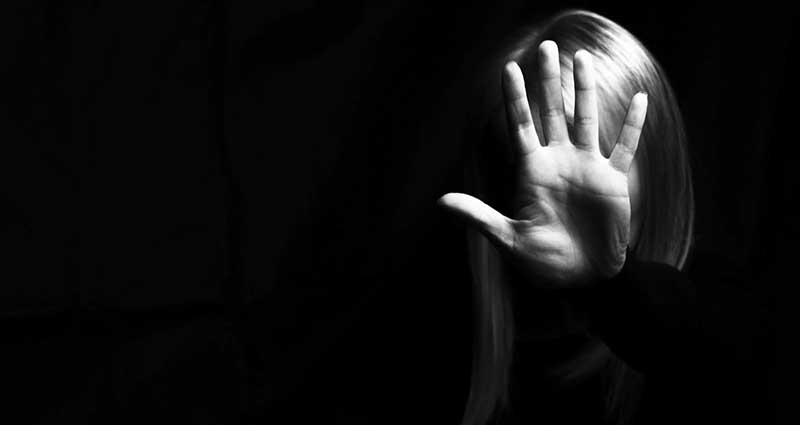 Domestic and family violence is an abuse of power and control by one person over another. This abuse of power usually involves a pattern of violent, abusive or intimidating behaviour carried out by a partner, ex-partner, carer or family member to control, dominate or instil fear.
Domestic and Family violence can come in many forms and people may experience one or many of these forms: Physical, verbal, psychological, emotional, social, financial, sexual, spiritual or religious. It also includes harassment and stalking, including online harassment.
If you or someone you know needs help
Police 000 Triple Zero (In an emergency)
Hornsby Ku-ring-gai Police (02) 9476 9799 (In Non-urgent situations)
Crime stoppers 1800 333 000
Domestic Violence Line 1800 656 463 (1800 671 442 TTY – Hearing Impaired)
24 hour telephone service providing Free counselling and referrals to women experiencing domestic and family violence.
1800 RESPECT 1800 737 732
24 hour Australia wide DV Line for sexual assault, family and domestic violence counselling line for any Australian who has experienced, or is at risk of, family and domestic violence and/or sexual assault.
Women's Domestic Violence Court Advocacy Services (WDVCAS) 1800 938 227
WDVCAS are locally based, independent services funded by Legal Aid for women and their children seeking information and help about domestic and family violence and how to get protection from the court.
Child Protection Helpline 13 21 11
24 hour service to report suspected child abuse or neglect.
You can ask for interpreting services, or call Translating and Interpreting Service on 131 450.
Lifeline 13 11 14
NSW Rape Crisis Line 1800 424 017
CatholicCare 1800 324 924 Email: info@catholiccaredbb.org.au
MensLine 1300 78 99 78
Men's Referral Service 1300 766 491
For men who need assistance with anger, relationship or parenting issues.
Ageing and Disability Abuse Helpline 1800 628 221
For anyone to talk about concerns of an older person or adult with disability being abused and mistreated by someone they know in their home or in their community.
Seniors Rights Services 1800 424 079
Free and confidential telephone advice, legal advice and rights-based education forums to seniors across NSW.
Legal Aid NSW has publications and resources on Domestic and Family Violence in different languages.
Red Cross Family and Domestic Violence Financial Assistance Program; for people with temporary visas, or with uncertain visa status, experiencing family and domestic violence.
Victims Services 1800 633 063; Aboriginal Contact Line: 1800 019 123; Email: vsin@justice.nsw.gov.au
Providing immediate needs support package up to $5000. Aimed at primary victims of Domestic and Family Violence to get financial assistance towards the expenses that have or need to occur such as; Security, relocation, furniture and household items, assistance with basic needs such as clothing or toiletries. Contact Victims Services (9am to 5pm, Monday to Friday (exc. public holidays)
View the community directory of Domestic Violence Helplines.
These services are confidential and many will offer support in a variety of languages.
Counselling services are also available. For interpreting and translating services, call 131 450 or visit tisnational.gov.au
For more services please refer to our Community Directory Page below:
The Duluth Wheel of Power and Control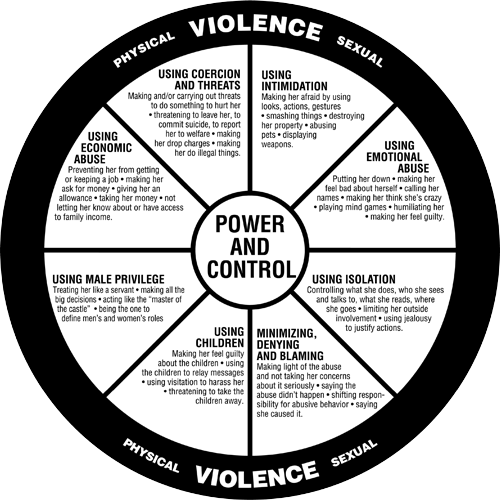 The Duluth Wheel Equality and Empowerment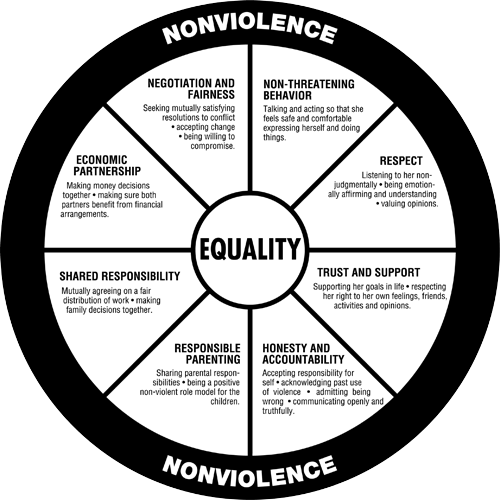 Our Toolbox Talks Domestic Violence Awareness and Response training programs improve community and workplace safety and support diversity and worker well-being.
Advice on helping someone in a domestic violence situation.
Insight Exchange
If you are supporting someone who is experiencing domestic abuse, Insight Exchange have developed a resource – Follow My Lead to help you respond.
twenty10 have a resource library available for LGBTIQ+ people, including Another Closet: LGBTIQ Domestic & Family Violence booklet
The Northern Sydney Domestic Violence Networks
In Conjunction with NSW police, have produced Domestic Violence is a Crime to provide Police and Legal information.
Insight Exchange Responding to domestic and family violence during and beyond COVID-19
A guide for family and friends
A guide for responding to customers
A guide for responding to tertiary students
For people with temporary visas, or with uncertain visa status, experiencing family and domestic violence.
This app is was developed and released by NSW Police, designed to discreetly document abuse and provide better access to support services.
The main features of the app include:
Private Diary: Victims can easily document incidents, capturing evidence with photos, messages, and more.
Coded Emergency Signal: A hidden lifeline that can send GPS location to ensure help arrives when it's needed most.
Quick Triple Zero Connectivity: One-touch access to emergency services for immediate response in critical situations.
Local Support Services: Easy-to-access links to local organisations that offer assistance and care.
The 'Empower You' app is available in the Google Play Store and the Apple App Store, and NSW Police officers have QR codes on their MobiPOL devices to link to the app in the stores to download.
A group of inspirational women, the Tangentyere Women's Family Safety Group, and their work towards preventing domestic violence.
A 3-part documentary series that explores one of the most complex and urgent issues of our time – domestic abuse.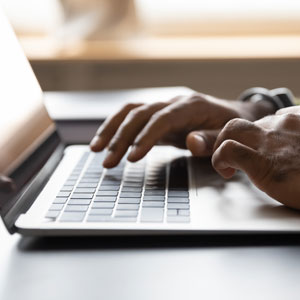 Protect yourself online
Protect yourself when downloading attachments and stay safe online by taking precautions such as deleting it and your internet history if your computer is shared.
Download a Directory Listing