Access and Inclusion
Hornsby Shire Council is dedicated to equal access and inclusion for everybody. This includes participating in Council's programs and events, accessing services and participating in community life.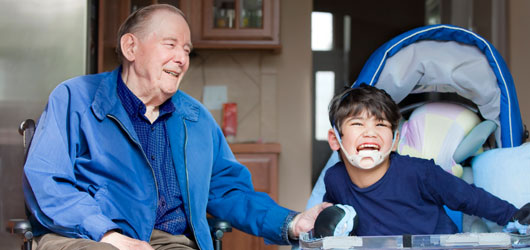 If you would like to raise an issue that is impacting on your access or inclusion within the community, please contact Council's community development officer Sue Downing on 9847 6889.
To find out more about the response from all levels of government see the National Disability Strategy 2010 - 2020.
Disability Inclusion Action Plan 2017-2020
Hornsby Shire Council Disability Inclusion Action Plan 2017-2020 was adopted on the Wednesday 14 June 2017. The plan outlines Council's commitment to improving opportunities for people of all ages who live with disabilities to access the full range of services and activities available in the community.
Inclusion is about everyone understanding that people with disabilities have the right to be socially and economically a part of the community and independent in their own lives. It's about removing barriers and increasing access. It's about all of us.
For more information or assistance call Community Services on 9847 6611 or email HSC@hornsby.nsw.gov.au
If you are deaf, or have a hearing or speech impairment, contact us through the National Relay Service. For more information, visit: www.relayservice.gov.au
Access and Social Justice Consultative Group
This group meets quarterly to address issues of access and inclusion, particularly those related to Hornsby Shire Council's operations. If you would like to be a part of the group or have an issue you would like raised please contact Sue Downing on 9847 6889 or email sdowning@hornsby.nsw.gov.au.
Accessible public toilets
The National Continence Management Strategy has produced an Australia-wide map of public toilets. Click here to see a list of public toilets in Hornsby Shire, with accessible toilets noted.
Useful links
If you have an issue with a footpath, road crossing or curb cutting you can phone Council on 9847 6666 to have it addressed.