Fitness Classes
Book an Aqua Fitness class
Note: Bookings are no longer required for these classes. Please refer to the timetable below.
Class descriptions
Note: Please bring a sweat towel to all non-aquatic classes.
Aqua Cross-Training Start your week with a water workout that will ensure cardio and strength fitness for all ages and levels of fitness by utilising many different activities in one class.
Aqua Shallow This is a great class that can be performed by all fitness levels and age groups. The class will focus on a wide range of exercises including balance and strength moves.
Aqua Deep This class eliminates impact and stress on the joints. It is a high intensity workout which will leave you feeling exhilarated. Flotation belts are required, and provided.
Aqua Boost This class is designed for those who need a lunch-time body-blitz. It will be an intense full-body session which will involve a variety of exercises and equipment.
Aqua Power Flow This low impact, power workout will effectively tone all muscle groups with flowing, full-range-of-movement exercises. Join us in the warm, indoor pool and experience this unique program.
Aqua Zumba® Pool Party!! Come and let loose and make a splash with this low-impact, high energy fitness routine. "Just Add Water and Shake"
Gymstick H2O A water-workout utilising the amazing Gymsticks! A water workout like no other! The Gymsticks work your muscles and build core strength to the max.
All of your questions will be answered. Please bring a full length bath towel (not a hand towel).
Pilates This is a great core/strength workout for the whole body. Fantastic for improving posture and recovering from injuries, and helping to maintain a strong body in a busy life.
Stretch This class is a much needed addition to our lives. Improve flexibility for the entire body to help maintain a strong posture and be able to move around comfortably and pain free in our day.
Stretch/Yoga class A gentle style of stretching. Holding each position for about a minute while focusing on using the breath to allow maximum stretch. Finishing with a short relaxation.
Yoga Come along at 6am on Thursdays and start your day with breath focus, energising your body, building strength, mindfulness and finishing with a relaxation and short meditation. Suitable for all levels..
Zumba® Take the "work" out of your workout! This is a total body workout, combining all elements of fitness – cardio, muscle conditioning, balance and flexibility, boosted energy and FUN! Enjoy a combination of Latin and World rhythms.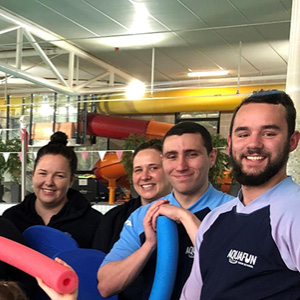 Are you looking for a rewarding job?
Apply to become a learn to swim instructor or lifeguard at Hornsby Aquatic and Leisure Centres and this could start your journey teaching people of all ages a life skill