Fitness Classes
COVID-19 UPDATE – Tuesday, 3 August 2021
On 28 July, the NSW Premier announced an extension of the current lockdown to 28 August 2021. Council is endeavouring to provide as many services in the field as possible, where they are in line with the Public Health Orders. Consequently, any current inspections or assessments undertaken by our Council Officers must be contactless. We kindly request that you do not approach any officers while they are undertaking their duties. If approached, officers have been directed to cease the activity. We appreciate your understanding and cooperation while we work to maintain our field services to you.
Our facilities remain closed. This includes Hornsby Shire Libraries, Community Centres, Thornleigh Brickpit, Hornsby Shire Aquatic & Leisure Centres, Thornleigh Community Recycling Centre and our Customer Service Centres.
These measures are to keep our community and our staff safe during this current outbreak but we are still here for you. Please be assured that we will respond to emergency callouts. If you have any requirements of Council, please contact Customer Service on 9847 6666 and online as usual and we will respond during normal business hours.
Under these current restrictions, where we cannot respond face-face, we will endeavour to find a way to assist in a COVID-safe way wherever possible. Many of our services are available online, including lodgement of Development Applications, and our Duty Planning Officer is available for enquiries on 9847 6760 (8.30am-5pm).
Further information on the current restrictions is available on the NSW Government website.
We are constantly monitoring this evolving situation and will keep you updated here and on Facebook with any changes.
The timetables below are current and ongoing. Any changes will be indicated in red text.
While Aqua/Group Fitness classes have been reduced due to COVID-19 and the reduction in patronage, we have now added two extra dry classes on a Wednesday - 12.30pm Yoga and 6pm Pilates.
Please note you are required to ring and book into your preferred class at HALC on 9847 6300.
If there are a high volume of calls and you're not able to get through, please email hornsbyaquatic@hornsby.nsw.gov.au and leave your details. A member of our team will call you to make a booking. There is a limit of 30 per class in the outdoor pool and 25 per class in the indoor pool, so please contact us as soon as possible to confirm your spot.
Bookings are limited to three (3) sessions per week per person.
Please also note the Aqua Shallow/Deep class on Sunday will have a different instructor each week. Any other changes to classes such as replacement of instructor or cancellation will only occur due to unforeseen circumstances.
Personal Training
Personal Training now available, please contact front reception for more information 9847 6300.
Class descriptions
Note: Please bring a sweat towel to all non-aquatic classes.
Aqua Cross-Training Start your week with a water workout that will ensure cardio and strength fitness for all ages and levels of fitness by utilising many different activities in one class.
Aqua Shallow This is a great class that can be performed by all fitness levels and age groups. The class will focus on a wide range of exercises including balance and strength moves.
Aqua Deep This class eliminates impact and stress on the joints. It is a high intensity workout which will leave you feeling exhilarated. Flotation belts are required, and provided.
Aqua Boost This class is designed for those who need a lunch-time body-blitz. It will be an intense full-body session which will involve a variety of exercises and equipment.
Aqua Power Flow This low impact, power workout will effectively tone all muscle groups with flowing, full-range-of-movement exercises. Join us in the warm, indoor pool and experience this unique program.
Aqua Zumba® Pool Party!! Come and let loose and make a splash with this low-impact, high energy fitness routine. "Just Add Water and Shake"
Gymstick H2O A water-workout utilising the amazing Gymsticks! A water workout like no other! The Gymsticks work your muscles and build core strength to the max.
Gym Circuit Would you like to know more about how to use the gym equipment? Maybe you are recovering from an injury and you would like to build a stronger, pain-free body. Come along on Mondays at 6pm and Wednesdays at 11.15am. We have a qualified personal trainer on hand to show you how to use all the cardio and weights equipment.

All of your questions will be answered. Please bring a full length bath towel (not a hand towel).
Pilates This is a great core/strength workout for the whole body. Fantastic for improving posture and recovering from injuries, and helping to maintain a strong body in a busy life.
Stretch This class is a much needed addition to our lives. Improve flexibility for the entire body to help maintain a strong posture and be able to move around comfortably and pain free in our day.
Stretch/Yoga class A gentle style of stretching. Holding each position for about a minute while focusing on using the breath to allow maximum stretch. Finishing with a short relaxation.
Yoga Come along at 6am on Thursdays and start your day with breath focus, energising your body, building strength, mindfulness and finishing with a relaxation and short meditation. Suitable for all levels..
Zumba® Take the "work" out of your workout! This is a total body workout, combining all elements of fitness – cardio, muscle conditioning, balance and flexibility, boosted energy and FUN! Enjoy a combination of Latin and World rhythms.
COVID-19 Update – 29 January 2021
It is now mandatory to sign in on the NSW Government COVID Safe QR Code app each time you visit our facilities.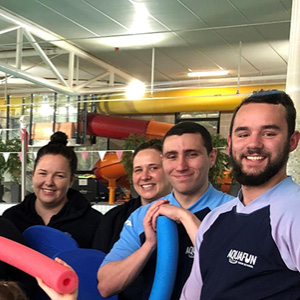 Are you looking for a rewarding job?
Apply to become a learn to swim instructor or lifeguard at Hornsby Aquatic and Leisure Centres and this could start your journey teaching people of all ages a life skill