Lane Availability
Lap swimming etiquette
Please be mindful of other swimmers and keep to the left hand side of the lane. Please observe signage located at the end of the pool, indicating fast, medium and slow lanes.
Please choose a lane that suits your speed. At all times show respect to other swimmers.
Galston Aquatic and Leisure Centre conducts a range of activities, which means there are sometimes fewer lanes available for lap swimming.
Lap lanes availability
Monday to Friday: No free lanes available for public swimming from 4pm-7pm.
Weekends: Limited availability between 7am and 11am
A small recreation only space is available Monday to Friday 3pm-4pm and Saturday 7am-11am.
During the months of October to December public lanes will be restricted during school hours, 9am-3pm.
Please note that lane availability is subject to change.
For more information and to avoid disappointment please contact the centre on 9847 6340.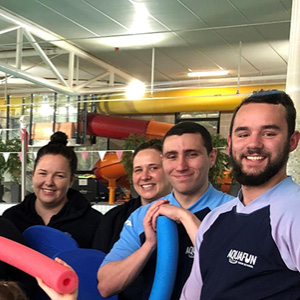 Are you looking for a rewarding job?
Apply to become a learn to swim instructor or lifeguard at Hornsby Aquatic and Leisure Centres and this could start your journey teaching people of all ages a life skill