Motorcycle Crash Card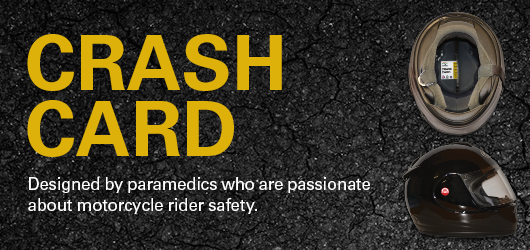 What is the motorcycle Crash Card?
The motorcycle Crash Card is a small card that motorcyclists and their passengers can carry in their helmets. The card provides emergency service personnel with the rider's personal information saving valuable time and assisting with treatment, especially if the rider is either unconscious or unable to communicate.
How does it work?
The rider completes the details on the card, and places it in the lining of their helmet. A red sticker is placed on the outside of the helmet to alert emergency services about the card within the helmet. Then in the case of an accident, emergency services can quickly identify firstly if there is a Crash Card inside the helmet, and then the motorcyclist and/or passenger's personal details.
How do I get one?
You can order a Crash Card free of charge online.
You will receive a folder containing two cards, two stickers, and other helpful information about what to do in an accident.
The CRASH Card has been produced in New South Wales by Hornsby Shire Council and is supported by NSW Ambulance, the NSW Police Force and Fire & Rescue NSW.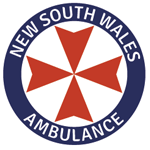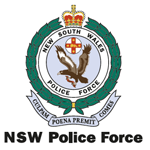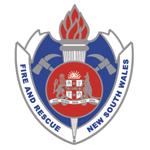 ---
History behind motorcycle Crash Card
The motorcycle crash card scheme was created by Ian Burrell a motorcycle paramedic in the United Kingdom in March 2009. Mr Burrell says "Treating riders who are unconscious or unable to communicate is a challenge for us. We need to tailor our treatment to their needs but that's difficult without knowing their medical history". He added "You can't rely on using a biker's mobile to contact his family because it's often locked or broken as a result of the crash."
Mr Burrell is also part of the UK Ambulance Motorcycle Club who distribute the Crash Card in the UK. Mr Burrell who was awarded an MBE by the Queen in 2014 for his services to road safety said "We came up with the idea of storing the card in your helmet because it's easy to get separated from your wallet and other belongings in the event of a crash. "It's important to get the message across that the cards are designed to be used by medical professionals only – you should never try to remove someone's helmet at the scene of a crash unless they are having trouble breathing."
The Crash Card is available to all motorcyclists throughout the United Kingdom. The concept – also known as "Rider Alert" is now available in the United States, Sweden, Finland, Portugal, Romania and Northern Ireland.