Cemeteries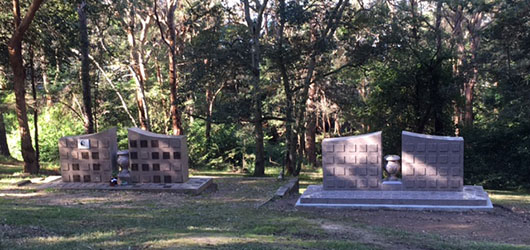 Hornsby Shire Council manage two small cemeteries at Brooklyn and Wisemans Ferry. Each cemetery has a niche wall available for the interment of ashes.
Purchase a niche wall space
Both cemeteries have niche walls for the interment of ashes. You will be able to select your desired space, but you are advised to phone Council to make sure the space is still available.
To purchase a niche wall space, please complete one of the following forms and lodge it with Council:
Brooklyn Cemetery Map
Download a pdf copy of the Brooklyn Cemetery Map (PDF 219 KB)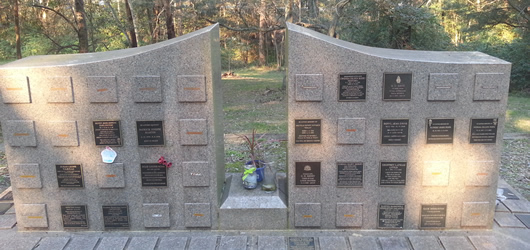 Interment of ashes in a niche space
Council provides containers for ashes to be placed in the niche wall. When the ashes are ready to be interred a bronze plaque will be made to cover the opening of the niche space.
The owner of the space or the executor of that person's estate needs to provide the wording of the plaque. The wording is limited to approximately 10 lines. Council will order the plaque on your behalf. The plaque will take up to 10 weeks to be made and returned to Council.
Once the plaque is ready for installation the ashes will need to be left with Council for the interment to take place. You will be notified when this has been completed.
To organise the interment of ashes at Brooklyn or Wisemans Ferry cemeteries, fill out the following form and lodge it with Council:
Arrange a burial
Brooklyn and Wisemans Ferry Cemeteries do not have any burial plots available to purchase.
If you already own a burial plot and would like to arrange an interment in the Brooklyn or Wisemans Ferry cemetery, please fill out the following form and lodge it with Council at least 24 hours before the interment:
Please note: It is the responsibility of the funeral company to arrange a grave digger for the plot.
Erect a memorial headstone
As both cemeteries are of heritage significance all headstones need to be in keeping with the size, style and materials of those already there.
In addition, the structural integrity of headstones is vital to ensuring the cemeteries are maintained in a safe condition for the public to visit.
If you wish to erect a headstone, please complete the following form and lodge it with Council:
Fees and Charges