Parking
Information Regarding Post and Print for Parking Infringements
Hornsby Council's Ranger Services will switch to a new, streamlined approach to issuing penalty notices, starting Tuesday 1 June 2021. This new system will provide recipients with more information about the infringement as well as subsequent actions available to them and will reduce the number of confrontations between recipients and Council officers.
Shopper docket-style infringement notices will no longer be left on car windshields or handed to the recipient.
Instead, the "Print and Post" system will see a clear and informative infringement letter mailed to recipients by Revenue NSW. This will apply to all offences relating to parking, Load Limited Roads, Skip Bins, Advertising Trailers, Roadside Sellers.
Rangers will be equipped with handheld devices that will record the details of the offence as well as any relevant images, which is uploaded to Revenue NSW. The following day Revenue NSW will create the penalty notice and send to the recipient within 2 to 3 days. The letter will detail how recipients can access further information, including photos, via the Revenue NSW website.
Vehicles will still be chalked on their tyres, so the public can see if their vehicle must be moved to comply with the parking restrictions.
Frequently Asked Questions
Why has this change occurred?
Revenue NSW recognised an opportunity to improve some identified issues. This includes:
Recipients being confused about shopper docket style penalty notices with limited and inconsistent information;
Penalty notices being removed by unknown parties, leaving recipients unaware they had been fined until receiving a reminder notice and experiencing reduced time to act; and
Administration costs incurred by councils when sending out letters.
What are the benefits?
Consistency - recipients receive all information on a standardised Penalty Notice in order to make informed decisions and act;
Safety of council staff - removing the physical placement of a fine on vehicles and subsequent recipient confrontation leads to a safer environment for council staff; and
Significant reduction in administration time and cost for council.
What is the time from when the infringement is reported to Revenue NSW to when the notice is posted?
This varies depending on any data corrections or errors and time of day that the infringement is uploaded, but generally it is within 2 to 3 days. Revenue NSW is continually working to reduce this.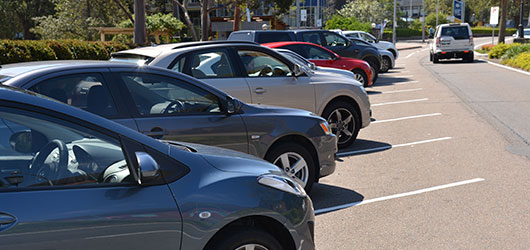 Council is responsible for managing parking throughout Hornsby Shire. If you have any questions about parking, phone 9847 6639.
Frequently Asked Questions
All infringement notices issues by Council are processed by the Revenue NSW. Any initial representation must be sent in writing to:
Revenue NSW
PO Box 786
Strawberry Hills NSW 2012
More information can be found on the Revenue NSW website.
Parking restrictions increase road safety while allowing all road users to share parking spots. They stop people parking in your driveway and give you the best chance of finding a parking spot when you go shopping.
Sign
Explanation
Red 'No Stopping' signs with white text mean vehicles cannot stop, even momentarily, for any purpose.
White signs with red panels mean certain categories of vehicles may stop subject to certain conditions to perform specific tasks. For example, only registered buses may stop in a 'Bus Zone' and only registered taxis may stop in a 'Taxi Zone'. If time restrictions apply, these will be shown on the sign.
White 'No Parking' signs with red and black text allow a vehicle to stop to set down or pick up passengers or goods. The driver must remain within 3 metres of the vehicle and cannot stop longer than 2 minutes. Times when this restriction applies may be shown on the sign.
White signs with green text means parking is permitted subject to certain conditions. For example a '2P' sign allows up to two hours parking during the times shown.

Please note, the size and layout of parking signs is fixed by a national standard and cannot be varied by Council.
All parking restriction proposals on Council-controlled roads are carefully evaluated by the Local Traffic Committee, which includes representatives from Council, RMS, police and the State Local Member.
The RMS is solely responsible for parking restrictions on State roads such as Pennant Hills Road, the Pacific Highway, Beecroft Road, Boundary Road, Carlingford Road, Galston Road, Old Northern Road, Castle Hill Road and most of New Line Road.
No, this is dangerous and illegal. No stopping means you cannot stop for any reason. Please help improve road safety by following this rule.
There are a number of locations at railway stations within Hornsby Shire where the set down and pick up of passengers is permitted.
The following rules apply for each zone type:

List of commuter setdown and pick up areas
Station
Aerial image
Side of road and location
Zone
Asquith Station
Setdown / pickup areas

(PDF 4.6mb)

Baldwin Ave ramp, East side north of pedestrian crossing
NP
Pacific Hwy, East side south of pedestrian crossing
NP
Haldane St, West side at station entry
NP
Beecroft Station
Setdown / pickup areas

(PDF 4.6mb)

Wongala Cres, West side north of Hannah St
NP
Wongala Cres, West side south of Hannah St
NP
Berowra Station
Setdown / pickup areas

(PDF 2mb)

Pacific Hwy, East side outside northern State Rail car park
1/4P
Pacific Hwy, Inside State Rail car parks
Brooklyn Station
Setdown / pickup areas

(PDF 3.6mb)

Dangar Rd, West side at station entry
NP
Cheltenham Station
Setdown / pickup areas

(PDF 4.7mb)

The Boulevard, west side south of The Crescent in AM and PM peaks
NP
Cheltenham Road, east side north of Sutherland Road
NP
Cowan Station
Setdown / pickup areas

(PDF 4.7mb)

Pacific Hwy, Inside State Rail car park
Epping Station
Setdown / pickup areas

(PDF 4.6mb)

Pembroke St, North side east of Oxford St
NP
Oxford St, East and west side north of Pembroke St in AM and PM peaks
NP
Beecroft Rd, East side outside station (Parramatta Council)
NP
Hornsby Station
Setdown / pickup areas

(PDF 4mb)

Station St, West side outside shops and Railway Hotel
NP
Pacific Hwy, East side opposite Dural Ln in AM peak
NP
Pacific Hwy, West side north of Dural Ln in PM peak
NP
Dural Ln, South side west of Pacific Hwy
NP
George St, West side in bay near pedestrian bridge
NP
George St, Inside State Rail car parks
Florence St, North side east of George St
NP
Mount Colah Station
Setdown / pickup areas

(PDF 3.9mb)

Pacific Hwy, East side south of bus stop
NP
Normanhurst Station
Setdown / pickup areas

(PDF 4.4mb)

Normanhurst Rd, West side south of Denman Pde
NP
Malsbury Rd, East side opposite Eaton Ave
NP
Pennant Hills Station
Setdown / pickup areas

(PDF 4.6mb)

Yarrara Rd, East side south of Ramsay Rd
NP
Ramsay Rd, South side west of Yarrara Rd
NP
Railway St, East side north of Pennant Hills Rd
NP
Thornleigh Station
Setdown / pickup areas

(PDF 4mb)

The Esplanade, East side north of Eddy St
NP
The Esplanade, West side north of Eddy St
NP
The Esplanade, West side south of Eddy St
NP
Railway Pde, South side west of Pennant Hills Rd
1/4P
Railway Pde, West side at station entry
1/4P + NP
Waitara Station
Setdown / pickup areas

(PDF 4.4mb)

Alexandria Pde, North side east and west of Waitara Ave
NP
Waitara Ave, End of cul-de-sac
NP
Waitara Ave, inside State Rail car park
Hornsby Shire Council receives relatively little revenue from parking fines once the enforcement costs are deducted. Our aim is to improve road safety through both education and enforcement while ensuring parking spots can be shared by all road users.
The NSW Road Rules apply whether a sign is in place or not. It is simply not feasible to signpost all intersections and areas where vehicles might park illegally. If you park in a manner that obstructs access or visibility, even for pedestrians, or forces other motorists to break the law to avoid your vehicle, then you may have parked illegally. For more details on traffic regulations, visit the RMS website.
The penalty specified for parking fines and demerit points is set by the State Government and cannot be varied by Council.
Council's traffic rangers enforce the parking restrictions in accordance with NSW Road Rules. To ensure impartiality, transparency and consistency with issuing penalties and reviewing requests, Councils across NSW use Revenue NSW to review penalties.
If a driver disputes a parking fine, the Revenue NSW will ask Council to check its records to determine whether it was correctly issued. If the infringement was issued correctly, the Revenue NSW may give the matter further consideration. The Revenue NSW website contains information on how to arrange for the review of an infringement and gives details of what factors will be considered in its review.
If a motorist is not satisfied with the results of this review, they may choose to have the matter heard before a magistrate in a local court.
This is a matter for the individual ranger to decide, based on the situation and the severity of the offence. Traffic rangers regularly issue cautions and details are kept to ensure repeat offenders are identified. Rangers also direct motorists to move on. However, if a person argues or refuses a penalty may be issued.
The provision of commuter parking at railway stations or regional bus stops is the responsibility of the State Government. Council has lobbied the Government for many years to provide additional commuter parking across the Shire, with some success. If you have concerns about commuter parking in your area, please contact your State Local Member.
The taking of photos in public areas by enforcement agencies is universal practice across all jurisdictions. Traffic rangers take photos to prove an infringement was correctly issued. Since the practice was adopted the number of disputed penalty notices has been greatly reduced. Rangers are only interested in taking a photo of the vehicle and the relevant sign or road marking. They avoid including people where possible.
Photographs taken by Council's Traffic Rangers are stored in a secure manner. Each photo has an identification code and access to the photos is strictly limited to authorised Council staff. The registered owner of the vehicle or the nominated driver may obtain a copy of a photo for a small fee ($16.40 at July 2019) using the following form: Council parking infringement photo request form.
To report obscured or missing signs or to request changes to parking management, please submit a service request or call 9847 6666 during business hours.