Street Lights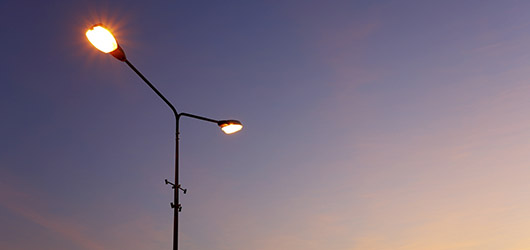 Ausgrid - LED Street Light Rollout
Ausgrid will commence work on upgrading more than 4,000 old street lights with more energy efficient LED lamps in February 2019.
The new LEDs are more energy efficient, easier to maintain and will last up to 20 years. It can take up to 95 watts to power older street lights whereas the new LEDs use just 17 watts.
The project will reduce the Shire's carbon emissions by 1,200 tonnes a year and will also provide an annual energy saving of 1,222MWh.
Please visit www.ausgrid.com.au/LEDrollout for Frequently Asked Questions and Schedule of Works.
Street lighting is a vital community asset that keeps the community safe. Council pays the electricity and maintenance bills for these assets.
Who do I report a fault to?
Ausgrid owns and maintains the majority of Hornsby Council's street lights on our behalf. There are a number of areas in the Hills district that is owned and maintained by Endeavour Energy. Residents can check on the Ausgrid website https://www.ausgrid.com.au/network_area by putting in their postcode.
How do I report a fault? – Ausgrid area
If you spot a faulty street light, report it on the Ausgrid website or call the 24-hour contact number on 1800 044 808.
Ausgrid has a number of online reporting tools to make it easier to alert them to problems such as faulty street lights, graffiti vandalism on Ausgrid property, trees growing too close to powerlines and power poles in need of inspection.
Faults include:
lights that don't come on at night
lights that remain on during daylight hours
lights repeatedly turning on and off during the night
broken lights, e.g. damaged lens
other faults with the light or pole.
Report a faulty light on Council land
If you spot a faulty light in a park, oval, playground or Council venue, call us on 9847 6666 or email hsc@hornsby.nsw.gov.au
Additional lighting
If you'd like to suggest a location for additional lights to be installed, please email hsc@hornsby.nsw.gov.au and Council will submit a request to Ausgrid/Endeavour Energy on your behalf.
Additional lights incur extra charges and you may be asked to make a contribution towards the cost.