I have found a stray dog. What should I do?
Call Council during business hours (Monday to Friday, 8.30am – 5pm) on 9847 6666. We will organise for it to be collected. Outside of Council's business hours you may contact a local veterinarian to check if they will take the dog.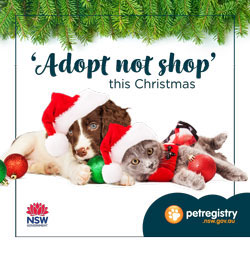 Rescue a cat or dog and…
give a furever home to a homeless animal
ease the burden on pounds and shelters
enjoy companionship money can't buy
Contact your local council pound, RSPCA shelter or rehoming organisation to find out more.
A rescue animal may be your purr-fect pet-match!
The Hawkesbury Animal Shelter is brimming with happy, healthy pets just waiting for you to take them home.
When you adopt your pet from the Shelter you are adopting an animal which has been health checked, desexed, vaccinated and often, wormed and treated for fleas. They have also been assessed for rehoming.
If you think a rescue dog or cat is for you, please visit the Hawkesbury Animal Shelter's gallery to view the animals they have available for you to adopt.