Your Responsibilties & FAQs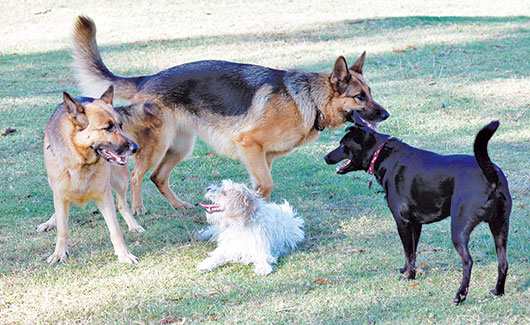 Pet owner responsibilities
For the comfort, safety and health of the community, pet owners have the following responsibilities:
Have your dog or cat registered and micro-chipped.
Update your registration details by contacting Council when you move house or have your pet minded by someone else – even for a short period of time as your pet is more likely to wander away at this time.
When in a public place, ensure your dog is wearing a collar with a tag attached that shows the dog's name and your address or phone number.
When in a public place, ensure your dog is under the control of a competent person by means of an adequate chain, cord or leash.
When in an off-leash area ensure your dog is properly trained and under your effective control.
If your dog defecates in a public place, collect and dispose of it correctly.
Ensure your dog not does not enter prohibited areas such as children's play areas, food preparation and consumption areas, school grounds, childcare centres and wildlife protection areas.
Frequently Asked Questions
There is no specific limit on the number of pets that can be kept on residential premises provided:
The property is large enough for the animal's needs and they are well looked after.
They are registered and microchipped.
There is no offensive noise and/or smell emanating from the property.
No. However, to protect your cat and the local wildlife it is highly recommended.
You should call Council on 9847 6666 and an officer will investigate the matter.
Call Council during business hours (Monday to Friday, 8.30am – 5pm) on 9847 6666. We will organise for it to be collected. Outside of Council's business hours you may contact a local veterinarian to check if they will take the dog.
Unlike dogs, cats are free to roam and there is no legal requirement for a cat to be secured inside a private property. There is no offence in a cat straying or roaming onto neighbouring properties, therefore in most cases Council does not trap or seize cats. For further information on cats please download the Cat Information Sheet - 64kb.
You should contact Council's Customer Service Team on 9847 6666 as soon as possible with details of when and where the attack took place. An officer will then contact you and make arrangements to interview you about the incident.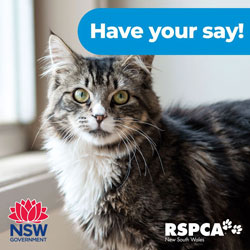 Keeping Cats Safe at Home
In partnership with RSPCA NSW, we are consulting the community to inform the new project 'Keeping Cats Safe at Home' and we want to hear from you!
We encourage everyone (cat owners and non-cat owners alike) to complete a short online survey, it only takes about 10 minutes.
This project has been assisted by the NSW Government through its Environmental Trust and aims to improve the lives of pet cats while also reducing impacts on wildlife.
You can learn more about the project here: https://www.rspcansw.org.au/safecats/
A rescue animal may be your purr-fect pet-match!
The Hawkesbury Animal Shelter is brimming with happy, healthy pets just waiting for you to take them home.
When you adopt your pet from the Shelter you are adopting an animal which has been health checked, desexed, vaccinated and often, wormed and treated for fleas. They have also been assessed for rehoming.
If you think a rescue dog or cat is for you, please visit the Hawkesbury Animal Shelter's gallery to view the animals they have available for you to adopt.