Lisgar Gardens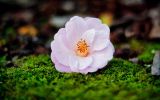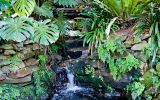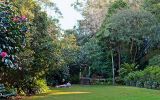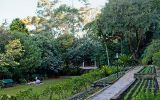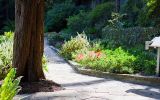 Lisgar Gardens is a beautiful hillside garden in the heart of Hornsby that is especially well-known for its range of camellias.
In 2020, Lisgar Gardens was acclaimed as an International Camellia Garden of Excellence by the International Camellia Society.
Location: Lisgar Road, Hornsby
Open hours: Weekdays 8am-3.30pm, Weekends 10am to 4pm (5pm during daylight savings)
Closed public holidays and during adverse weather conditions.

Contact: 9847 6666 or email hsc@hornsby.nsw.gov.au
Lisgar Gardens, located on a beautiful hillside in the heart of Hornsby, is a well established garden that is known for its range of Camellias and secluded location.
The gardens, covering an area of 2.6 hectares (6.5 acres), are often referred to as "The Secret Gardens" and boasts a variety of native and exotic plant species.
Built on a steep hillside, the garden's different levels were created by the construction of sandstone block walls. By 1950 the gardens were planted with rhododendrons, azaleas, gardenias and other exotics in harmony with native trees and ferns, highlighting the varieties of camellia.
The gardens now boast more than three hundred specimens of camellias (including over two hundred varieties), mass plantings of annuals in the formal gardens, a covered pavilion for weddings and other celebrations, a shade house containing the fish ponds, three waterfalls, informal lawn areas, picnic tables and a rainforest walk.
The gardens were originally created by academic horticulturalist Max Cotton, who worked for many years creating garden beds and fish ponds on the steep terrain. Max formed a friendship with Professor Eben Gowrie Waterhouse and the two spent many hours together including indulging their interest in camellias and by the early 1950's, had planted 72 varieties of camellias.
Hornsby Shire Council bought the property in 1967, naming it Lisgar Gardens. The gardens were opened to the public on 21 September, 1968.
Due to restricted parking in Lisgar Road visitors are asked to park in surrounding streets such as William Street. There is no coach access into Lisgar Road.
Bookings for Wedding Ceremonies and Wedding Photos at Lisgar Gardens are open.
Booking for weddings are available to be booked 7 days in advance and must comply with the latest federal and state government regulations and health guidelines.
Lisgar Gardens can be booked for up to three hours for weddings, naming ceremonies, group excursions and professional photography or filming. Phone 9847 6666 for more information.
Please note: This venue is not suitable for holding parties or any form of catering. The maximum number of attendees is subject to NSW health regulations.
Check Availability, view capacity and/or Book
Lisgar Gardens Fees and Charges
In 2020, Lisgar Gardens was acclaimed as an International Camellia Garden of Excellence by the International Camellia Society. The garden creation of Max Cotton (1887-1967) – as inspired by Professor Eben Gowrie Waterhouse during the 1950s and 1960s – and ultimately acquired by Hornsby Shire Council in 1967, has joined a prestigious worldwide list of around 60 gardens (as at 2020) renowned for their camellia collections. Lisgar Gardens features over 300 camellias and over 200 individual cultivars and species, with this collection including a wide range of rarer cultivars propagated as part of the Camellia Ark Project (2009-2014).
Lisgar Gardens has also been awarded Significant Historic Ornamental Camellia Tree by the International Camellia Society for its tree of crimson red Camellia japonica 'Cassandra', the best surviving specimen of a rare early New South Wales cultivar. Lisgar's specimen is over 75 years old and was among the first in the world to receive the award.
'Cassandra' (located adjacent to the stairs for the main pavillion) was listed as a New South Wales cultivar by Sir William Macarthur of Camden Park in the Australian Botanical & Horticultural Gazette of 1849. It is one of the treasures of New South Wales' horticultural heritage.
The awards are an acknowledgement of the efforts of The Friends of Lisgar Gardens, International Camellia Society, Camellias Australia, NSW Camellia Research Society (Sydney North area), Camellia Ark Australia and Hornsby Shire Council.
Download Lisgar Gardens Camellia map
Download Lisgar Gardens Camellia reference list