Lilian Fraser Garden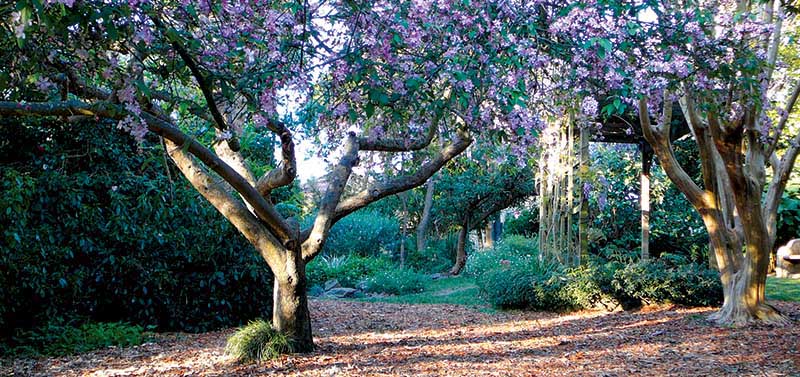 One of Hornsby Shire's most special spots, ideal for picnics, weddings and other events – or a simple stroll to enjoy the beauty.
Address:
Cnr Bellamy and Laurence Streets, Pennant Hills
Enquiries:
(02) 9847 6666 or email
hsc@hornsby.nsw.gov.au
Open hours:
during daylight
History
Lilian Fraser was born in 1908 at Kurrajong. The family moved to Pennant Hills after her father Charles purchased the Hopetoun poultry farm in Bellamy Street sometime between 1915 and 1920.
Over the years much of the original farm was sold off as residential lots but almost an acre was kept for gardens surrounding the house. The present garden covers 3,426 square metres.
Lilian Fraser lived on the property for most of her life. The third qualified female biologist in Australia, she joined the Department of Agriculture in 1940 to work on citrus crops.
During a career spanning 33 years Dr Fraser made many significant contributions to world knowledge of citrus diseases. She travelled extensively in Australia and overseas, spending her holidays exploring bushland for new plant and disease specimens.
Following the death of her mother Dr Fraser became more involved in the gardens surrounding the house, growing a wide range of plants.
As trees and shrubs matured the garden evolved into the woodland it is today. Among the wide range of plants are some that are very special for their size or rarity.
As she approached old age with no immediate family, Dr Fraser offered her garden to Hornsby Shire Council. Her final wish was for her garden to be enjoyed as a public garden and park. She died in 1987, aged 79, and her legacy continues to live on.
Please note:
Large groups and bus parties must make arrangements in advance.
Children must be accompanied by adults and kept under control.
Please take all your litter home.
Please do not damage or remove plants.
Hire of the Garden
Lilian Fraser Garden can be booked for:
Garden weddings, naming ceremonies, birthday parties and other celebrations.
Professional photography and filming.
The 'Lilian Fraser' room is also available to hire for small functions both day and night.
Lilian Fraser Room
The 'Lilian Fraser' room within the garden is available for hire. The room has the following items:

20 chairs
Large table with 8 wooden chairs
Kitchen sink. Hirers are to bring their own tea towels and linens for cleaning up
Disabled toilet access (the toilet is only available to hirers of the room). The key to the toilet is attached to a noticeboard within the locked function room.
50 cup electric urn
Small refrigerator. Hirers are to empty the fridge prior to vacating the facilities.
There are no cooking facilities however hirers are welcome to bring their own microwave. Electric outlets are available in the function room.

Bookings for the meeting room are limited to the maximum capacity allowable in accordance with NSW government health regulations. Click here for availability and capacities.
Maximum hire time for the community room is 4 hours including set up and cleaning.
There are 2 x 4 hour session times available for hire, 9am-1pm and 2pm-6pm.
There is a small group (1-15 people) category and medium group (16-24 people) category available to book subject to allowable capacities.
The key to the community room can be obtained two working days prior to the event from the Pennant Hills Library, corner of Ramsay Road and Yarrara Road (opposite Pennant Hills Railway Station), on presentation of the Council issued email confirmation of the booking. Please check opening times and other requirements for Pennant Hills Library here .
For casual bookings, the key is to be returned within 48 hours after the function to Pennant Hills Library.