Lisgar Gardens
COVID-19 UPDATE – Friday, 5 November 2021
In accordance with the NSW Government roadmap for reopening, we are pleased to welcome our community back to many of our Council facilities.
From Monday 8 November, the following changes will be in place for booking Council's park facilities. All hirers must comply with the current Public Health Orders, including vaccination requirements and gathering of people.
Crosslands Reserve
Camping bookings open
Shelter bookings open (shelter has seating capacity for 12)
Lilian Fraser Gardens
Meeting room available for bookings with a maximum gathering of 12 people
Lisgar Gardens
Bookings available for wedding ceremonies, limited to 50 people
Lisgar Gardens is not available for wedding receptions
Inclinator is currently not available
Galston Recreation Shelter
Picnic shelter bookings available
Fagan Park
Garden bookings for wedding ceremonies open, with capacity limits varying by garden location.
Shelter bookings open
Fagan Park is not available for wedding receptions.
Council's playgrounds, outdoor fitness equipment, bushland reserves, tracks, trails, skate parks and tidal pools are open for community use, subject to the latest COVID restrictions from the NSW Government.
Please note the following:
Caution is urged when using these areas.
Please observe current government guidelines for exercising, social distancing, gatherings of people and wearing of masks.
It is your responsibility to leave an area if it is too busy.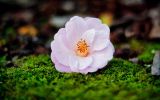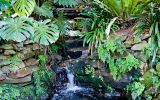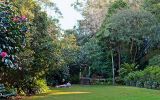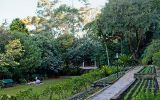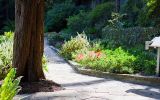 Lisgar Gardens is a beautiful hillside garden in the heart of Hornsby that is especially well-known for its range of camellias.
Location: Lisgar Road, Hornsby
Open hours: Weekdays 8am-3.30pm, Weekends 10am to 4pm (5pm during daylight savings)
Closed public holidays and during adverse weather conditions.

Contact: 9847 6666 or email hsc@hornsby.nsw.gov.au
Please note: Due to the current restrictions on social distancing, the inclinator is unavailable until further notice.
Lisgar Gardens, located on a beautiful hillside in the heart of Hornsby, is a well established garden that is known for its range of Camellias and secluded location.
The gardens, covering an area of 2.6 hectares (6.5 acres), are often referred to as "The Secret Gardens" and boasts a variety of native and exotic plant species.
Built on a steep hillside, the garden's different levels were created by the construction of sandstone block walls. By 1950 the gardens were planted with rhododendrons, azaleas, gardenias and other exotics in harmony with native trees and ferns, highlighting the varieties of camellia.
The gardens now boast more than three hundred specimens of camellias (including over two hundred varieties), mass plantings of annuals in the formal gardens, a covered pavilion for weddings and other celebrations, a shade house containing the fish ponds, three waterfalls, informal lawn areas, picnic tables and a rainforest walk.
The gardens were originally created by academic horticulturalist Max Cotton, who worked for many years creating garden beds and fish ponds on the steep terrain. Max formed a friendship with Professor Eben Gowrie Waterhouse and the two spent many hours together including indulging their interest in camellias and by the early 1950's, had planted 72 varieties of camellias.
Hornsby Shire Council bought the property in 1967, naming it Lisgar Gardens. The gardens were opened to the public on 21 September, 1968.
Due to restricted parking in Lisgar Road visitors are asked to park in surrounding streets such as William Street. There is no coach access into Lisgar Road.
Bookings for Wedding Ceremonies and Wedding Photos at Lisgar Gardens are open.
Booking for weddings are available to be booked 7 days in advance and must comply with the latest federal and state government regulations and health guidelines.
Lisgar Gardens can be booked for up to three hours for weddings, naming ceremonies, group excursions and professional photography or filming. Phone 9847 6666 for more information.
Please note: This venue is not suitable for holding parties or any form of catering. The maximum number of attendees is 50 people subject to NSW health regulations.
Check Availability, view capacity and/or Book
Lisgar Gardens Fees and Charges
The Friends of Lisgar Gardens is a volunteer group which aims to promote, protect and enhance Lisgar Gardens. The friends also help Council by staffing the gardens on weekends, greeting visitors and helping with enquiries.
Each year they host events in the gardens including the Lisgar Live music events and Camellia Gala Day in winter. If you'd like to be involved phone 9847 6666.