Lisgar Gardens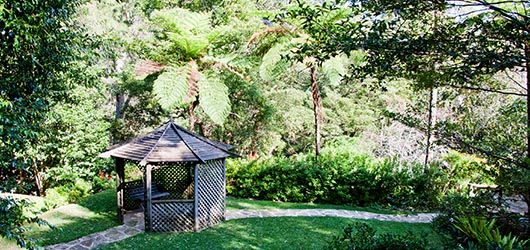 A beautiful hillside garden in the heart of Hornsby that is especially well-known for its range of camellias.
Location: Lisgar Road, Hornsby
Open hours: Monday to Friday 8am-3.30pm- Please note: Lisgar Gardens will be closed on Christmas Day, Boxing Day and New Year's Day.
Weekends 10am to 4pm (5pm during daylight savings)
Parking
Due to restricted parking in Lisgar Road visitors are asked to park in surrounding streets such as William Street. There is no coach access into Lisgar Road.
Disabled access
An inclinator allows everybody to enjoy the gardens and can be used by prior appointment. Phone 9847 6666. Bookings for the inclinator must be made two weeks in advance.
Please note: to access the gardens, there are 40 steps from the top of the road to the middle grassed section of the gardens. There are additional steps to access the terraced garden areas.
About the gardens
Lisgar Gardens covers an area of 2.6 hectares (6.5 acres). The site was originally purchased in 1917 by Dr Max Cotton (1887-1967) from his brother Leo, specifically to create the gardens. In 1967 Hornsby Shire Council bought the property, naming it Lisgar Gardens. The gardens were opened to the public on 21 September, 1968.
Built on a steep hillside, the garden's different levels were created by the construction of sandstone block walls. By 1950 the gardens were planted with rhododendrons, azaleas, gardenias and other exotics in harmony with native trees and ferns, highlighting the varieties of camellia.
Some of the original camellias still exist in the gardens today and are now over sixty years old. Since Council purchased the site the work commenced by Max Cotton has continued.
The gardens now boast more than ninety varieties of camellia, mass plantings of annuals in the formal gardens, a covered pavilion for weddings and other celebrations, a shade house containing the fish ponds, a gazebo, three waterfalls, informal lawn areas, picnic tables and a rainforest walk.
Hire of the gardens
Lisgar Gardens can be booked for up to three hours for weddings, naming ceremonies, group excursions and professional photography or filming. Phone 9847 6666 for more information.
Please note: This venue is not suitable for holding parties or any form of catering.
Friends of Lisgar Gardens
The Friends of Lisgar Gardens is a volunteer group which aims to promote, protect and enhance Lisgar Gardens. The friends also help Council by staffing the gardens on weekends, greeting visitors and helping with enquiries. Each year they also organise the Teddy Bears' Day Out in March and Camellia Gala Day in winter. If you'd like to be involved phone 9847 6666.