Fagan Park Eco Garden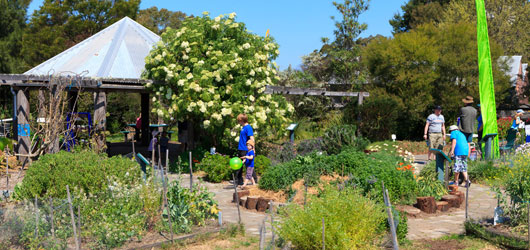 A Council-driven community initiative that showcases environmentally friendly gardening techniques.
Location: 38-48 Arcadia Road, Galston
Open hours: 7am until sunset (6:30pm during daylight savings)
Open days: open every day except Christmas day
Come and explore the Eco Garden with over 36 different types of fruit and a four season vegetable garden. Kids can meet our magnificent scarecrow, play in the sandpit or fairy garden. You may simply enjoy following the rambling paths, finding a seat to read the paper at or enjoy a picnic lunch at ones of the tables. On display, we have a wood fired cob oven, balcony garden, compost and worm farms, mandala garden, local native plants, companion planting, wicking beds and much more.
Parking is $6.
Download Eco Garden Guide - 317kb and Eco Garden detailed aerial map - 357kb.
Be Inspired
Workshops are held regularly throughout the year on topics such as Composting, Worm Farming and Eco Gardening. Check out Council's What's On page or more information.
Did you know?
Food waste is one of the biggest components of waste in your red bin. You can save this resource from landfill by composting it. The Love Food Hate Waste website offers tips on avoiding food waste.
For more information please call the Waste Hotline on 13 70 30 or email waste@hornsby.nsw.gov.au with your contact details.
Resources