Hawkesbury Estuary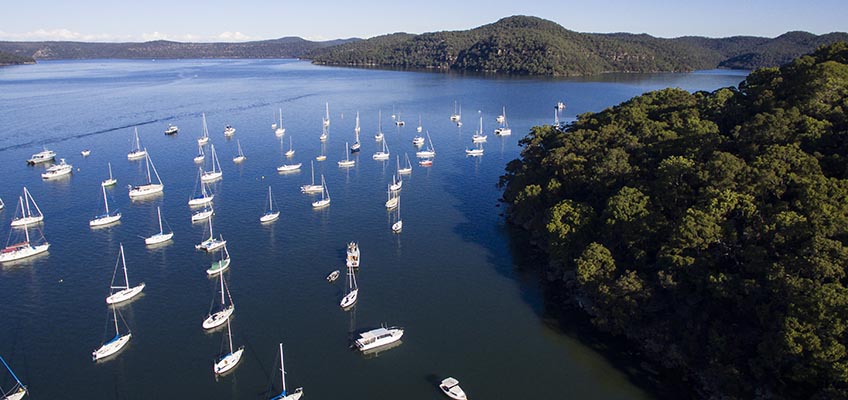 The Hawkesbury Estuary is a drowned river valley that boasts the third largest stand of mangroves in New South Wales, as well as considerable seagrass meadows and remnant areas of saltmarsh. The estuary is unique because the foreshore areas contain significant forest with relatively little foreshore development.
Major tributaries to the estuary include Mangrove, Berowra, Mooney Mooney, Mullet and Cowan creeks. The majority of the foreshore and adjacent land is national park, with much of the foreshore only accessible by boat.
The beautiful mix of sandstone cliffs and gorges, open waterways, secluded bays and natural vegetation make the estuary one of the most visually spectacular waterways in New South Wales, a popular site for a large number of recreational visitors each year. The area is also rich in Aboriginal and European history.
The main body is the Lower Hawkesbury Estuary Management Committee, which meets quarterly and is made of representatives from Hornsby Shire Council, Central Coast City Council, NSW Government, Boat Owners Association, commercial fishers, community representatives, local marina operators, commercial oyster farmers and Sydney Water Corporation.
The committee's main objective is to improve the overall health of the estuary. This includes the chemical, physical and biological health, as well as the economic, recreational and aesthetic values.
The committee's guiding document is the Lower Hawkesbury Estuary Management Plan, which was adopted in 2009. Its strategies include:
Planning – ensuring planning instruments include best practice and provisions for sustainable development;
Research – undertaking programs to monitor estuarine health and prepare for climate change;
Education –engaging local communities and schools through estuary awareness activities;
Compliance – encouraging riverside settlements to implement sustainable practices;
On-ground works – installing infrastructure and undertaking regeneration programs to protect estuarine assets.
The most pressing issues facing the health of the Hawkesbury estuary are outlined in the Lower Hawkesbury Estuary Management Plan (above). They include:
Potentially allowing more development than the estuary can cope with. Council has been working with CSIRO to develop a robust scientific method to assess the carrying capacity of land in Hornsby Shire.
Catchment runoff, when rain carries topsoil and other substances into the waterways. Council has a significant Catchment Remediation Program to address the issue.
Algal blooms. In most cases algal blooms do not damage ecosystems in the long term, but they can be dangerous to human health while also killing fish and animals. An important aspect of Council's water quality monitoring program is to quickly identify the risk of algal blooms.
Discharge from boats, which can create a significant environmental problem. Council operates a pump-out facility at Kangaroo Point to dispose of effluent. It is free to all users and removes around 150,000 litres of effluent from vessels each year. Boats require a 40mm (or 1 1/2") male camlock coupling to connect to the facility. Operation instructions can be found on the pontoon.
Sewage disposal. Council undertakes surveys of onsite wastewater management systems at riverside settlements. These surveys aim to increase community awareness of compliance issues; help residents select and maintain appropriate onsite systems; and promote alternative technologies for waste treatment as they become available.
Boating and tourism pursuits The Hawkesbury River is a very popular waterway, contributing an estimated $32.2 million to the local economy. Recreational activities include water-skiing, sailing, fishing, swimming and kayaking. The region also sustains a large number of commuter vessels used by people living on islands and in other isolated locations.
Aquaculture and fishing. The Hawkesbury-Nepean estuary is among the top 15 commercial fishing production areas in NSW, with annual catches worth $1.3 million. The estuary also plays a valuable role as a nursery and a source of food for ocean fish. Prawn catches may be worth up to $1.1 million per year, the second highest production area in NSW. The oyster industry used to contribute $3.6 million per year, but it has been severely affected by two different diseases in 2003 and 2013. Council is part of an intensive effort to get the oyster industry back in the estuary.
Heritage and cultural values. There are likely to be thousands of Aboriginal heritage sites located across the Lower Hawkesbury catchment. Of those already found, only a small number are actively promoted for public viewing and understanding, although many may be visited due to their proximity to trails and roads. Heritage items in the Hawkesbury catchment are identified in planning instruments for Hornsby Councils and a number of items are also on the State Heritage Register.
The Lower Hawkesbury Estuary is fragile and any changes to the foreshore can have significant consequences. If you live on the edge of the river you will need to take this into account. If you are considering building or upgrading a seawall you'll find some helpful information with these links:
Hornsby Shire Council has installed a number of pieces of infrastructure to make your fishing experience more enjoyable and environmentally friendly, including the recently upgraded fish cleaning table at Parsley Bay.
Tangler bins have also been installed at Parsley Bay, Berowra Waters and Wisemans Ferry to collect unwanted fishing line to be recycled. Discarded fishing line is not only unsightly, it causes significant injury to wildlife and is a hazard to watercraft.
Seagrasses are important for fish populations, providing food and shelter. They are also easily damaged by boat propellers and anchors.
Buoys have been deployed around the edges of the seagrass beds off Bradley's Beach at Dangar Island, alerting boat users of their presence. Hornsby Shire Council has also collaborated with the Hawkesbury Nepean Catchment Management Authority and the Roads and Maritime Service to update boating maps to show the seagrass beds.
Please be careful when boating in the estuary and make sure you avoid the seagrass beds.
There are a number of local industries working in the Lower Hawkesbury Estuary, for whom the health of the river is especially important. In the Hawkesbury we have two key industries: Oyster growers and commercial fishers, in particular estuary prawn trawlers. Council supports these industries, particularly if they hold an Environmental Management System (EMS). An example of this is the Broken Bay Oyster Association who developed an EMS in 2010 and then in 2011 they signed a landmark Memorandum of Understanding - 201kb with Hornsby Shire Council on the protection of the estuarine environment. It is the first formalised ongoing partnership between a local government authority and an oyster industry group that recognises their shared goals in protecting water quality.
The agreement benefits the public, the environment and the economy by protecting estuarine health and supporting an environmentally sustainable oyster industry. Both parties seek to responsibly manage estuarine resources on behalf of present and future generations.
Hawkesbury River System Coastal Management Program
Hornsby Shire Council has taken the lead in preparing a Coastal Management Program (CMP) by partnering with the five neighbouring councils who jointly have management responsibilities for the Hawkesbury River. The CMP will set out the long-term strategy for the coordinated management of the coastal zone along the Hawkesbury.