Bushland Tracks and Trails
There are many walking trails throughout Hornsby Shire that you can explore on your own.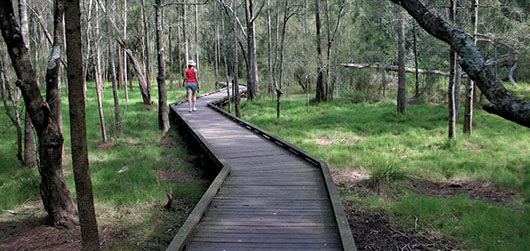 Note: the above link refers to the Great North Walk Discovery Kit. This kit is no longer available from Hornsby Council, but can be ordered through the Great North Walk website.
Here is a selection of the most popular bushland tracks:
Walking your dog in bushland areas
There are more than 30 trails within Hornsby Shire where dog walking is permitted. However, dogs must be kept on a leash at all times. Owners must also pick up after their dogs and stay on designated tracks.
See the list of leashed dog walking trails - 17.5kb
There are also a number of off-leash areas you can take your dog to.
Bushland Projects
Information and updates about bushland projects that are in construction.
Walking grades
Grade 1: Allows for those with reduced walking ability to walk on well marked tracks with no steps and with interpretive signage.
Grade 2: Easy walk, mostly on well marked tracks of low gradients with no steep sections and minimal use of steps. Suitable for beginners.
Grade 3: Medium walk with some hilly sections and rougher terrain with some steep sections requiring a moderate level of fitness. Suitable for fit beginners.
Grade 4: Medium – hard walks. Steeper, rougher terrain or a longer distance track walk along defined tracks without major modification to the ground, may have short sections of rock scrambling involved. Not suitable for beginners.
For more information on walking grades visit National Parks NSW.