Greening Our Shire

Image Credit: SP Creative
Help us realise your green future
Hornsby Shire Council is committed to 'greening our shire' through many programs and initiatives. Setting ambitious targets, such as planting 30,000 trees by 2021, will further strengthen our reputation as the Bushland Shire and invest in the environment for future generations.
The community has repeatedly told us, through various consultations, that trees are very important to them and council have taken that message to heart. More trees will not just add to the aesthetic of Hornsby Shire, our native wildlife will also benefit as well as bringing a range of very real improvements to quality of life for our residents, including cleaner air and lower summer temperatures.
New trees are grown and nurtured at Councils Community Nursery by a dedicated team of staff and volunteers. Special community tree planting days are held throughout the year to help us plant and nurture these trees.
What Can you do?
You can get involved by picking up a free tree at Council's Native Plant Giveaway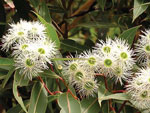 Track Our Progress
As at 22 March 2021
28,900 Trees Planted
384 Planting Locations
2,280 Volunteers
40,995 Other Plants