Road Cycling and Bike Paths
Cycling is the most energy-efficient form of transport on earth, while it's also fun and healthy. Hornsby Shire Council encourages cycling and is working to provide more cycleways and bike parking areas.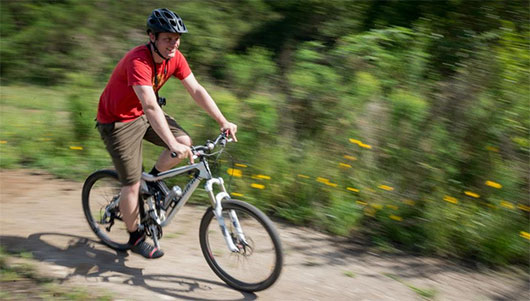 Cycling Map
Detailed information on the best cycle routes in the region, as well as helpful tips and contact details. Click here to see it: Cycling Map - 2.7MB.
Hornsby Mountain Bike Trail
If you're interested in mountain biking you'll be excited to know that Hornsby Shire Council has opened a 6 kilometre trail next to the Hornsby CBD. More information about Hornsby Mountain Bike Trail.
Bike riding rules and tips
Cyclists have the same rights and responsibilities as drivers and motorcycle riders. These include:
Correctly wear an approved helmet, with straps fitting snugly under the chin;
Obey all the road rules;
Ride, like all traffic, on the left side of a road unless signposted otherwise;
Only ride on a footpath if you're aged under 16 years or accompanying somebody under 16;
Use a bicycle lane if one is marked on the road, unless impracticable to do so;
Always use hand signals when turning or stopping;
Walk across pedestrian crossings, don't ride;
Travel no more than 1.5m apart if riding two abreast;
Slow down on a cycle path when pedestrians are present;
Warn pedestrians of your approach on a cycle path;
Keep off walking trails unless permitted by signposts when cycling in National Parks. You may, however, cycle on Fire and Management Trails or public roads.
Some special rules apply to cyclists:
Cyclists are allowed to travel two abreast, no more than 1.5m apart;
Cyclists are allowed to take up a whole lane as riding in the gutter can be dangerous;
Bicycles are allowed to travel in bus and transit lanes.
All bicycles must:
Be fitted with an effective brake and a bell, horn or similar warning device;
If used at night, have a steady or flashing white light on the front;
If used at night, have a red reflector and steady or flashing red light at the rear.
Report cycling hazards and incidents
If you see a problem or hazard for bicycles, please report it to Hornsby Shire Council. We will investigate and arrange to fix the problem where possible.
Phone: (02) 9847 6666
Email: hsc@hornsby.nsw.gov.au
If there is a problem on a main road you can report it to the RMS by phoning 131 700.
What to do if you are involved an accident
Your first priority is to seek treatment for anybody who is injured and make the location as safe as possible. Then report the incident to police and obtain a reference number.
Make a note of the following details:
What happened;
The date and time;
Location of incident, street name and direction of travel;
Details of vehicles involved, including registration number, make and model, colour and description;
Name, licence number and contact details of all drivers;
Name of insurance companies;
Names and contact details of all witnesses;
Description of any damage or injuries.

Bike groups and other contacts
There are many different groups and organisations operating in Hornsby Shire that can help you get the most out of your biking experience.
Bike Parking Locations
Secure Bike Lockers
Contact Bicycle NSW on (02) 9281 4099
Hornsby Station, on George Street southeast of railway station
Hornsby Station, on Jersey Street northwest of railway station
Bike Racks or Rails
Berowra Library
Berowra Marketplace Shopping Centre off Turner Road
Carlingford Court Shopping Centre, outside McDonalds
Castle Towers Shopping Centre, outside Dock 4 and Level 1 in yellow carpark
Cheltenham Station on west side off Langston Place
Cherrybrook Village Shopping Centre, in front next to Kindergarten
Hornsby - Burdett Street carpark, southwestern corner
Hornsby - Florence Street Mall, east end near Post Office Box
Hornsby - Florence Street Mall, west end near Albert St
Hornsby - Hunter Street Mall, near Hornsby Inn
Hornsby Station, on Station Street, to southwest side of station
Hornsby Station, on northwest side of station
Hornsby Westfield, Albert Street Carpark, Blue Level, near Dan Murhpy's
Hornsby Westfield, Albert Burdett Street Carpark, Purple Level, near Harrison's
Mt Colah - McDonalds
Pennant Hills Station on west side of Yarrara Road
Thornleigh Station on west side in carpark on The Esplanade