eSmart Libraries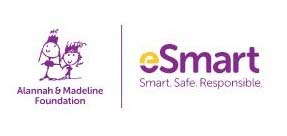 Hornsby Shire Libraries are participating in the Alannah & Madeline Foundation and Telstra's eSmart accreditation program. The aim of the program is to improve the cyber safety and wellbeing of people of all ages in our community.
The Alannah & Madeline Foundation is a national charity protecting children from violence and bullying and its devastating impacts. The Alannah & Madeline Foundation and the Telstra Foundation formed a partnership in 2012 to develop and implement eSmart Libraries - one of Australia's most significant community cyber safety initiatives.
---

The following resources will help you to find out more about smart, safe and responsible use of technology.
The eSafety Women website aims to help women manage technology risks and abuse by giving women the tools they need to be confident when online.
The Office of the eSafety Commissioner is responsible for promoting online safety for all Australians. The website contains links for reporting cyberbullying and illegal content, as well as useful educational resources for schools, parents and communities.
An Australian government site that looks at hoaxes, hackers, spyware, malware, password protection and prevention.
This initiative aims to develop the digital literacy skills of older Australians. Includes 'self-teach' videos, face-to-face training locations, and trainer guides. Information is available in English and eleven other languages.
An excellent site that gives information on what to do If you are being bullied and need support. It also gives information about how to help someone if you know or see someone being bullied.
The Office of the Children's eSafety Commissioner has wide ranging federal powers to manage serious cases of cyber bullying. This is the main website for under-18s to report illegal or offensive content, or get help using their complaints service. The website contains over 300 short videos and guidance pages on Social Media Centres, eSafety issues and eSafety partners.
Kids Helpline is a free, private and confidential 24/7 phone and online counselling service for young people aged 5 to 25.
This website describes the law in New South Wales in an easy to understand way. It includes pages on threats and intimidation, stalking, defamation and discipline at school.
Useful page which gives a definition of cyberbullying and what action people may take if they are being bullied.
A very useful site for both parents and children. It clearly describes the effect of cyberbullying and how it can happen in lots of different ways. It talks about how parents can talk to their children about how to avoid cyberbullying by agreeing on rules about smartphone and computer use and about staying safe online.
ThinkUKnow is an online safety website for teenagers. The website has two sections - one for parents and one for young people aged 11-17 - and includes information on cyberbullying, sexting, digital reputation and online relationships.
Common Sense Media rates apps and websites in the same way as books and movies. Each app or website is given a traditional rating from G to R and a second rating based on educational value.
A community-based project that supports young people, parents, schools, government and the community sector to understand and address the influence of online pornography.
An online resource for 'parenting in the digital age' and how to play a role in ensuring a child's online experience is positive and safe.
Kids Helpline is a free, private and confidential 24/7 phone and online counselling service for young people aged 5 to 25.
The Australian Cybercrime Online Reporting Network (ACORN) is the official government site for adults to report cybercrime incidents which may be in breach of Australian law.
This section of ASIC's MoneySmart website explains how scams work, how to identify and avoid different scams and what to do if you have been scammed. The website also contains a list of unlicensed companies that you should not deal with. Please note that as ASIC only deals with scams involving investments, superannuation, managed funds, financial advice or insurance, this website mainly deals with those types of scams.
Up to date information on frauds and scams. You can use this site to report an internet scam and learn about different types of scams. Subscribe to the Scamwatch email list to receive up to date information on current scams.
The ACCC website provides advice on how to follow up complaints when online shopping goes wrong. Learn about common pitfalls and how to protect yourself against them.
If you have experienced a problem when shopping on eBay visit the Resolution Centre website.
The Safety section of Gumtree provides comprehensive assistance for problems with Gumtree.
Many consumers prefer to use PayPal to buy and sell online. The PayPal website also provides security information, and links if you have experienced a PayPal problem with a purchase or your account has had an unauthorised transaction.
Be Connected provides access to online learning resources as well as a Network of community partners - the Be Connected Network - who offer in-person support so you can develop your digital skills and confidence. Find a local place for friendly help and advice, or join the Network to help others.