Bushcare Volunteer Resources
Bushcare volunteers or anyone interested in bushcare can learn more about bush regeneration with these great resources.
Information for Bushcare volunteers
Bushcare Calendar 2023 (PDF 6.3MB)
Download a copy of the latest Bushcare calendar.
Bushcare News
Bushcare newsletters, case studies and photo competitions.
Bushcode - 18.5MB
The Bushcode outlines the terms of agreement and procedures that guide the operation of Council's Bushcare Program.
Standard Operating Procedures - 427kb
Standard Operating Procedures for Bushcare Volunteers.
Sensational Spiders by Dr Helen Smith - 5.9MB
Learn fascinating facts about our local spiders from bushcare volunteer Dr Helen Smith.
Hornsby Online Herbarium
The herbarium contains scans and photographs of around 950 native plants found in Hornsby Shire and around 300 introduced plants.
Native and weed look-alikes
The "Look-Alikes" booklet provides information on native plants and weeds that look similar. This field guide illustrates differences between over 100 natives and weeds in Hornsby Shire
Native grasses workshop booklet - 1mb
Includes 15 common native grasses as well as 18 exotic grasses that have naturalised across the Hornsby Shire. Descriptions include details on typical occurrences, habitats, control methods and propagation.
Free Guided Bushwalks
Find out about upcoming guided bushwalks in Hornsby Shire.
Phytophthora Protocols and Identifying Myrtle Rust
Phytophthora and Myrtle Rust are exotic pathogens that damage bushland ecology and cause species loss in certain susceptible areas. These documents provide vital information for volunteers and contractors working in bushland.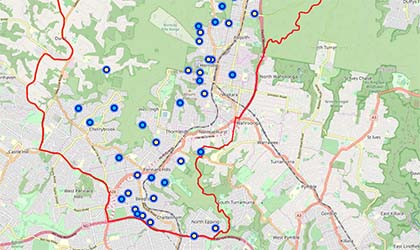 Bushcare News
2023
2022
2021
2020
2019
2018
2017
2016
2015