Illegal Landfill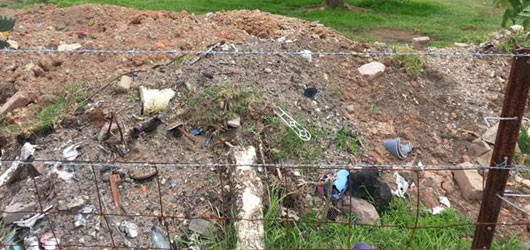 Illegal landfilling is using waste as 'fill' without the necessary planning or licensing approvals. This commonly happens when construction and demolition waste is used as illegal fill for landscaping, land modification, reclamation works, roads and noise mounds.
Avoid the danger of accepting illegal fill
Check if filling is permitted and what Council approvals are required by contacting Hornsby Council on (02) 9847 6666;
Check the credentials of anyone who offers you free or cheap fill;
Never accept fill from unknown sources;
Ask the supplier to provide documentation proving the fill isn't contaminated;
Supervise and inspect all loads of fill brought onto your property;
Record details of all transporters bringing fill onto your property;
Keep copies of all documents and records, including the name and address of the supplier and transporter.
It is your responsibility to ensure that your waste, including excavated material and demolition waste, is taken to a legal facility.